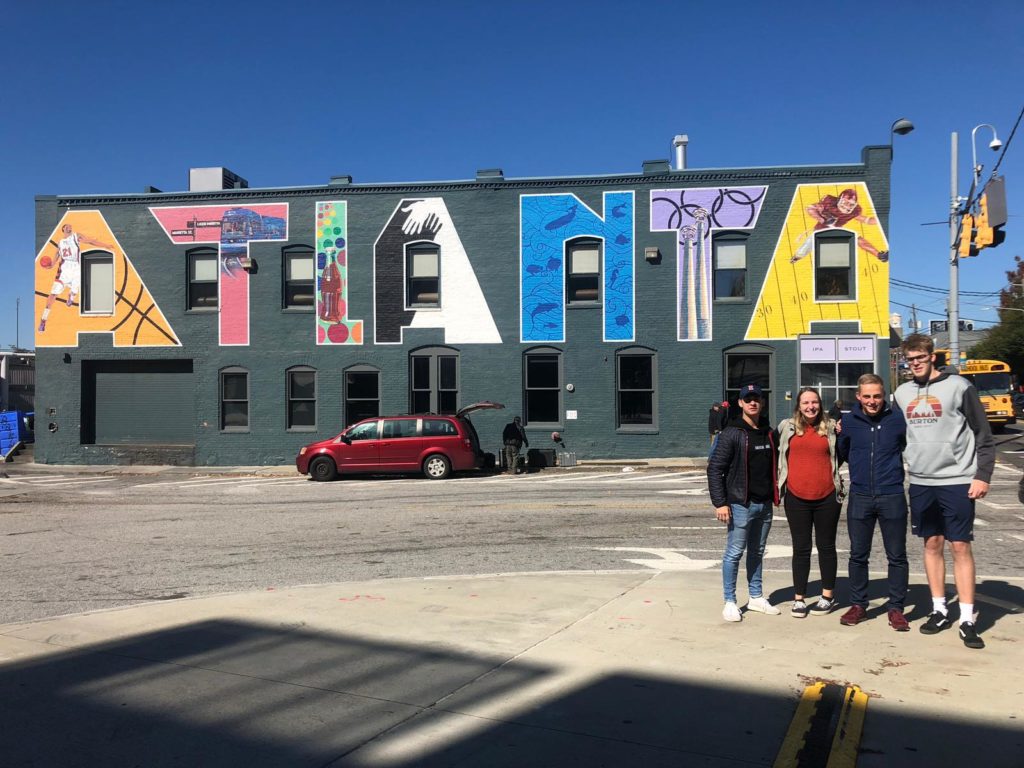 Lesedauer: 6 Minuten/ Reading period: 6 minutes.
Zeitraum/period of time: 29.10.2019 – 12.11.2019/ 10/29/19 – 11/12/2019
"Mensch wollt ihr schon wieder weg?" Bei manch anderen Teilnehmern stößt unser Reisefieber zwar auf Ablehnung aber Elli und ich lassen uns davon doch nicht bremsen! Ich denke, dass dieses Jahr in den USA auch eine einzigartige Chance ist so viel wie möglich zu sehen und zu reisen. Das heißt, sofern ich meine Gastfamilie nicht vernachlässige, im College nicht den Larry mache und sowohl meinen Job als auch genügend Volunteering Stunden gefunden habe, steht dem Reisen eigentlich nichts im Weg!
//
Some other participants prefer it to stay home, enjoy our cozy hometown, and have fun with the locals around here! But Elli and I would also like to see as much as possible since we stay for one year! I think that this year in the United States is a unique chance to see as much as possible. The United States is the most diverse country in the world and has so many things to offer and what is worth seeing. To discover all the different geographical regions with its specialties is super interesting and fun. As soon as I do not neglect my duties (happy host-family, good grades in college, and finding a job as well as volunteering at least 40 hours) it is fine to travel the U.S.
Donnerstag ging es also los gen Süden um aus dem Schnee in die Sonne zu fliehen// Thursday we headed south to flee from snow to sun.
In Atlanta angekommen/ Arrived in Atlanta: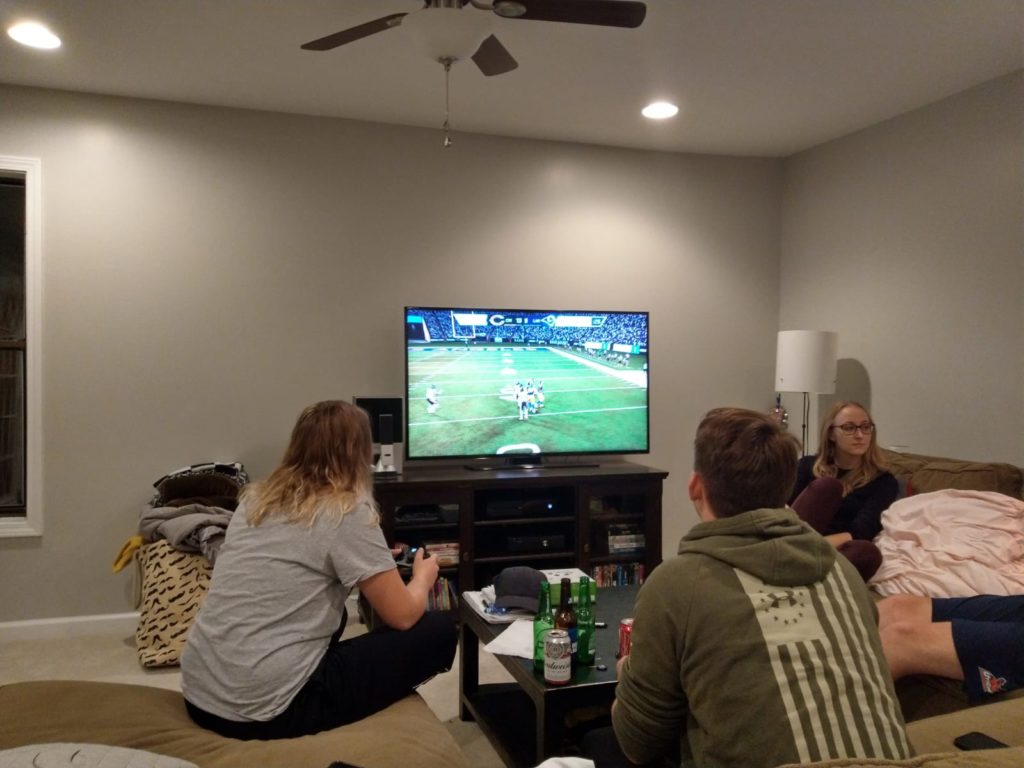 Ich hatte es schon so im Gefühl. Irgendetwas sehr schlimmes wird in Atlanta oder auf dem Weg passieren. Ich hatte erst gedacht, dass wir mit Ellis Karre irgendwie liegen bleiben oder der Motor explodiert, aber es kam alles viel schlimmer. Als wir heile in Atlanta angekommen sind, und ich mein Stoßgebet absolvierte, wurde nämlich Madden (Football) 20 bei Jonas auf der XBOX gezockt. Ich also mein Lieblingsteam, die New Orleans Saints, genommen und als Elli meinte "okay Nikolas ich spiele gegen dich" konnte ich mir ein heimliches Grinsen nicht verkneifen. Im Laufe des Spiels wich das Grinsen auf meinem Gesicht und blankes Entsetzten machte sich breit. Elena hat mich letztendlich tatsächlich 13:10 besiegt. Direkt im Anschluss an meine Niederlage lief urplötzlich meine Nase und ich fühlte mich ganz krank, weshalb ich folgenden, jetzt als running joke benutzten, Spruch raushaute: "Oh meine Nase läuft – ich glaube ich bin allergisch gegen's Verlieren." Naja daraufhin musste ich mir natürlich tagelang anhören, dass ich gegen sie verloren habe.
//
I already had a bad feeling when I got into Elena's car. It was like that I felt that something very bad is going to happen in Atlanta or on the way. Maybe Elena's car would break down or the tires would burst or the engine would explode or…. but anyway, (Lauren/Grandma) in the end it was worse! After arriving safely (Thank God!) in Jonas' house, who lives in a suburb from Atlanta, we started playing Madden 20 (the Football Game) on XBOX. Elena challenged me and after a burst of short laughter, I agreed. I took my favorite Team, the New Orleans Saints, and she took the Chicago Bears, so even the stats were going towards my direction to win. My smiling face switched to a sheer horror face. Elena, who btw only pushed some buttons randomly because she had never played Madden or XBOX before, was better than expected. In the end, she even beat me with 13-10. Right after my embarrassing loss, my nose suddenly started running and I felt very sick. I dropped the saying (which is now used as a running joke): "Oh I feel really sick after that loss – I guess I am allergic to losing." Well, I think y'all can imagine that I had to listen for days about my historic loss against her. Sad life of Nikolas.
Am nächsten Morgen wurde dann der Berliner Programmteilnehmer Malte Honecker (möglicherweise verwandt und/oder verschwägert mit dem ehemaligen DDR-Dude) vom Flughafen in Atlanta abgeholt. Malte ist in Upstate New York platziert und erstmal in kurzer Hose trotz 5 Grad Celciuis. Apropos Flughafen. Atlanta hat den größten Flughafen der Welt (nach Passagieraufkommen- schauts doch nach wenn ihr mir nicht glaubt) und somit erwarteten wir großes Chaos. Aber unsere professionellen Malte-Schilder, wie man sie von Concierge Service Mitarbeitern kennt, waren einfach zu eindeutig, weshalb wir uns schnell in die Arme schließen konnten.
//
The next morning, we picked up another CBYX participant, Malte from Upstate New York, from the Atlanta Airport, which is btw the biggest Airport in the world defined by the number of people passing through each year. Because we expected a lot of chaos we quickly prepared "Malte" signs to get his attention and it worked.
Daraufhin haben wir uns den Citypass gekauft und sind die inkludierten Sehenswürdigkeiten die nächste Tage abgeklappert! // After picking Malte up, we bought the Atlanta Citypass and visited all the included landmarks and attractions.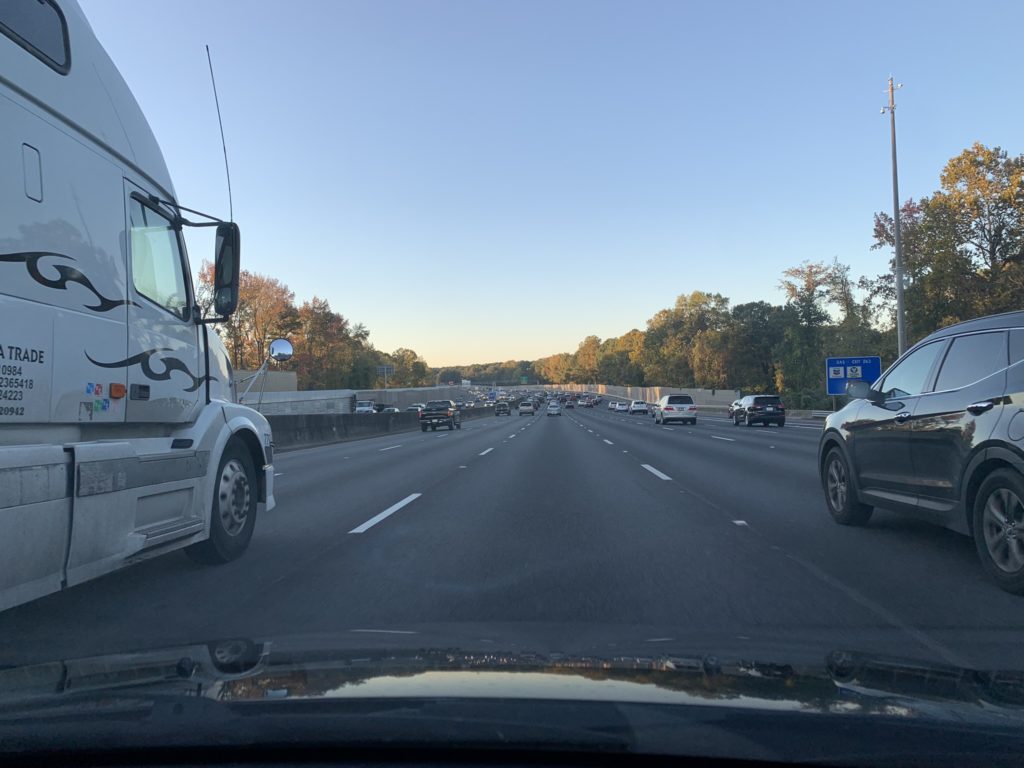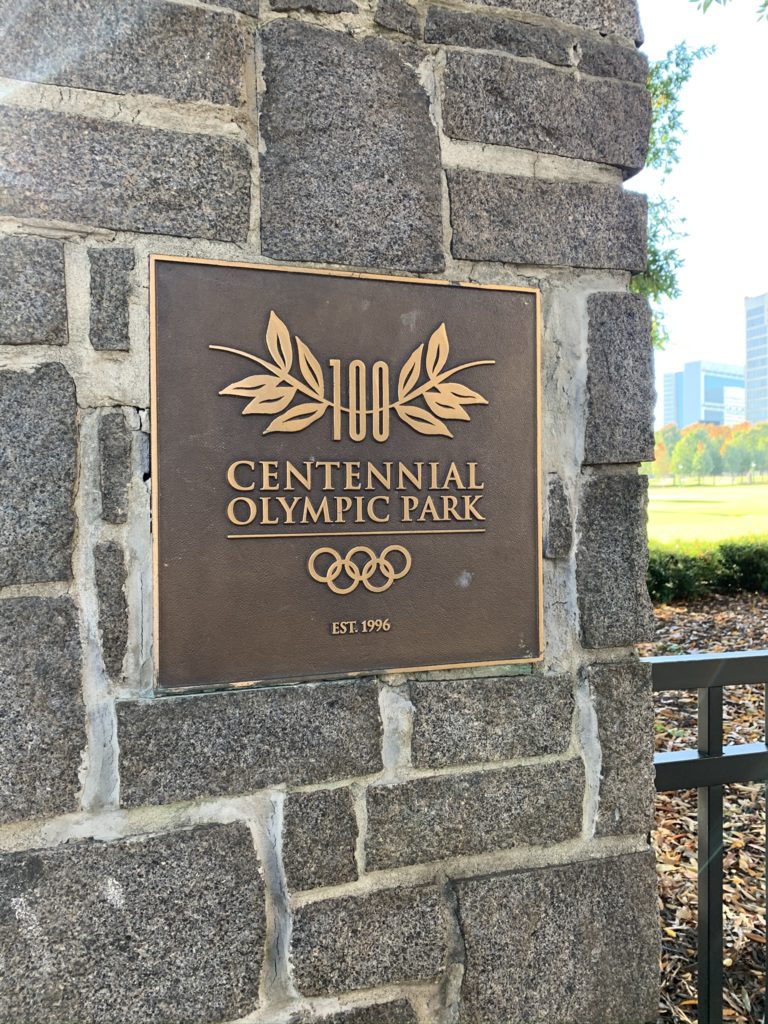 Stop: College Football Hall of Fame
Wie bestimmt jeder weiß sind Sportarten in Amerika nicht in Vereinen sondern in Schulen oder Universitäten organisiert. Somit spielen High Schools unter sich und Colleges unter sich gegeneinander Football, was unglaublich viele Menschen interessiert und begeistert. Teilweise spielen dort Studenten vor 60,000 Menschen – unbezahlt. Und davon haben wir uns die Hall of Fame angeschaut:
//
In the U.S. sports for younger people are not organized in clubs or associations like in Germany. They are connected to schools and colleges. Therefore, every college has its own football team and plays other colleges. It is interesting to see how many people watch unpaid students playing football against each other. Sometimes even 60,000 to 70,000 people go to their stadiums to watch them play live. The Hall of Fame in Atlanta is dedicated to college football: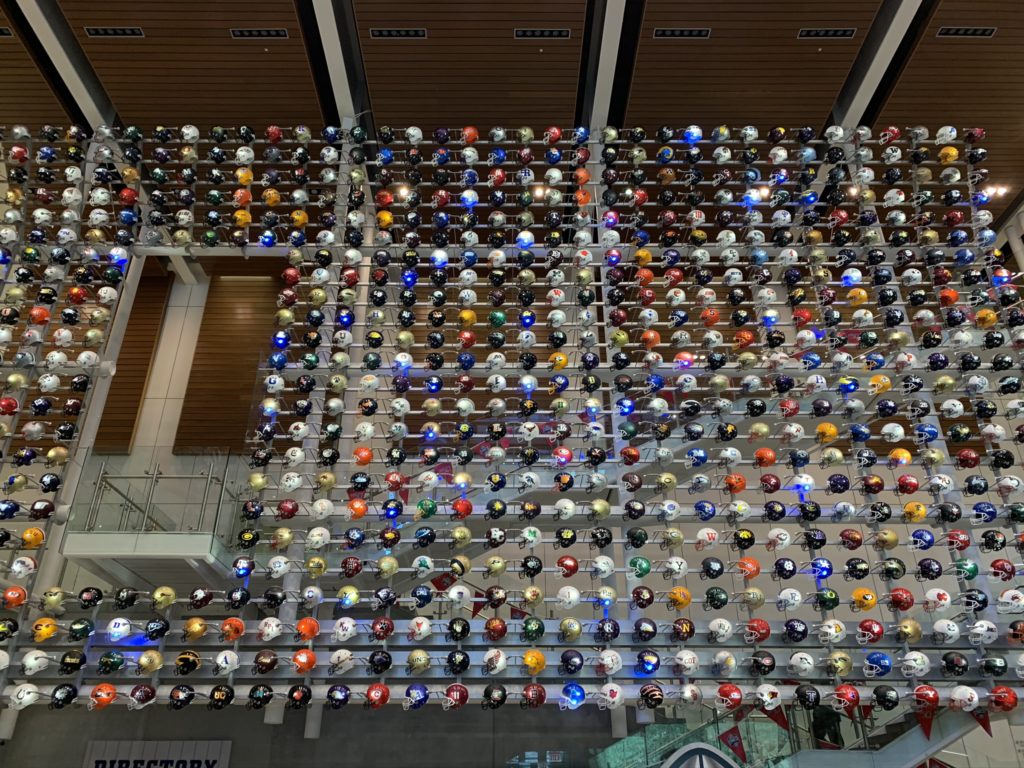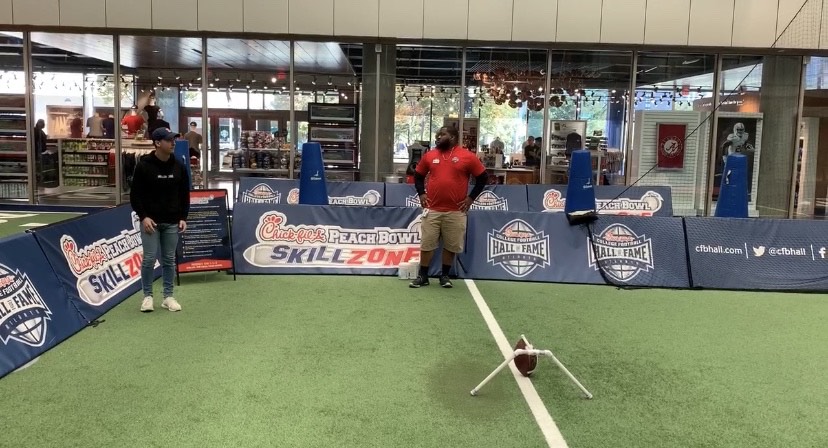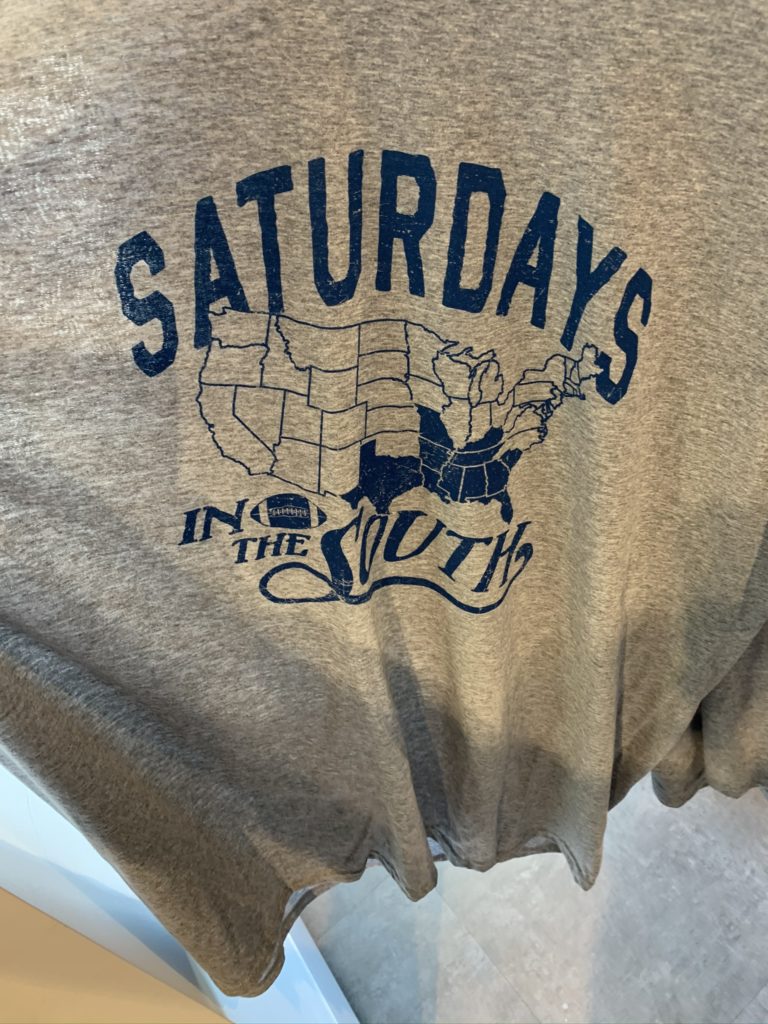 2.Stop: Georgia Aquarium
Das größte Aquarium der Welt (laut dem Marco Polo Reiseführer) steht natürlich auch in Atlanta! // The aquarium in Atlanta might be the biggest one in the world.
Auch wenn wir grundsätzlich gegen eingesperrte Tiere in zu kleinen Becken (grüne Generation) sind waren wir drin, dafür haben wir schließlich bezahlt!!! (Stop being so German). // Even though, we are basically against locked up animals in too small basins we were inside, because it was included in the citypass and we paid for it!!! (Stop being so stingy and frugal or just stop being so German).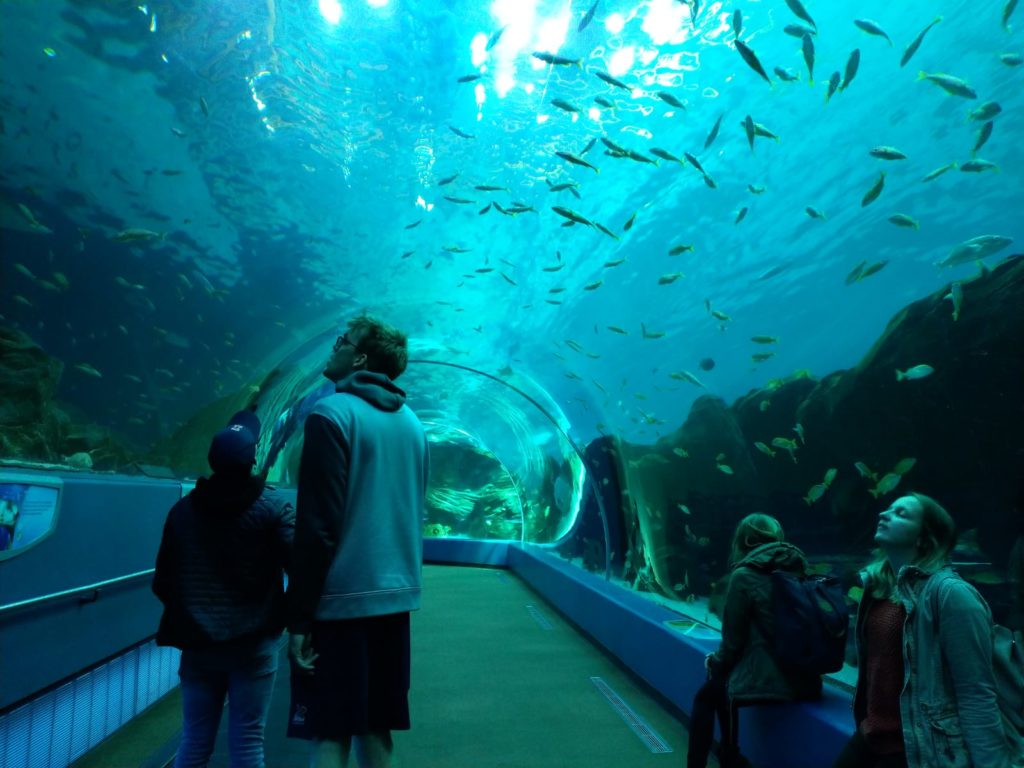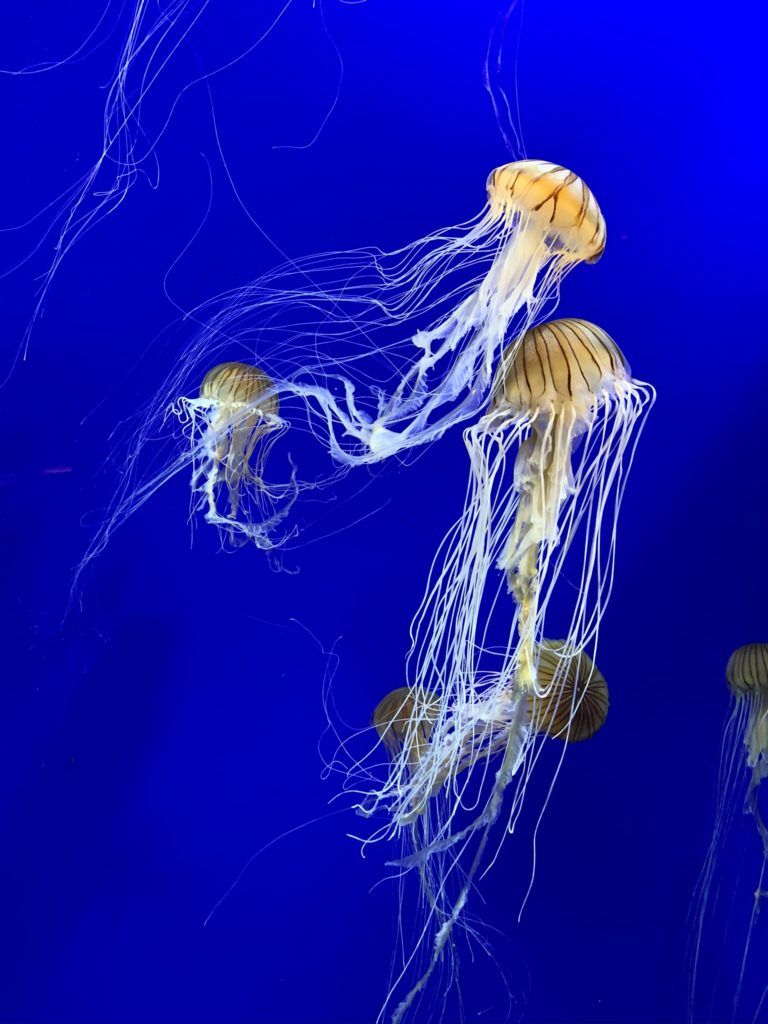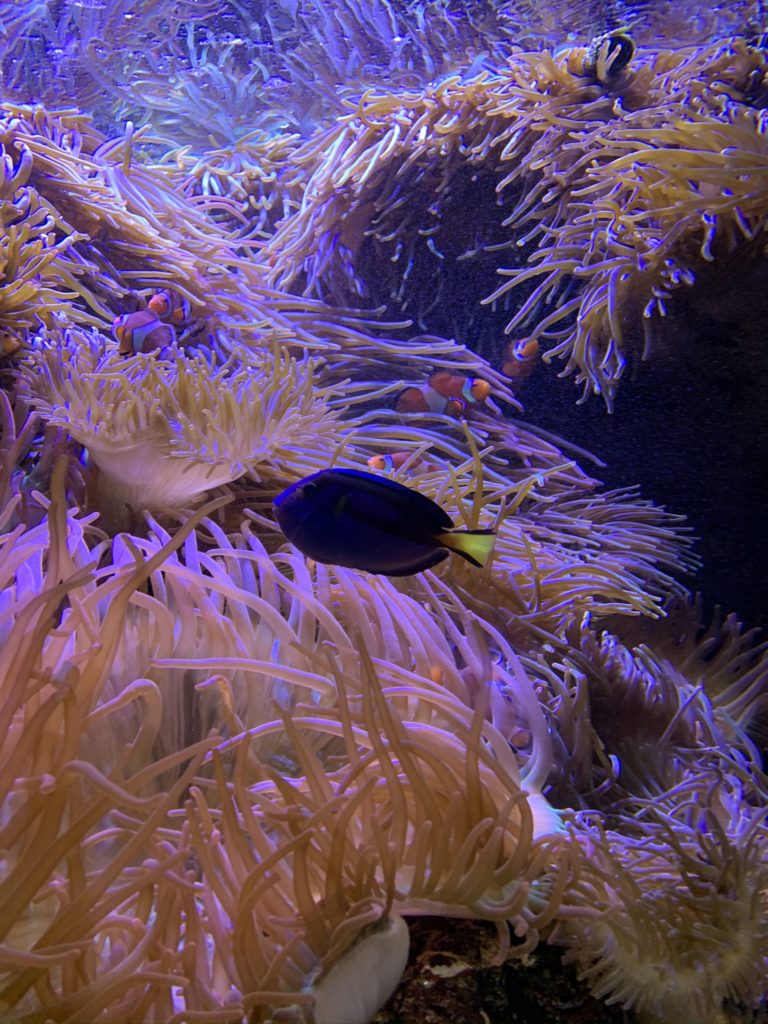 3.Stop: CNN Center Tour
CNN ist die größte Kabelgesellschaft der Welt und hat ihren Sitz in Atlanta, Georgia. Auf einer interessanten 50-minütigen Studiotour kann man das Gebäude besichtigen und Hintergrundinformationen zum Ablauf einer Nachrichtenagentur und eines Nachrichtensenders bekommen. In den USA muss man übrigens aufpassen wie aufrichtig und neutral die jeweilige Nachrichtenagentur/Nachrichtensender ist. CNN gilt als neutral, FOX News hingegen neigt stark dazu republikanische Positionen zu befürworten und ABC News neigt eher dazu demokratische Postionen zu befürworten. Gerade in Zeiten in denen auch Menschen in Deutschland, unerklärlicherweise, öffentlich-rechtliche Sender und große Nachrichtenhäuser als Lügenpresse deffamieren ist es immer wichtig zu wissen wie reliable und credible die jeweilige source ist. Ich schätze es, dass wir in Deutschland den Luxus haben freie und neutrale öffentlich-rechtliche Nachrichtensender haben auf die wir vertrauen können. Jeder, der etwas anderes behauptet sollte weniger Verschwörungstheorien verflogen.
CNN, the biggest news agency and news channel in the world, has its headquarter in Atlanta, GA. On an interesting tour, we visited the building and got background information on the operation of CNN. I might have the feeling that getting reliable, credible, and especially neutral information is harder in the U.S. than in Germany. Everyone knows that some news channels, for example Fox News or ABC News, tend to be more Republican or Democratic in political issues. CNN is generally known for being more neutral than other news agencies. I believe that it is really important to always make sure that the source is reliable and credible, especially in times, where people tend to believe rather statements written in social media than presented by news channels.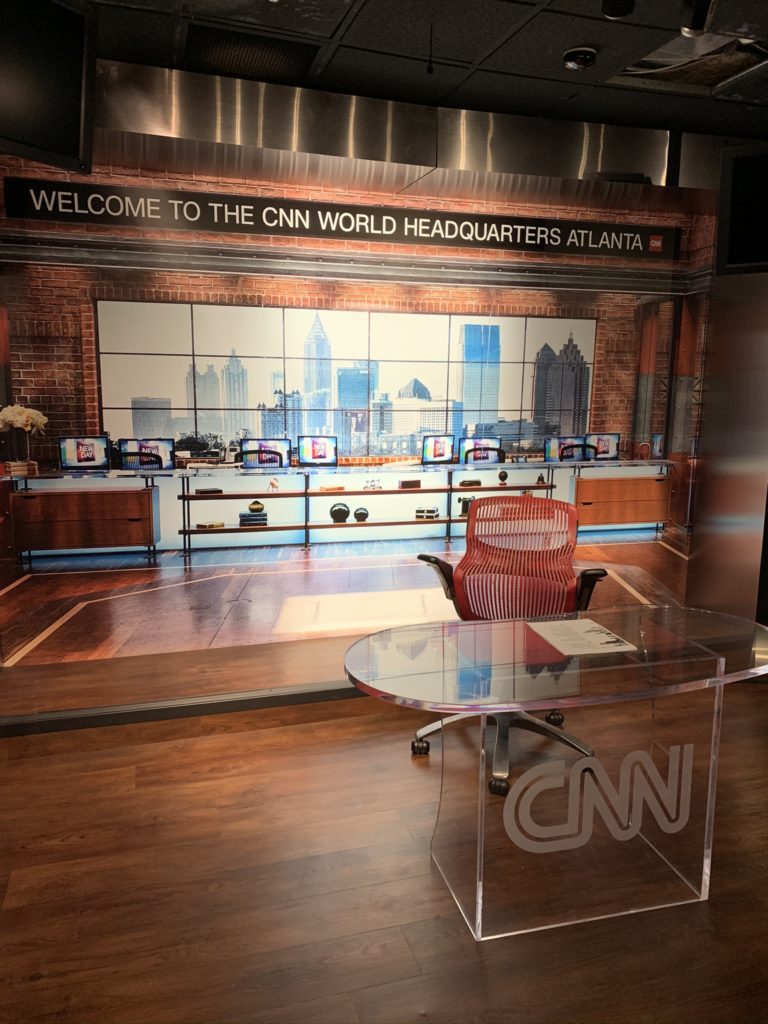 4.Stop: Coca Cola World
Der Konzern Coca Cola hat sein Headquarter ebenfalls in Atlanta, GA. Wir besuchten das Coca-Cola Museum. // The Coca Cola Company has its headquarter also in Atlanta, GA. We visited the Coke museum.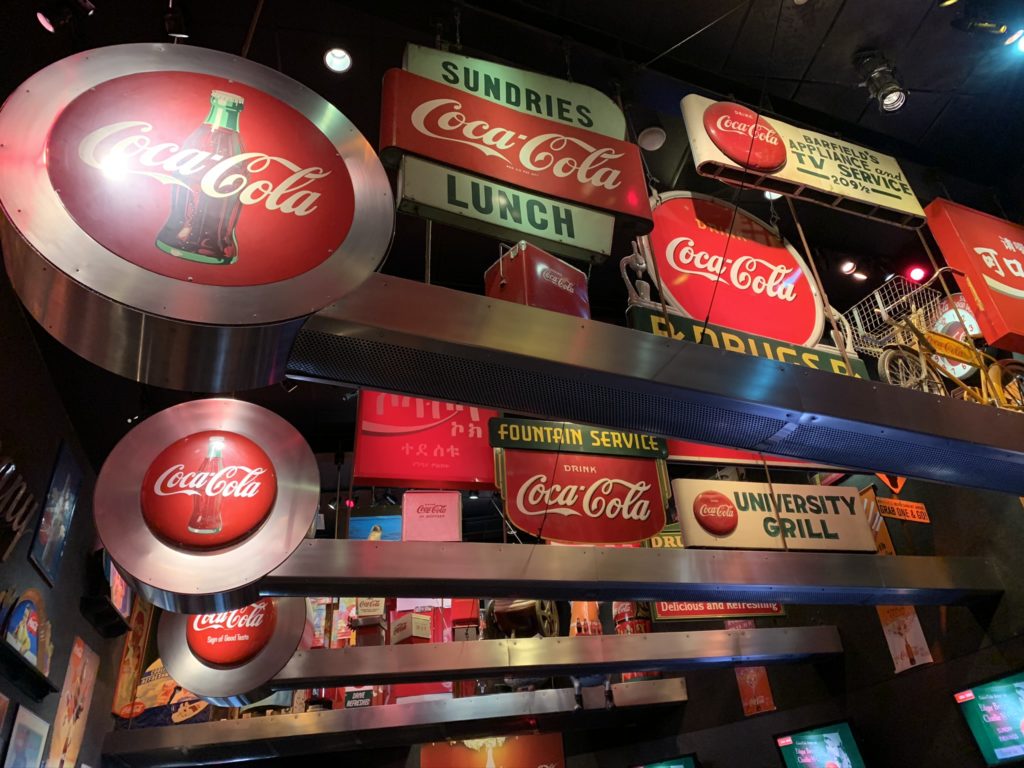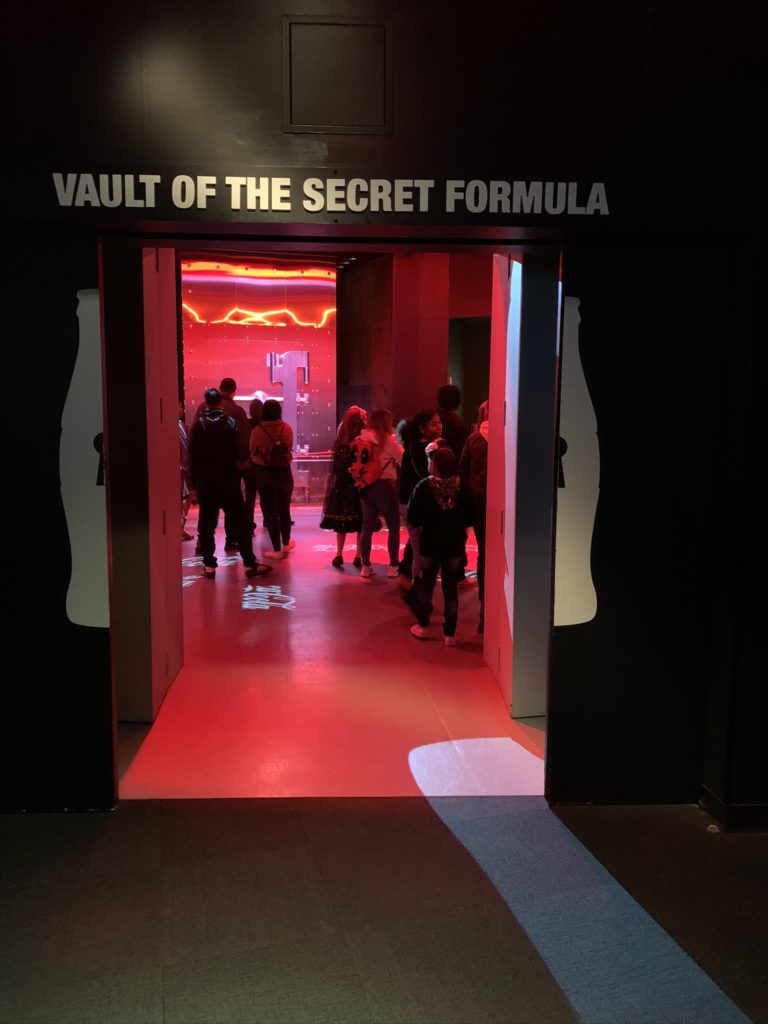 Keine Gefahr zur Dehydrierung! In einer großen Halle wurden alle Spezialitäten des Konzerns angeboten, die in den unterschiedlichen Kontinenten beliebt sind. Mein Favorit: Fanta Kiwi (Thailand) und Inci Cola (Peru). Nach einer 4-D Film experience hatte ich Rückenschmerzen, caused durch sich bewegende Stühle// No risk for dehydration! We tried all the famous drinks, which are specially offered in a certain continent by the Coca Cola Company. My favorite: Fanta Kiwi (Thailand) and Inci Cola (Peru). After watching a 4-D movie I had back pain, caused by moving chairs.
Manchmal kommt halt noch der kleine Schuljunge in mir raus, der immer wenn er einen Ball sieht, sofort seine Kameraden ranholen muss und mit ihnen erstmal durch den ganzen Store Bälle passt (vor teuren Coca Cola Gläsern)…bis uns der Türsteher bat zu den Store zu verlassen.// Sometimes the little schoolboy in me still comes out, who whenever I see a ball, must immediately fetch his buddies and throw the ball through the whole store (in front of expensive Coke glasses)… until a security man asked us gently to leave the store.
5.Stop: Civil Rights museum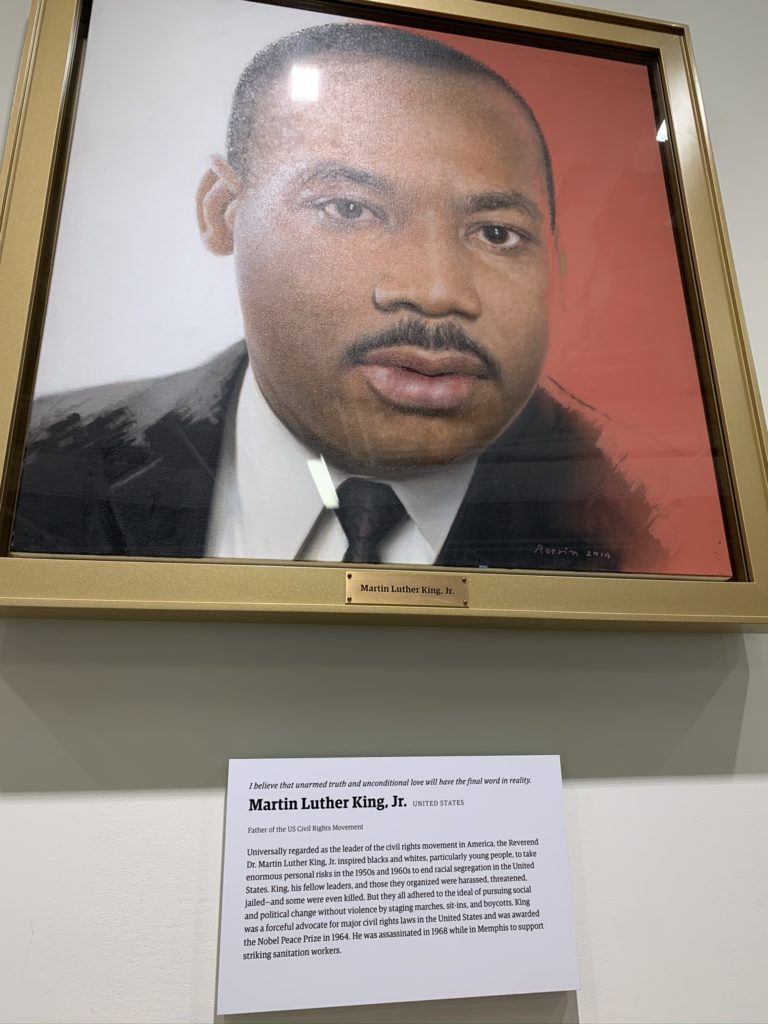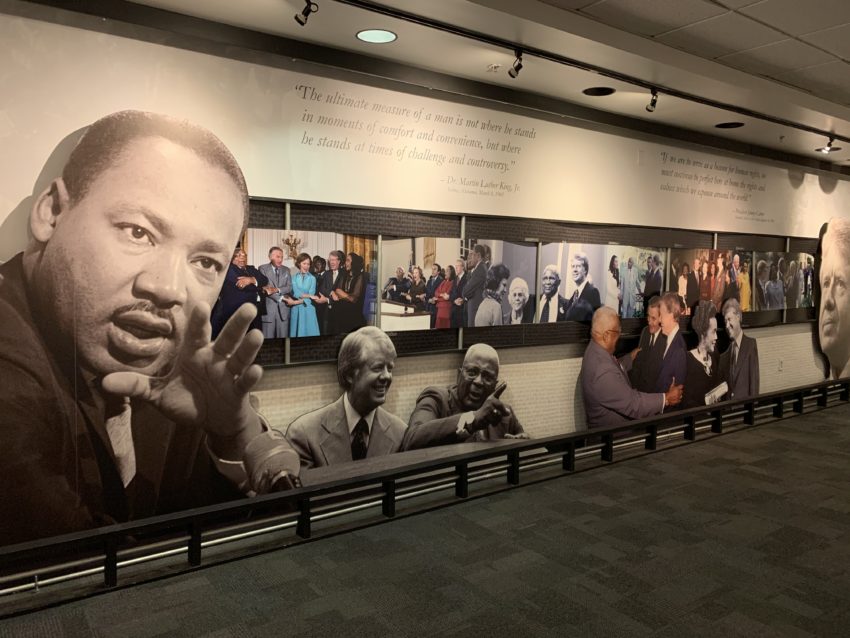 What else did we do in Atlanta?
E-Scooter tour to the State Capitol and the Falcons stadium.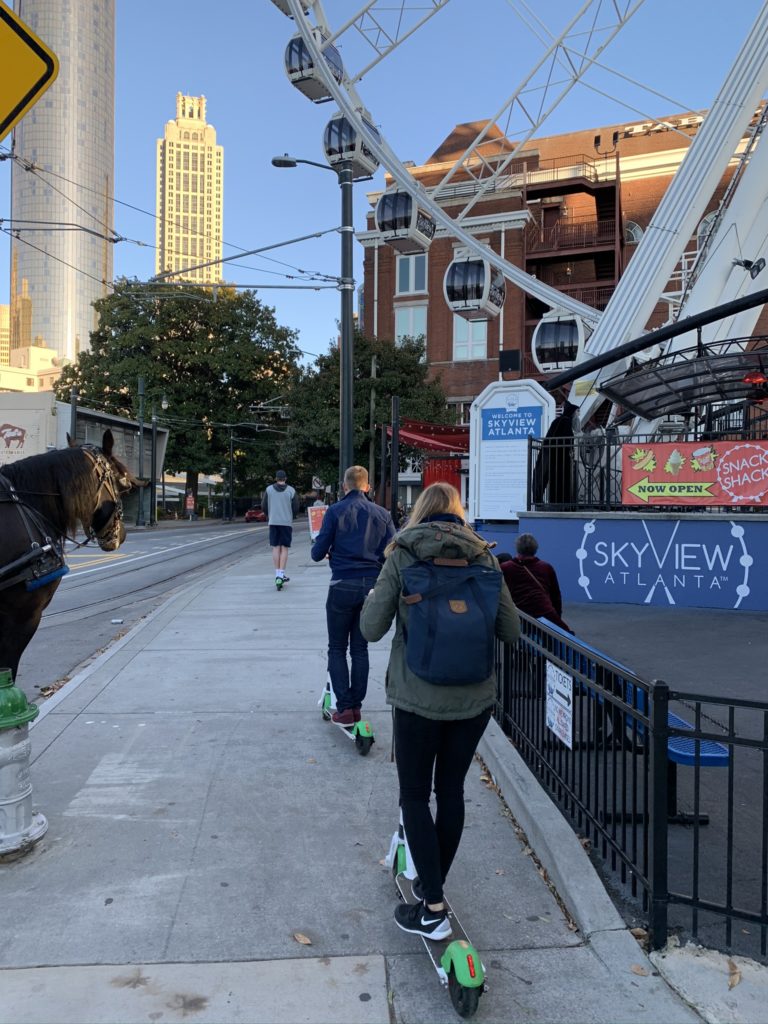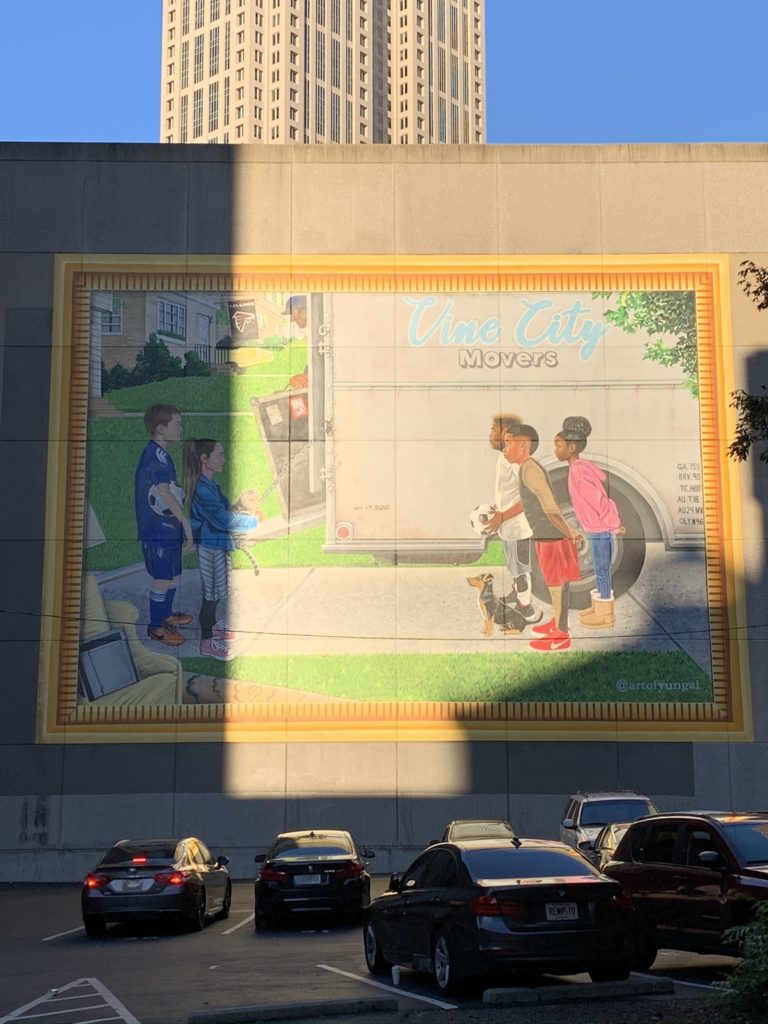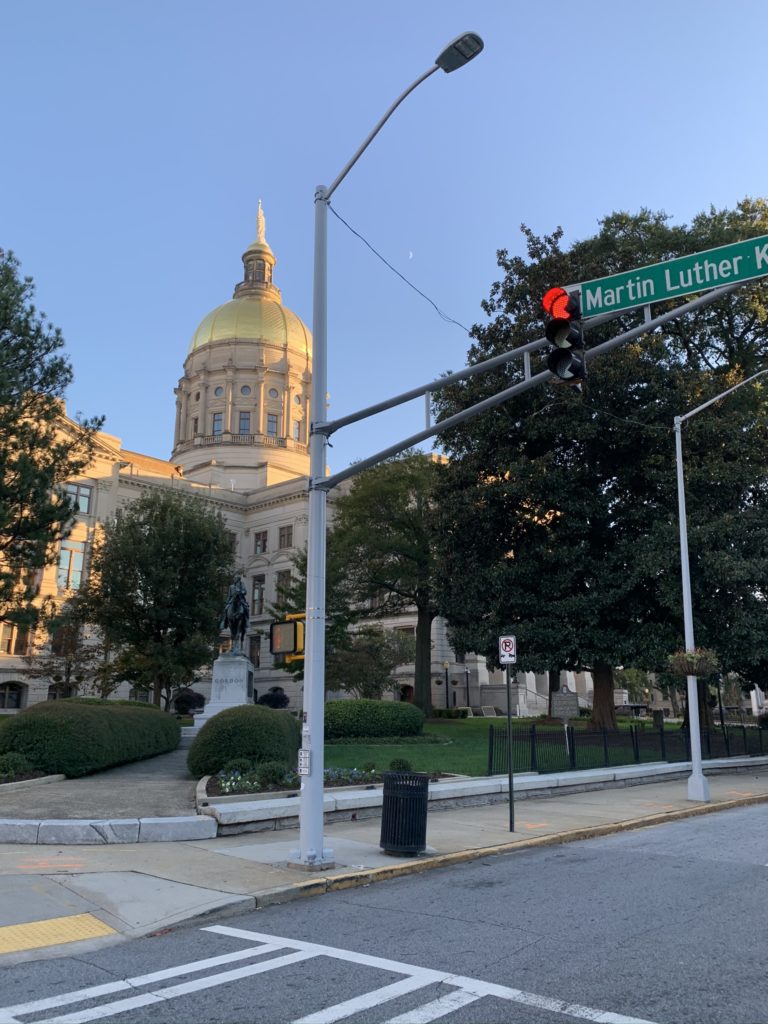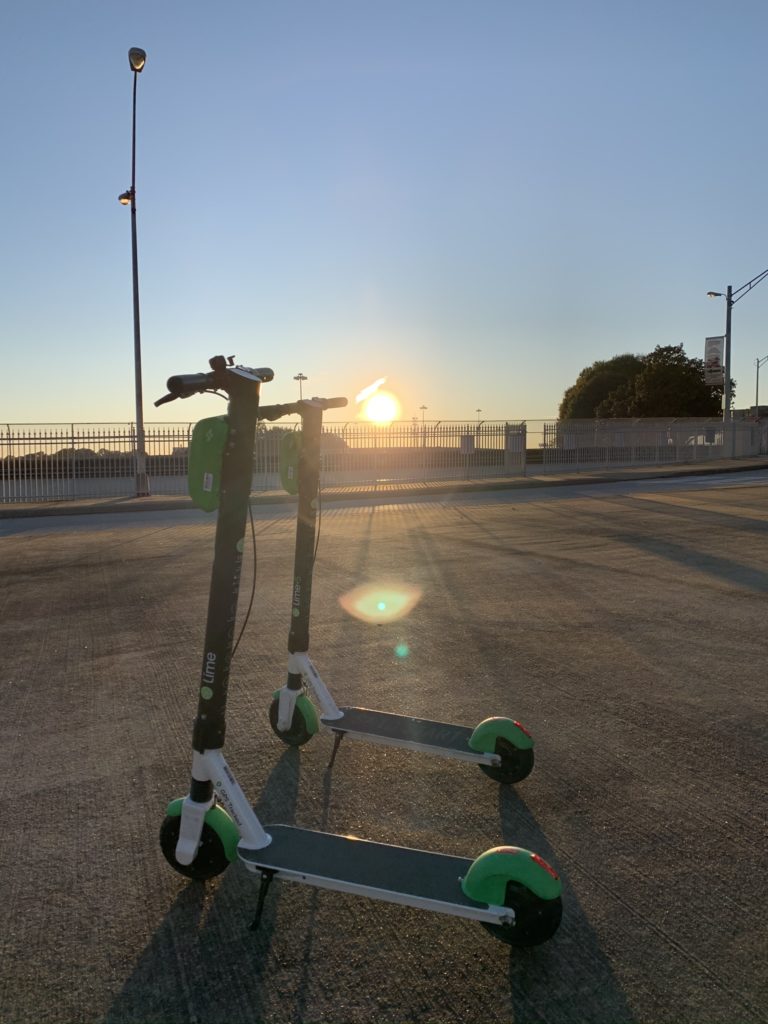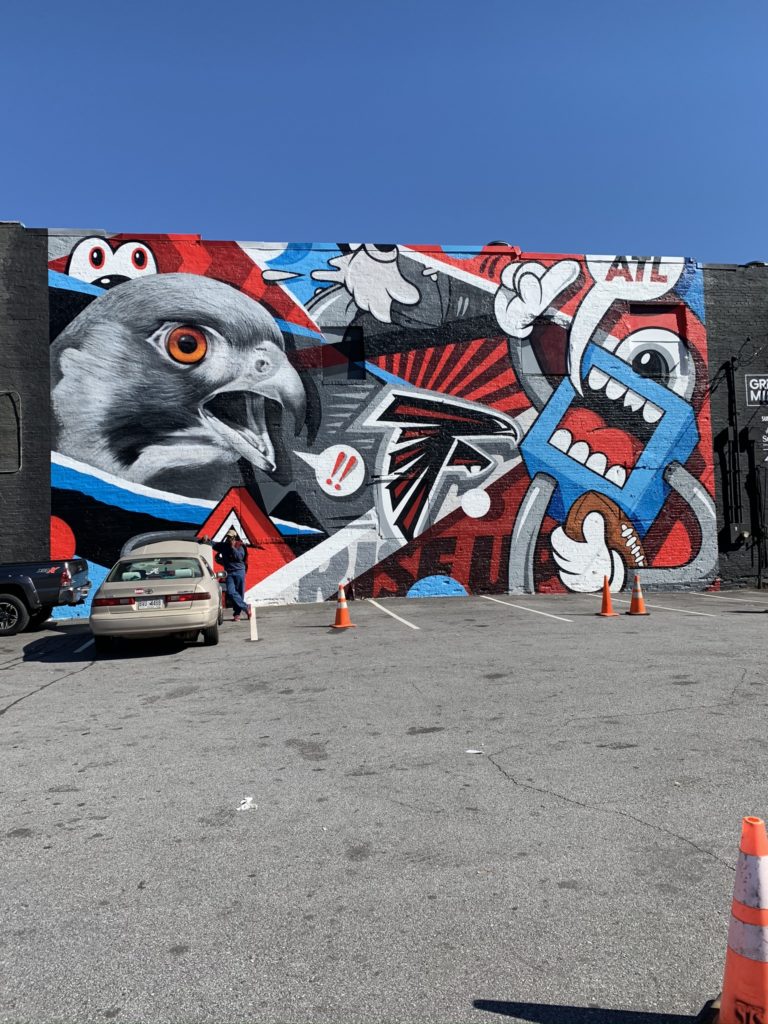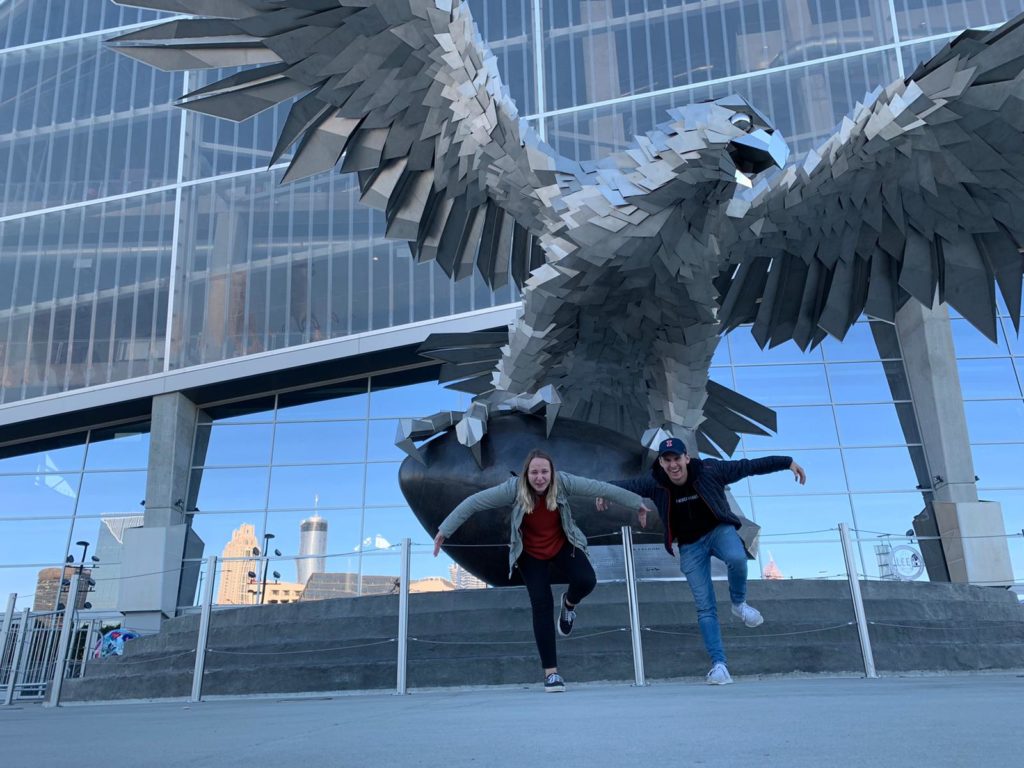 Sonntag Morgen sind Elena und ich zu der Ebenezer Baptist Church und zur Martin Luther King Jr. National Historic Site gesteppt. Seit der Bürgerrechtsbewegung ist die Kirche spirituelles Zentrum und Szenetreff des schwarzen Atlanta. Die Gospelmesse war super interessant und die Gospelchöre haben unsere musikalischen Erwartungen mehr als erfüllt. Dort haben wir auch einiges über die Civil Rights Bewegung der 1960 Jahre gelernt. Der jute alte Martin Luther King ist in Atlanta geboren und hat dort gewirkt.//
On Sunday morning Elena and me went to the Ebenezer Baptist Chruch (Martin Luther King worked there) and the Martin Luther King Jr. National Historic Site. We really enjoyed the gospel music in church and learned a lot about the Civil Rights movement in the Historic Site.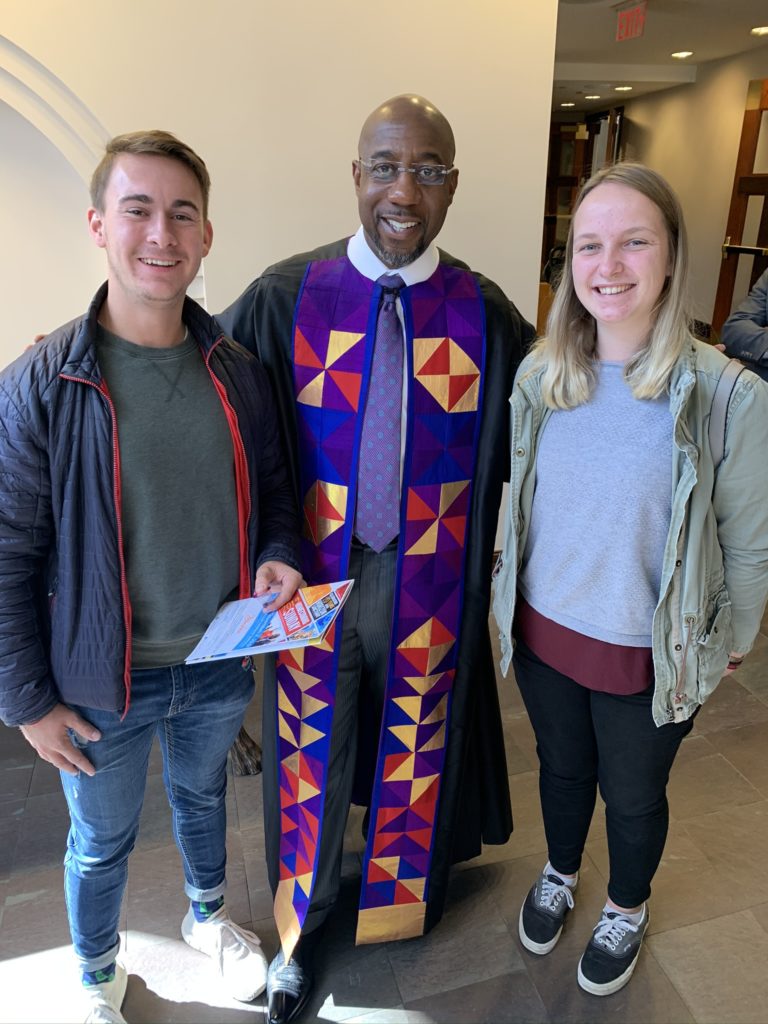 Der Pastor kannte übrigens Dietrich Bonhoeffer. Also nicht persönlich aber als wir sagten, dass wir aus Deutschland kommen, nannte er sofort seinen Namen. Ich muss übrigens sagen, dass ich hier sehr gerne in die Kirche gehe! Der Gottesdienst ist anschaulicher und moderner gestaltet als in Deutschland und da sowieso alle in die Kirche gehen trifft man immer Leute, mit denen man sich gerne unterhält. // I have to say that I really like going to church in the U.S. Mass is more modern and interesting and since everyone goes to church you always meet people you like to talk to.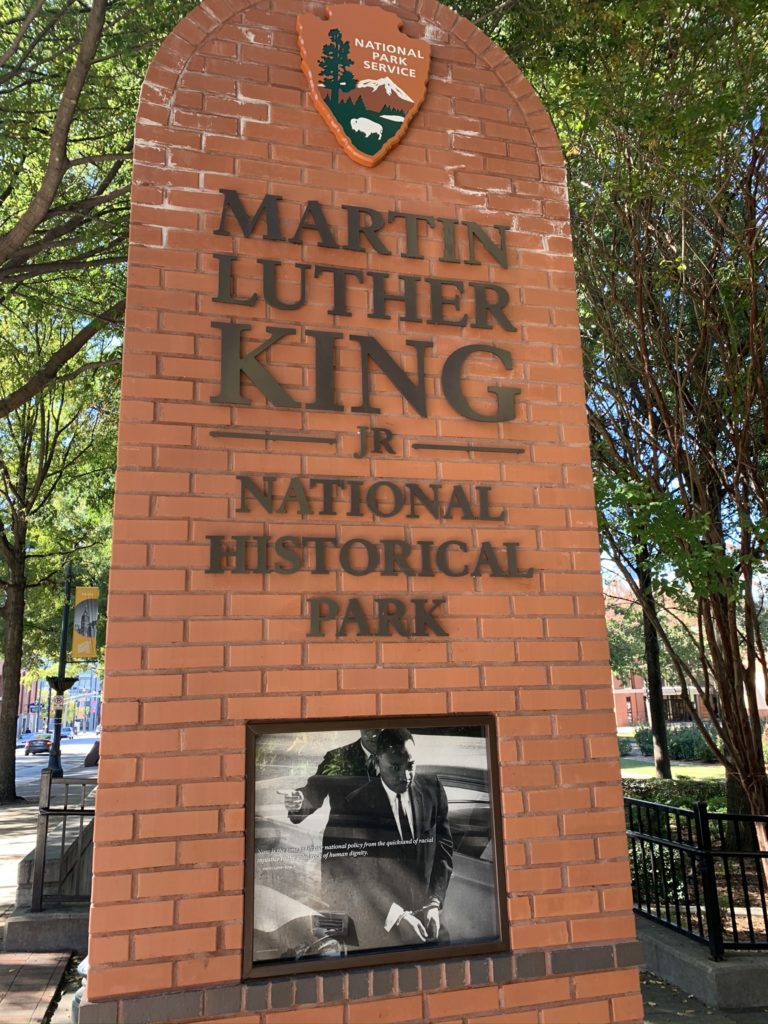 Trip to "Stone Mountain of Georgia" -quote from Martin L. King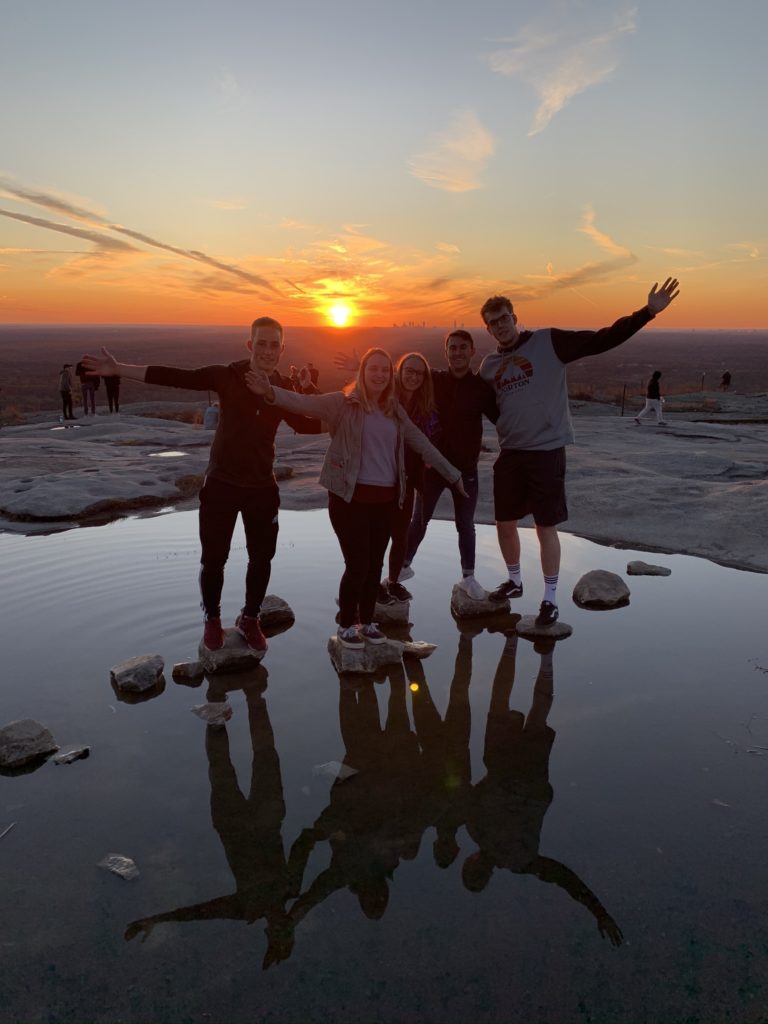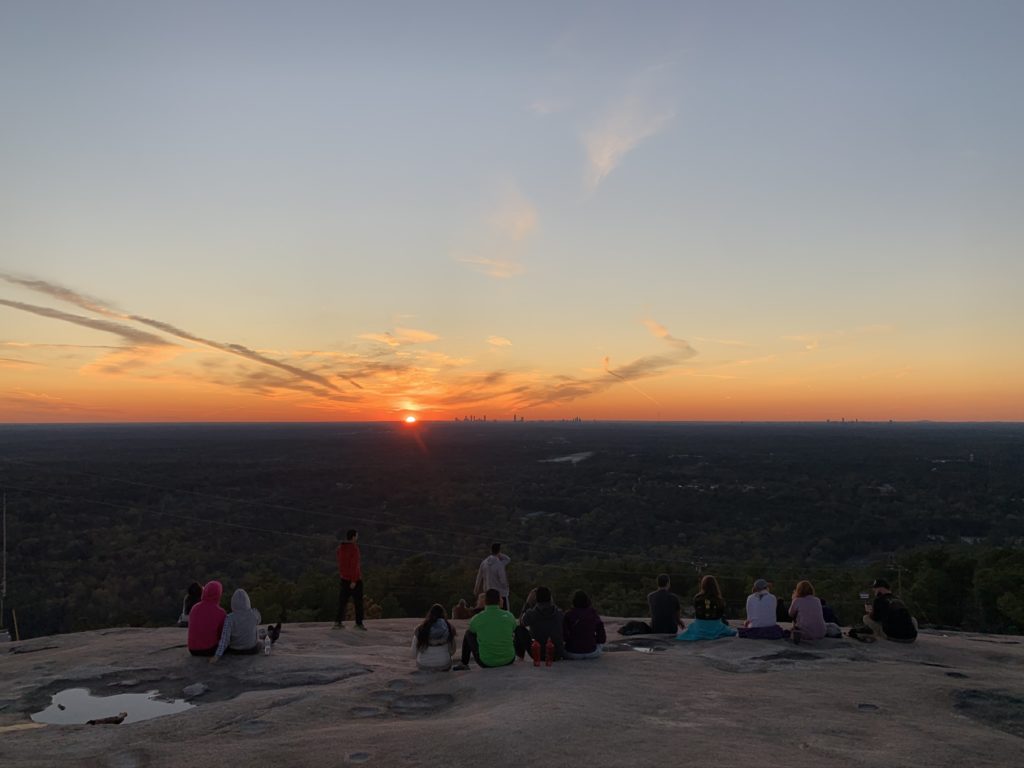 Trip back: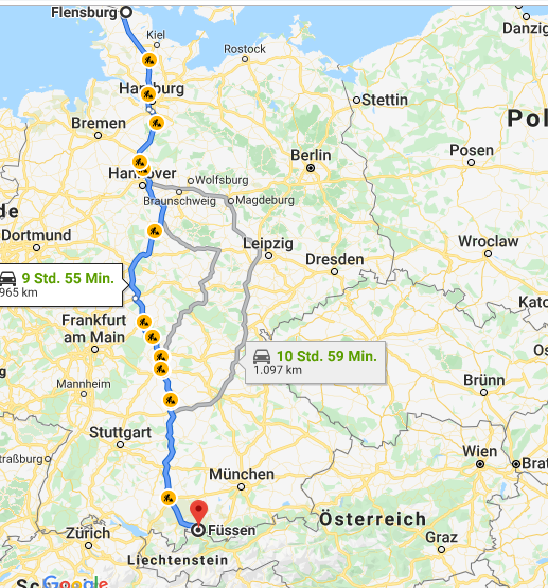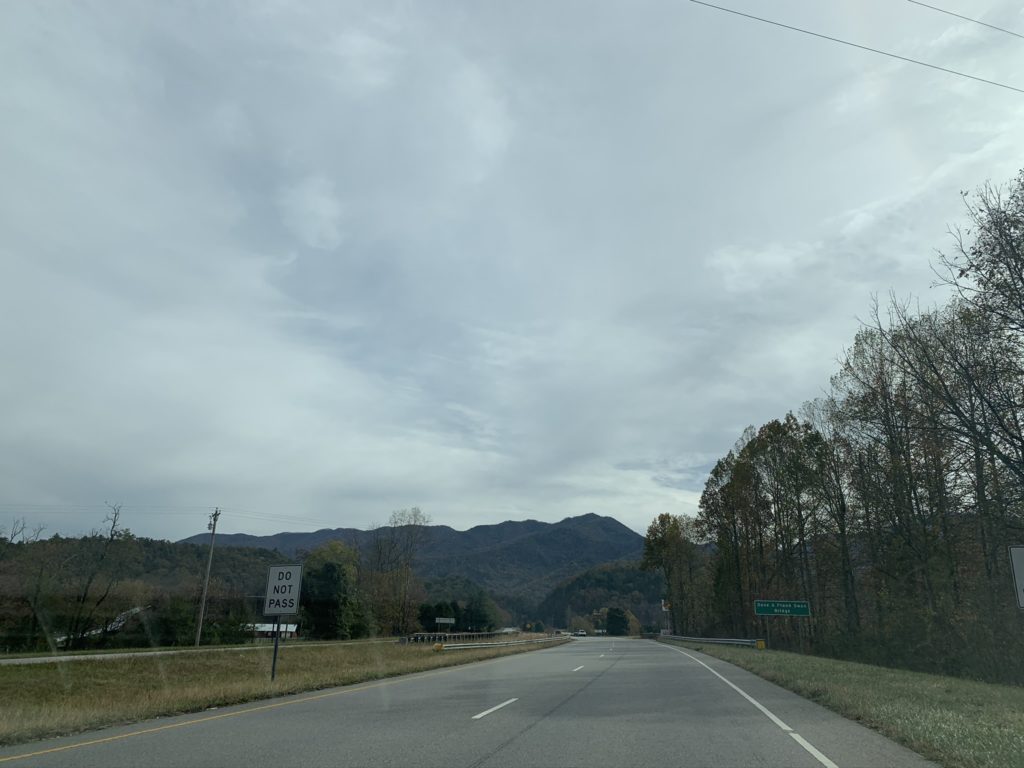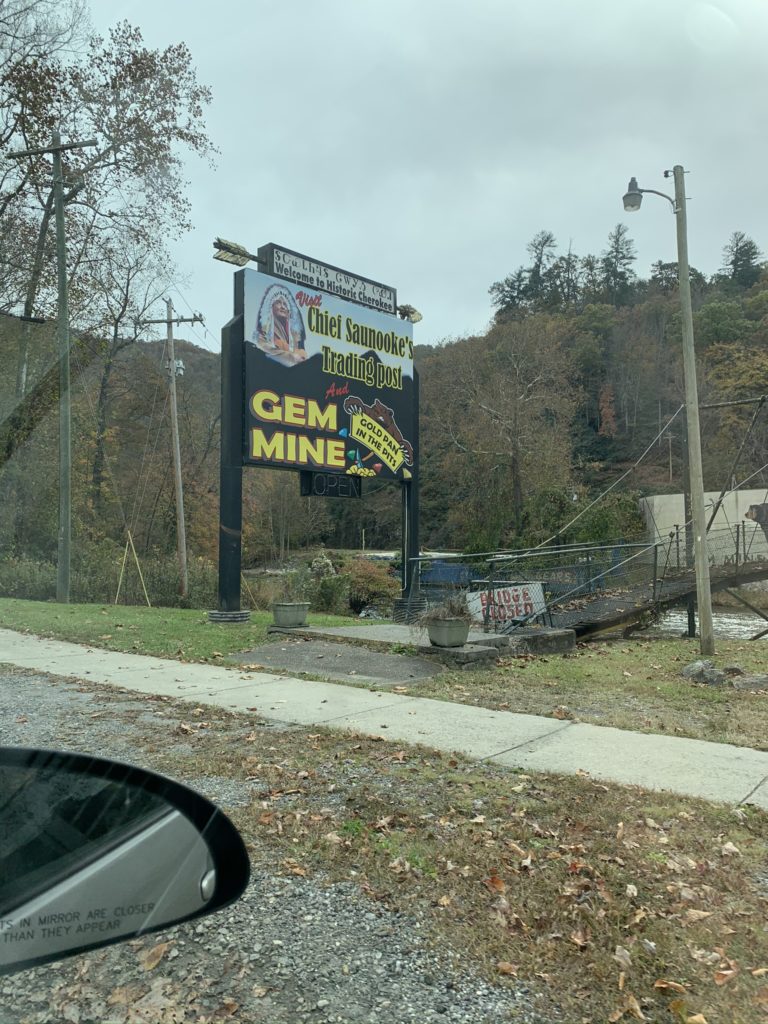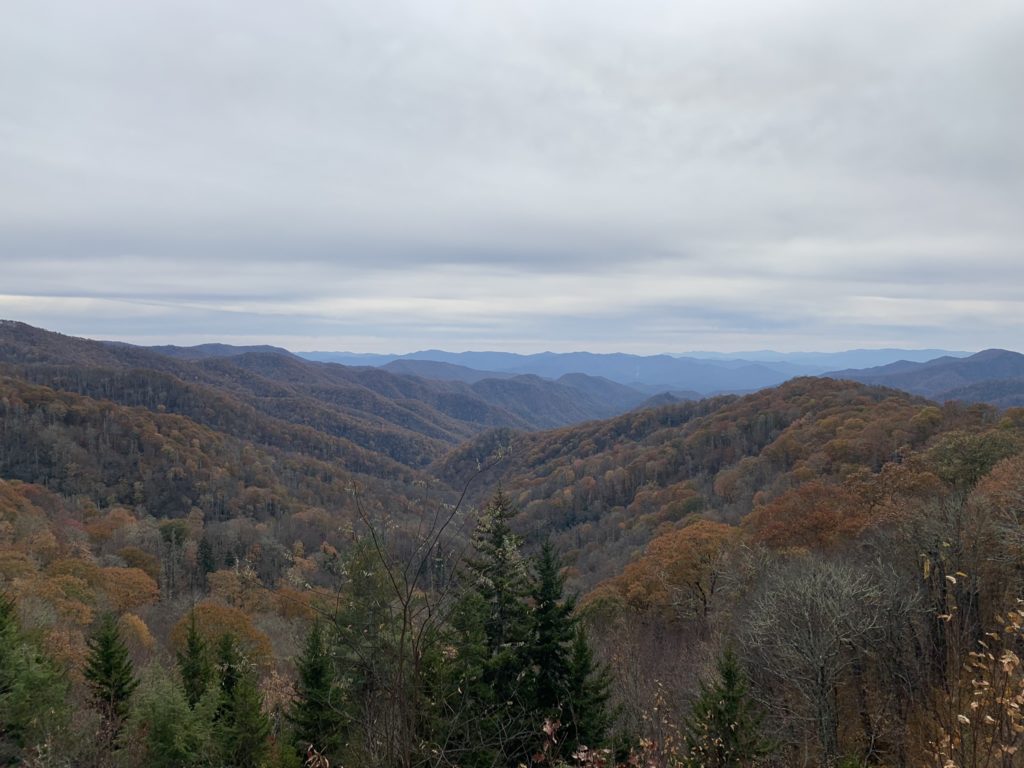 Auf dem Nachhauseweg ist mir mal wieder aufgefallen, dass Stinktiergeruch (riecht man hier häufig, da es entweder überfahren wurde oder aus Angst in der Luft rumgesprüht hat) neben Benzin (deswegen tanke ich so gerne) mein Lieblingsgeruch ist. Klingt seltsam aber es riecht ziemlich genauso wie getrocknete weibliche Blüten und Blätter der Hanfpflanze. Marijuana ist übrigens ab dem 01.01.2020 legal im State Illinois zu erwerben.
On the way home I noticed once again that skunk smell, what you do often smell around here, is probably my favorite smell next to fuel (that's why I like to refuel so often). It sounds strange, and maybe it is, but even my American grandma agreed on my following statement: Skunk smell is pretty similar to the dried female flowers and leaves of the hemp plant also called Marijuana, which can btw legally bought after January 1, 2020.
Was ist die letzten Wochen noch passiert?/ What else did happen the last few weeks?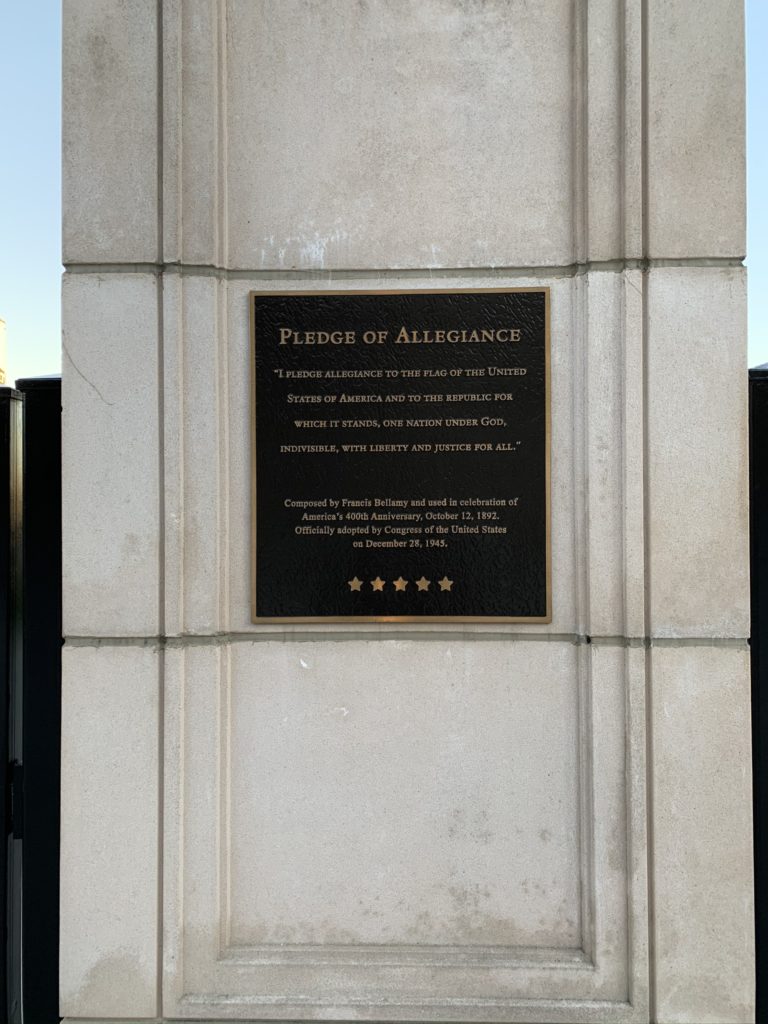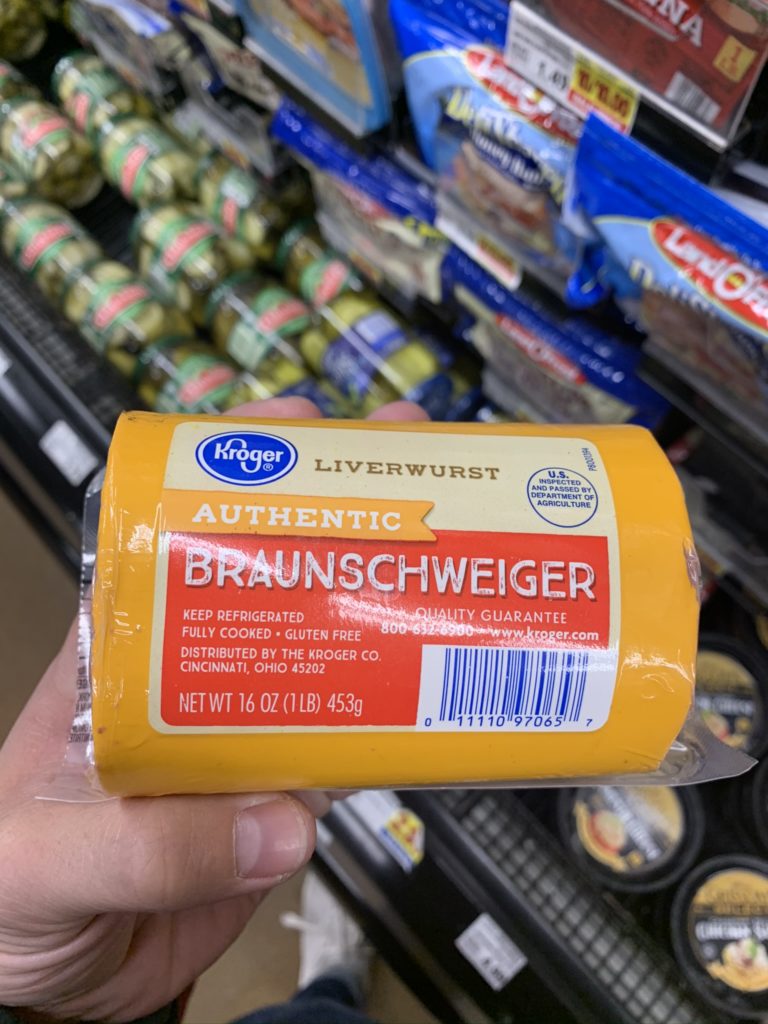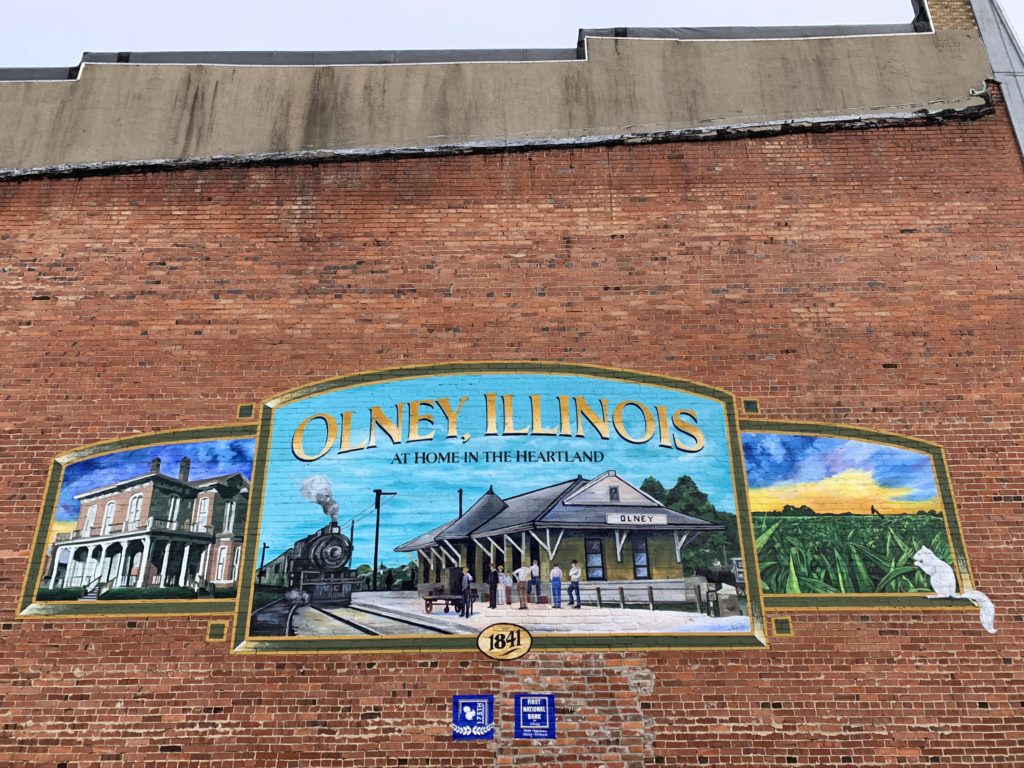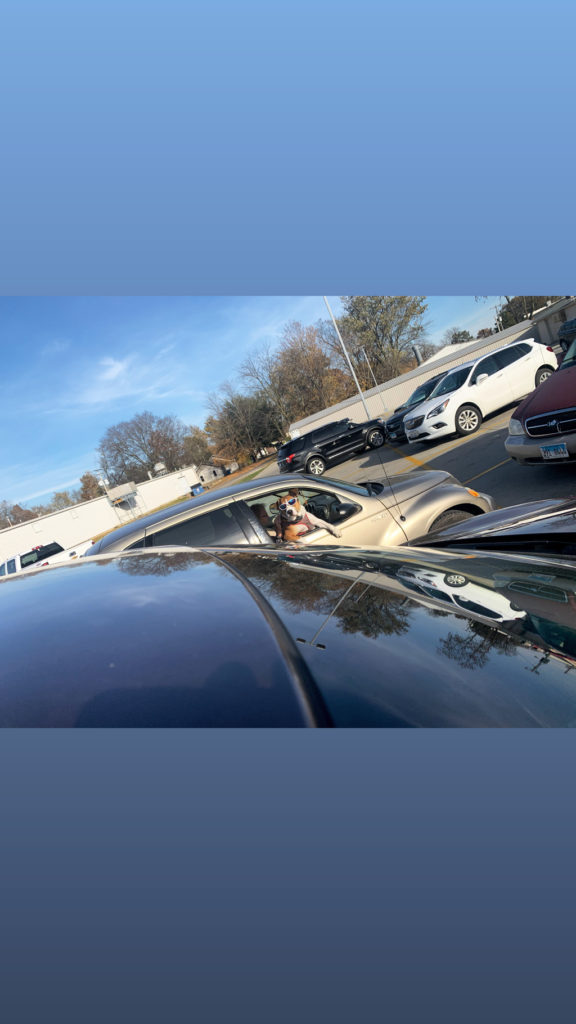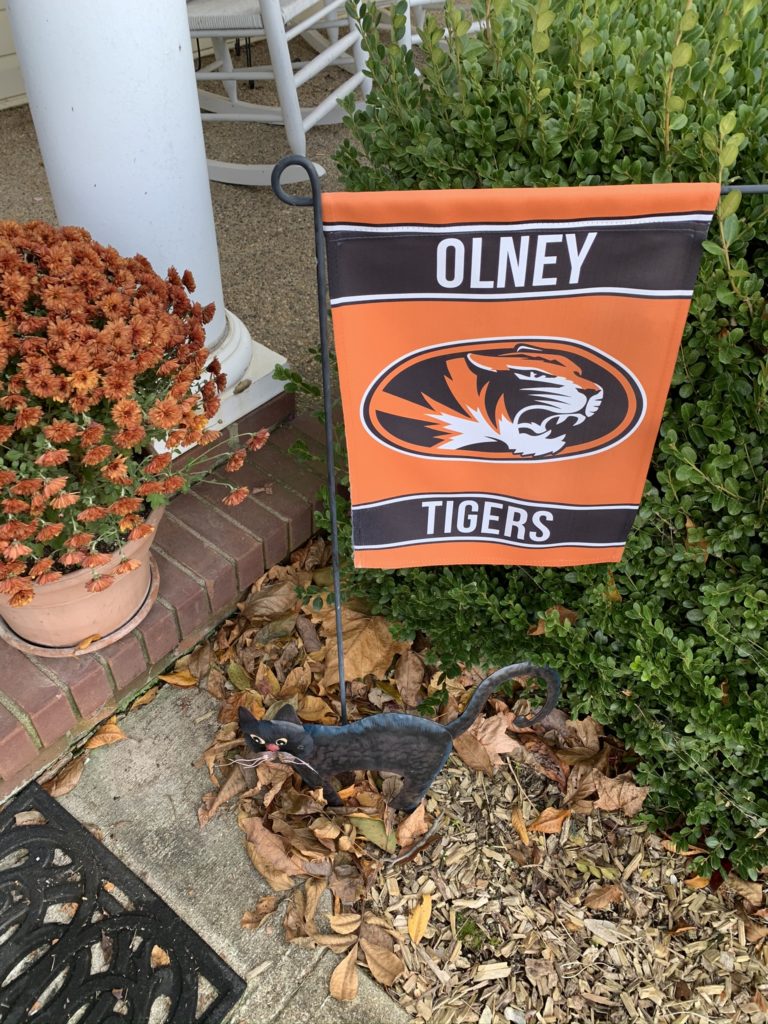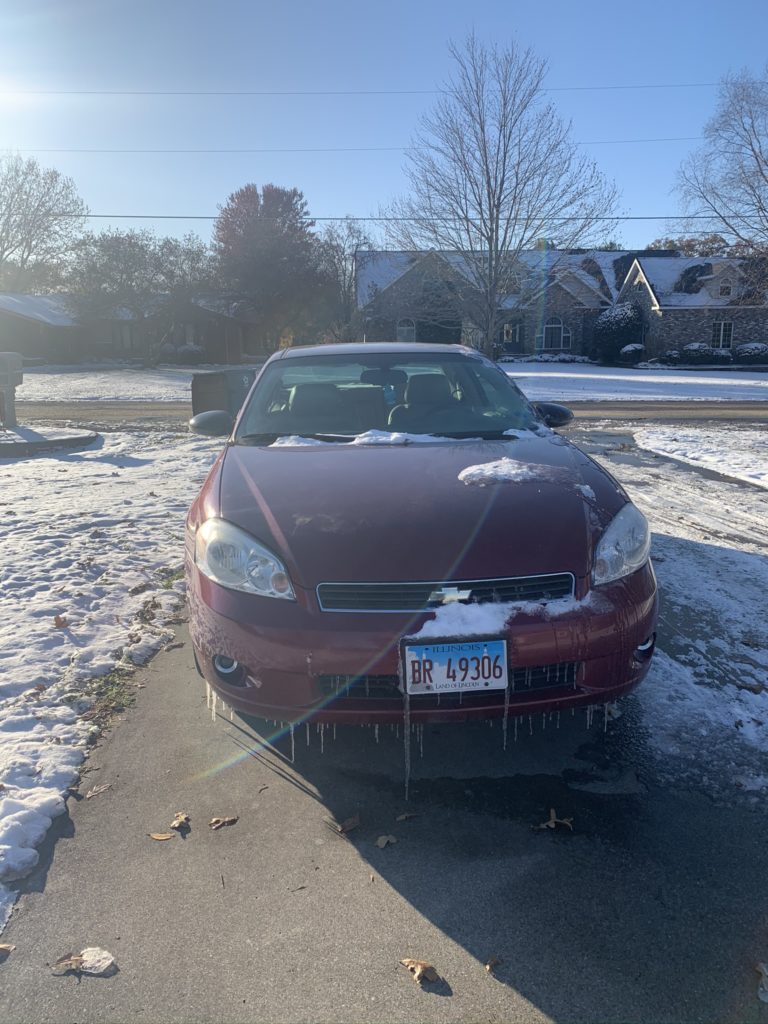 Alrighty guys, thanks for reading!
Danke nochmal an Jonas für die gute Bewirtung mit Brot mit Kruse und Salami!!!!
Passt auf euch auf und meldet euch doch gerne mal! 🙂
I will keep you posted and best wishes,
Nikolas