Reading period: 6 min.
Period of blog time: 12/27/19 – 01/14/20
Aus allen Teilen des Landes strömten Autos, Greyhounds und Flugzeuge in die Richtung von New Orleans, LA. In ihnen saßen 14 motivierte und zu allembereite Teilnehmer des 36. PPP bereit die Stadt am Golf von Mexico im Sturm zu erobern. // From all parts of the country, cars, greyhounds, and airplanes streamed in the direction of New Orleans, LA. They included 14 motivated and eager participants of the 36th PPP ready to take over the city on the Gulf of Mexico by storm.
Malte (L.) und ich starten am 27.12. mit unserem kleinen Roadtrip aus Südost Illinois down gen Süden. Weil es eigentlich wumpe war mit welchem Auto wir fahren beschlossen wir seine neue Karre zu nehmen, was sich im Nachhinen als stupid entpuppen sollte. Maltes vorheriges Auto ist so dermaßen kaputt, dass Malte schon sein zweites Auto in der USA kaufen musste. Mit Autos und den Malte's in unserem Jahrgang gibt es offenbar eine ganz besondere Beziehung, denn auch der andere Malte (H. wie Honecker) kann einige Geschichten im Zusammenhang mit Autos raushauen. // Malte (L.) and I start on December 27th with our little road trip from southeast Illinois down south. Because it was really not important with which car we drive we decided to take his new car, which should turn out to be stupid. Because without a car in the U.S. you are screwed.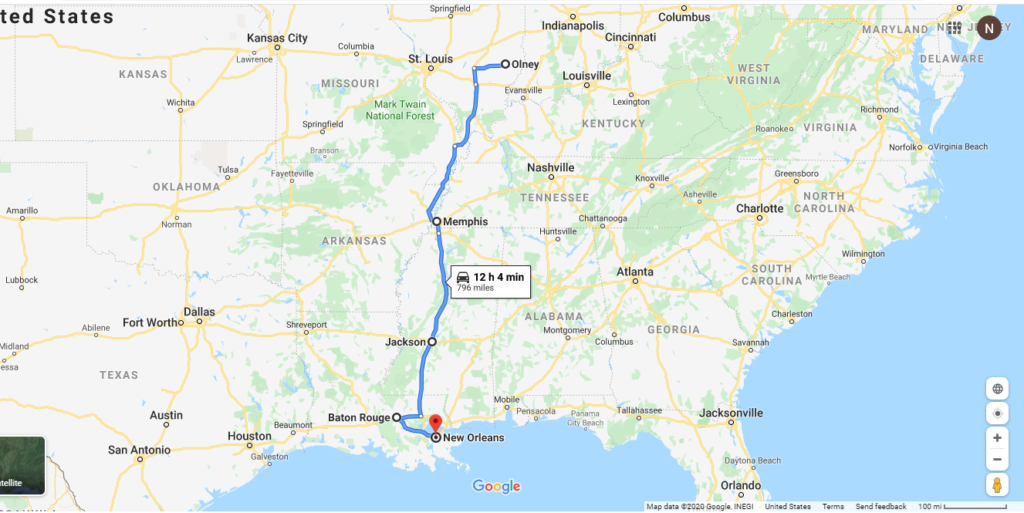 Auf dem Weg gen Süden sind uns neben Reifenresten und Schrottteilen von Autos, die anscheinend in den USA auf jedem Interstate einfach am Rand liegengelassen werden, auch Passanten auf dem Interstate entgegen gekommen. Nachdem wir Illinois und Missouri hinter uns gelassen hatten und im weltbekannten (eher trostlosen) Arkansas umhereierten sind tatsächlich einfach Menschen über den Interstate/Autobahn gelaufen als wäre es irgendeine Dorfstraße. Ich denke mehr muss ich zu diesem Staat dann auch nicht sagen. // On our way south, we met passers-by on the Interstate, besides tire remnants and scrap parts of cars, which apparently are simply left on the side of every Interstate in the USA. After we had left Illinois and Missouri behind us and were driving around in the world-famous (rather desolate) Arkansas people simply walked over the interstate as if it was a little village street. I think that's all I have to say about Arkansas.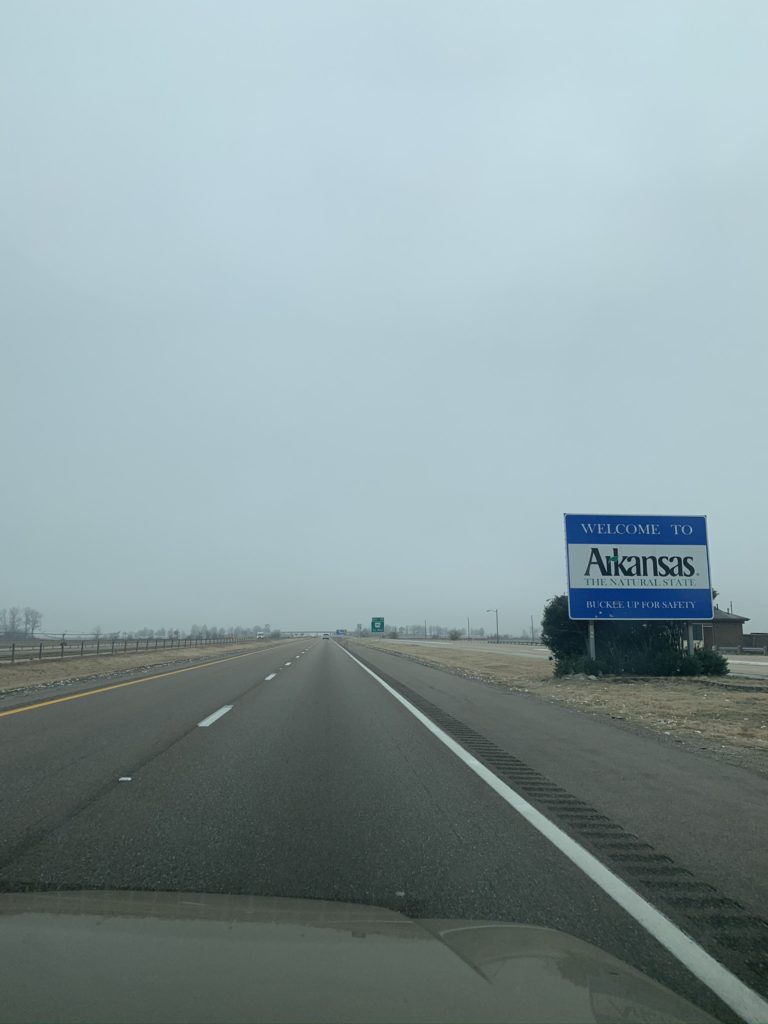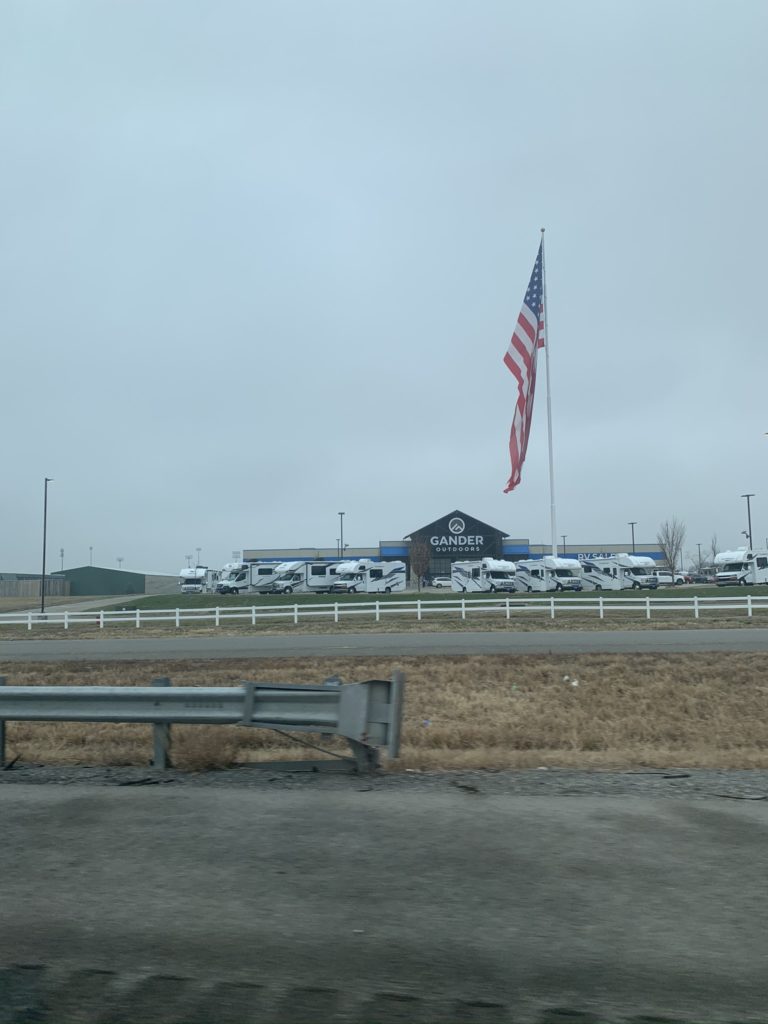 Die Nacht wollten wir dann in Memphis, TN verbringen.
Walking in Memphis:
Memphis. Die Stadt ist als Music City bekannt. Blues, Gospel, Rock n Roll. Die Stadt und vor allem die bekannte Beale Street haben mich an ein kleines Nashville ohne Country Music erinnert. Ich persönlich finde Nashville irgendwie cooler aber der in der ganzen Stadt schwebende BBQ Geruch hat auch was. Außerdem wird Michael Jackson ähhhhhh Elvis Presley mit der Stadt in Verbindung gebracht. Schließlich steht seine Bude, sein Museum und sein Flugzeug hier. Ich habe manchmal Schwierigkeiten Jackson und Presley und Elton John und Phil Collins nicht zu verwechseln – fragt mich bitte nicht wieso. // Memphis. The city is known as Music City. Blues, gospel, rock and roll. The city and especially the famous Beale Street reminded me of a little Nashville without country music. Personally I think Nashville is somehow cooler but the BBQ smell floating all over the city has something too. Furthermore, Michael Jackson ähhhh Elvis Presley is associated with the city. After all, his booth, his museum, and his airplane are located here. I sometimes have trouble not to confuse Jackson and Presley and Elton John and Phil Collins – please don't ask me why.
Überall wo ich rumrenne in den USA höre ich andere Menschen Deutsch reden – überall! So auch in Memphis. Natürlich frage ich dann immer nach woher die Damen und Herren denn kommen. In diesem Fall waren es deutsche Familien, die berufsbedingt in Texas und Oklahama auf Fort Bliss und Fort Sill arbeiten, wo sie die Expertise der Bundeswehr an amerikanische Soldaten weitergeben. Fand ich irgendwie interssant, dass nicht immer alles Gute aus den USA kommt sondern auch deutsche Expertise hier hoch geschätzt wird. // Everywhere I run around in the USA I hear other people speaking German – everywhere! So also in Memphis. Of course, I always ask where the ladies and gentlemen come from. In this case, it were German families working in Texas and Oklahoma on Fort Bliss and Fort Sill, where they pass on the expertise of the German Army to American soldiers. I found it somehow interesting that not all good things always come from the USA but that German expertise is also highly valued here.
Da Malte nachts in unserem Hostel angefangen hat zu schnarchen habe ich den berühmt berüchtigten Namentrick angewendet! Gerne nachmachen! Funktioniert garantiert! Einfach klar und mit durchdringender (muss garnicht laut sein) den Namen der schnarchenden Person sagen und die Person wacht mit 100%iger Wahrscheinlichkeit auf, was mir die Zeit gegeben hat in der kurzen Zeitspanne einzuschlafen und ähmmmmmm selbst los zu schnarchen hihi. // Since Malte started snoring in our hostel at night I used the infamous name trick! Gladly imitate it! Works guaranteed! Just say the name of the snoring person clearly and with a penetrating (doesn't have to be loud) and the person wakes up with 100% probability, which gave me the time to fall asleep in a short period of time and well …start snoring hihihi.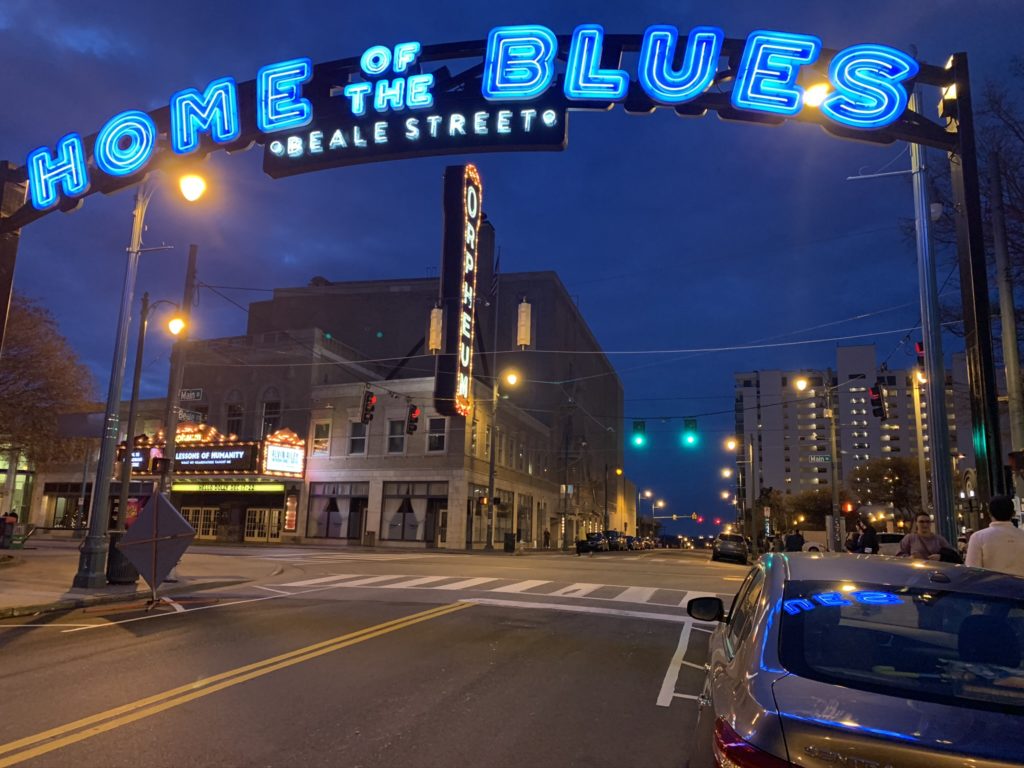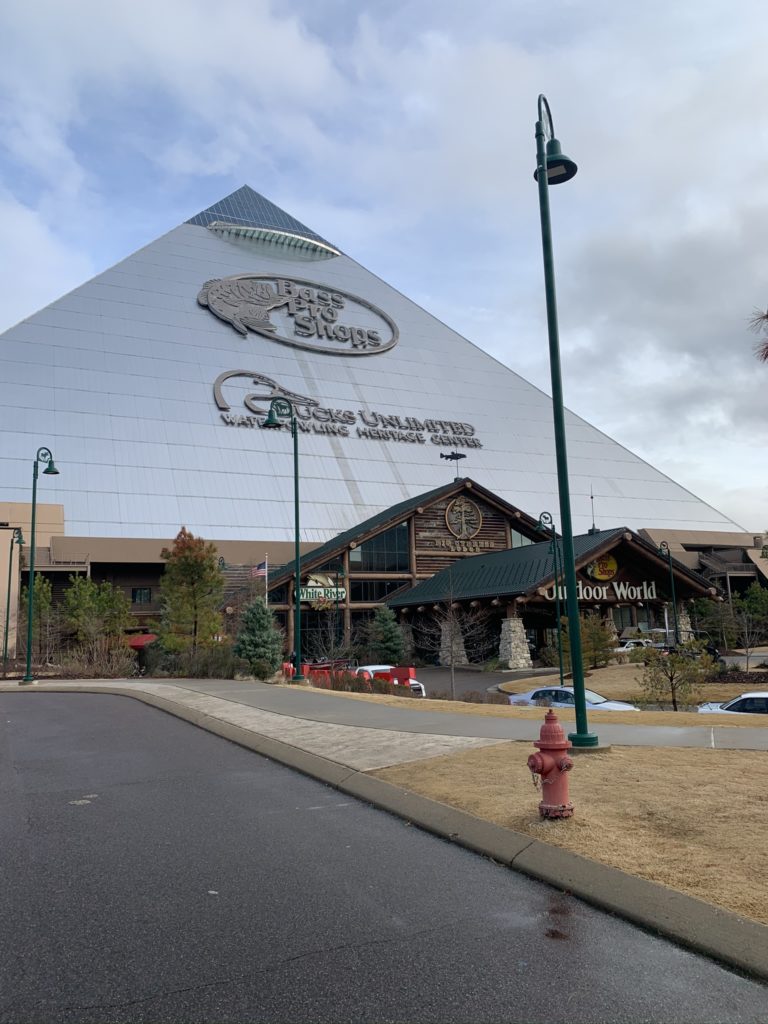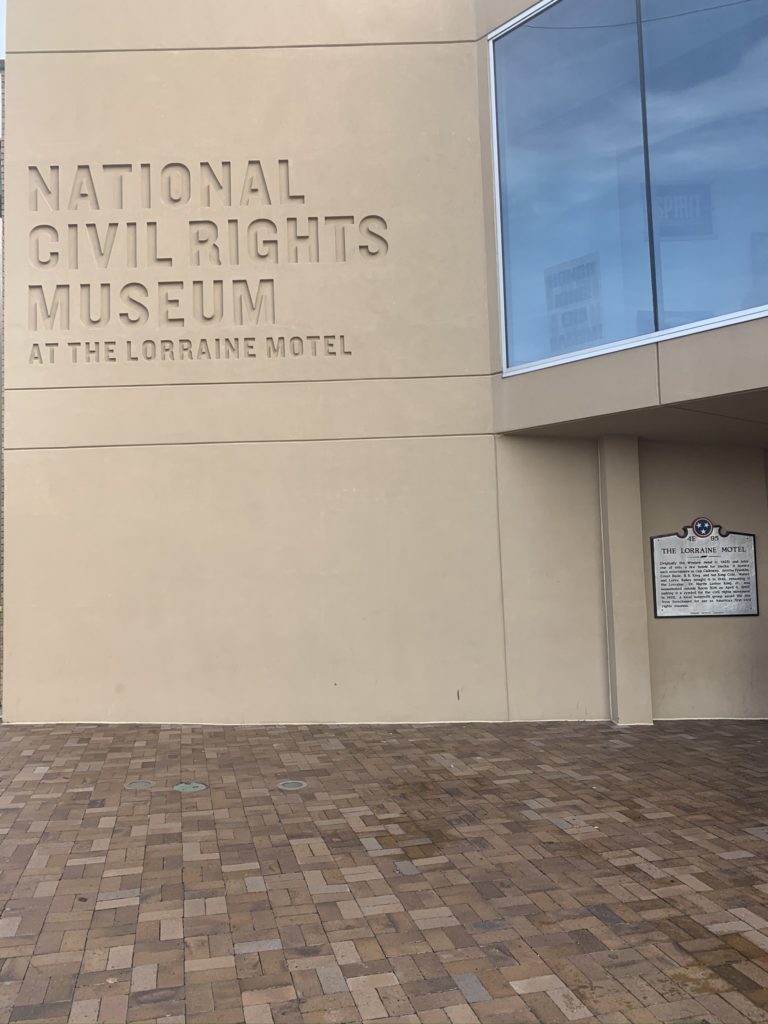 Jackson, MS
Memphis liegt genau im Dreistaateneck zwischen Arkansas, Tennessee und Mississipi. Dementsprechend waren wir recht fix in Mississipi, wo es allerdings wirklich nichts gab. "There is not a whole lot to do" sagte uns ein Lyft Driver in Memphis, der aus Mississipi stammte. Der sehr spärlich besiedelte und langgestreckte Bundesstaat Mississipi ist übrigens der ärmste aller 50 U.S. Staaten. Auf vier stündigen Fahrt auf dem Interstate durch Mississippi haben wir ganze drei Ortschaften gesehen. Die ländliche Verteilung der Menschen zeigt sich schon daran, dass Mississippi's größte Stadt Jackson nur 165,000 Einwohner hat bei einer Bevölkerung von 3,000,000 Menschen im ganzen Staat. // Memphis is located in the tri-state area between Arkansas, Tennessee and Mississipi. Accordingly, we were quite fast in Mississipi, but there was really nothing there. "There is not a whole lot to do" a Lyft driver in Memphis, who was from Mississipi, told us. The very sparsely populated and elongated state of Mississipi is the poorest of all 50 U.S. states. On a four hour drive on the Interstate through Mississippi we saw exactly three villages. The rural distribution of the people is shown by the fact that Mississippi's largest city Jackson has only 165,000 inhabitants with a population of 3,000,000 people in the whole state.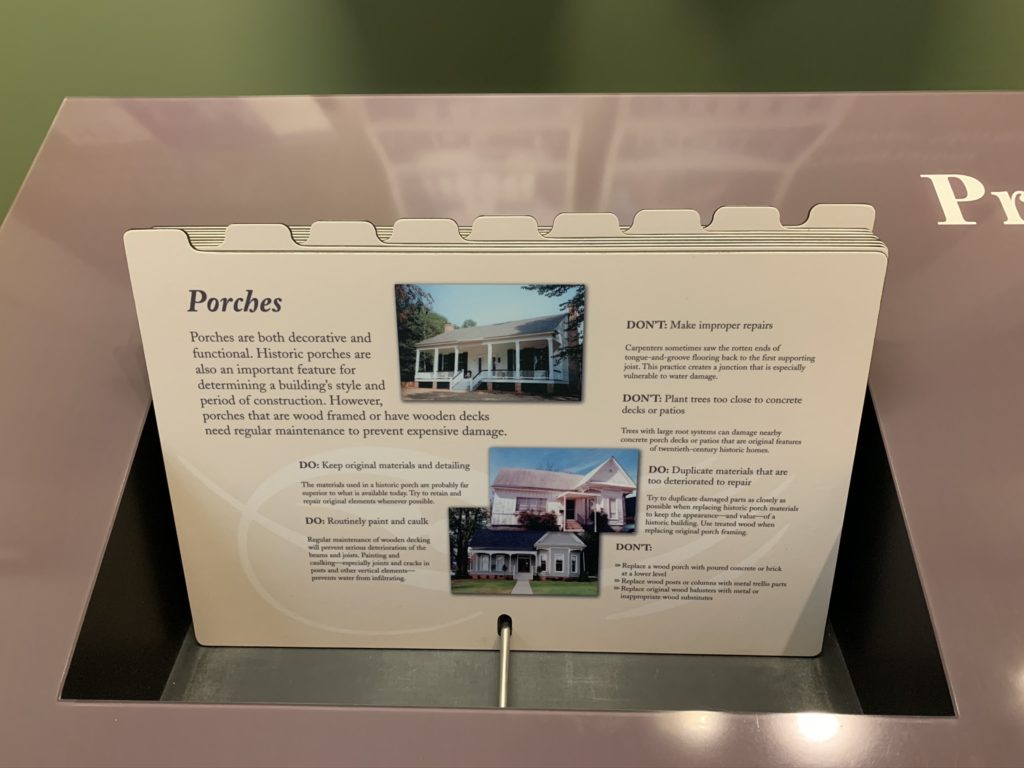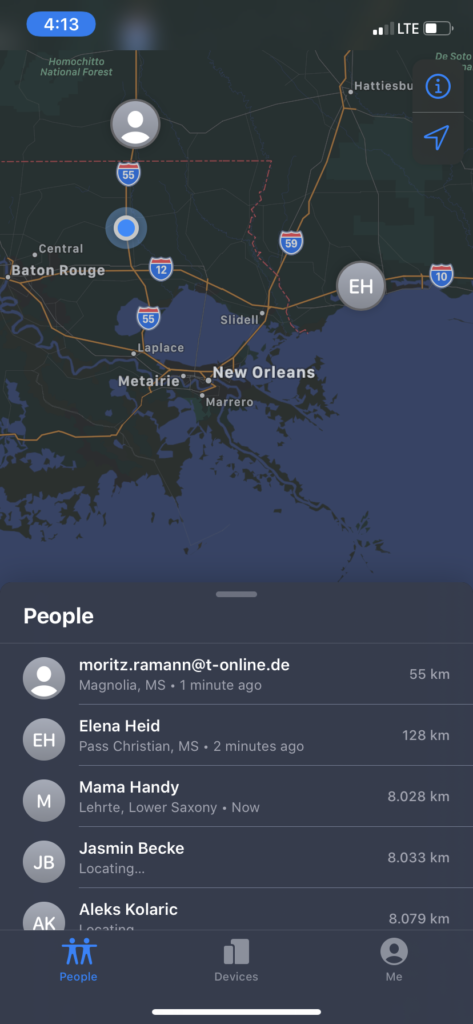 Baton Rouge, LA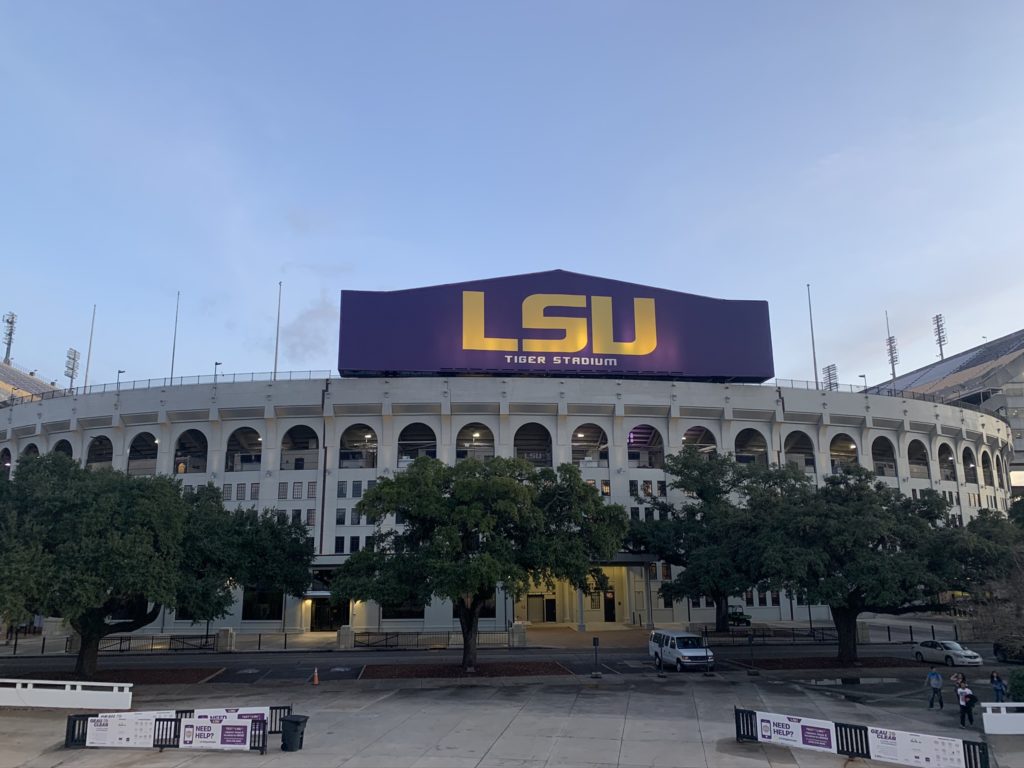 New Orleans, LA
Warum eigentlich New Orlenas?
New Orleans ist bekannt die unamerikanische Stadt Amerikas zu sein. Damals Teil des französischen Kolonie Nordamerikas wurde es 1803 im Rahmen des Louisana Purchase an die USA verkauft weist aber noch heute einen starken französischen Einfluss auf. Jazz Music, hohe Temperaturen das gazne Jahr über, der Golf von Mexico vor der Tür, Geistertouren, Menschen die wirklich als Vampire leben und natürlich die Bourbonstreet wo sich Bars aneinander reihen sind einige der prägesnsten Dinge in NOLA. Außerdem ist NOLA (New Orleans, LOUISANA (LA)) neben Vegas eine der wenigen Städte, in denen in der Öffentlichkeit Alkohol konsumiert werden darf, was den Ruf als Partystadt nochmal untermauert. Die New Orleans Saints sind basierend auf meiner akribischen Expertise das beste, coolste und geilste Football Team des Landes. In 2005 hat Hurricane Kathrina die Stadt stark zerstört und die gesamte Region war überflutet. // New Orleans is known to be the most unamerican city in America. At that time part of the French colony of North America, it was sold to the USA in 1803 as part of the Louisana Purchase but still shows a strong French influence. Jazz music, high temperatures all year long, the Gulf of Mexico on your doorstep, ghost tours, people who really live as vampires and of course Bourbon Street where bars line up are some of the most memorable things in NOLA. Besides that NOLA (New Orleans, LOUISANA (LA)) is one of the few cities besides Vegas where alcohol is allowed to be consumed in public, which underlines its reputation as a party town. Based on my meticulous expertise, the New Orleans Saints are the best, the coolest and hottest football team in the country. In 2005, Hurricane Katrina severely damaged the city and the entire region was flooded.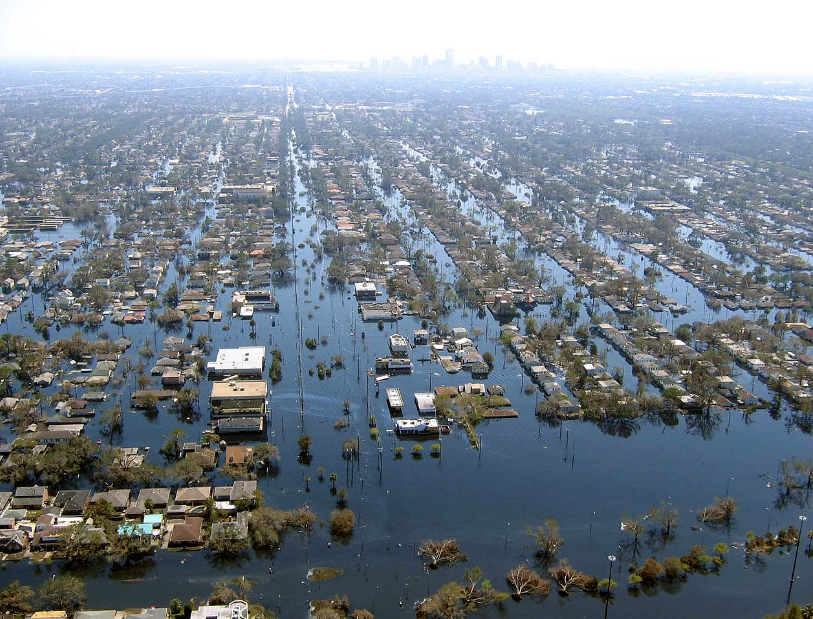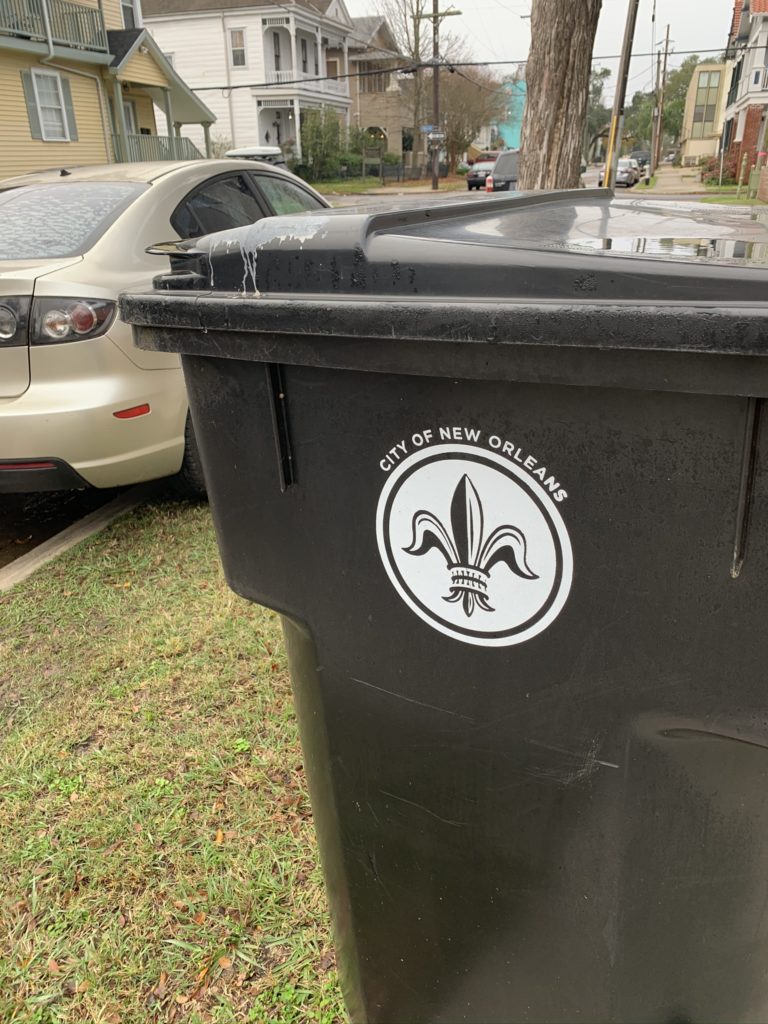 Es gab sich natürlich viel erzählen. Was ist bei jedem die letzten 6 Monate so passiert? Und wir hatten sogar einen Ehrengast an Bord. Niels, mein Kumpel seit Kindheitstagen, ist wie es der liebe Gott so will Jana's Freund (Teilnehmerin des PPP) und war auch in NOLA am Stizzel. Ich habe Niels, natürlich überaus erfolgreich, den anderen PPP'lern auch als PPP'ler verkauft und ihm eine Identität mit Platzierung in Maryland und Job als KFZ-Mechatroniker gegeben. Es sind nicht wenige darauf reingefallen bis Elena mir mal wieder meinen Spaß genommen hat und mich auffliegen lassen hat. // Of course, there was a lot to talk about. What's been going on with everyone the last 6 months? And we even had a guest of honor on board. Niels, my buddy since childhood days, is Jana's boyfriend (participant of the PPP) and was also in NOLA at the Stizzel. I sold Niels, of course very successfully, to the other PPP'lern also as PPP'ler and gave him an identity with placement in Maryland and job as a car mechatronics engineer. Quite a few people fell for it until Elena took away my fun and told the truth.
Geschichten aus den vergangenen Monaten wurden bei Beerpong und Pizza ausgetauscht und es wurde versucht dabei so leise wie möglich zu sein, da laut Airbnb Beschreibung irgendwo im Haus ein Noisedetektor installiert sei, der bei zu hoher Dezibelzahl eine Meldung an den Vermiteter gibt, welcher uns wiederrum extra blechen lassen würde. Der Noisedetektor wurde aber nirgendwo gesichtet, sodass es möglicherweise auch nur ein geschickter Trick des Vermieteres war um uns ruhig zu halten. // Stories from the past months were exchanged at Beerpong and Pizza and we tried to be as quiet as possible, because according to Airbnb's description a noise detector is installed somewhere in the house, which, if the decibel level is too high, sends a message to the operator, who in turn would make us pay extra. But the noise detector was not seen anywhere, so it was probably just a clever trick of the landlord to keep us quiet.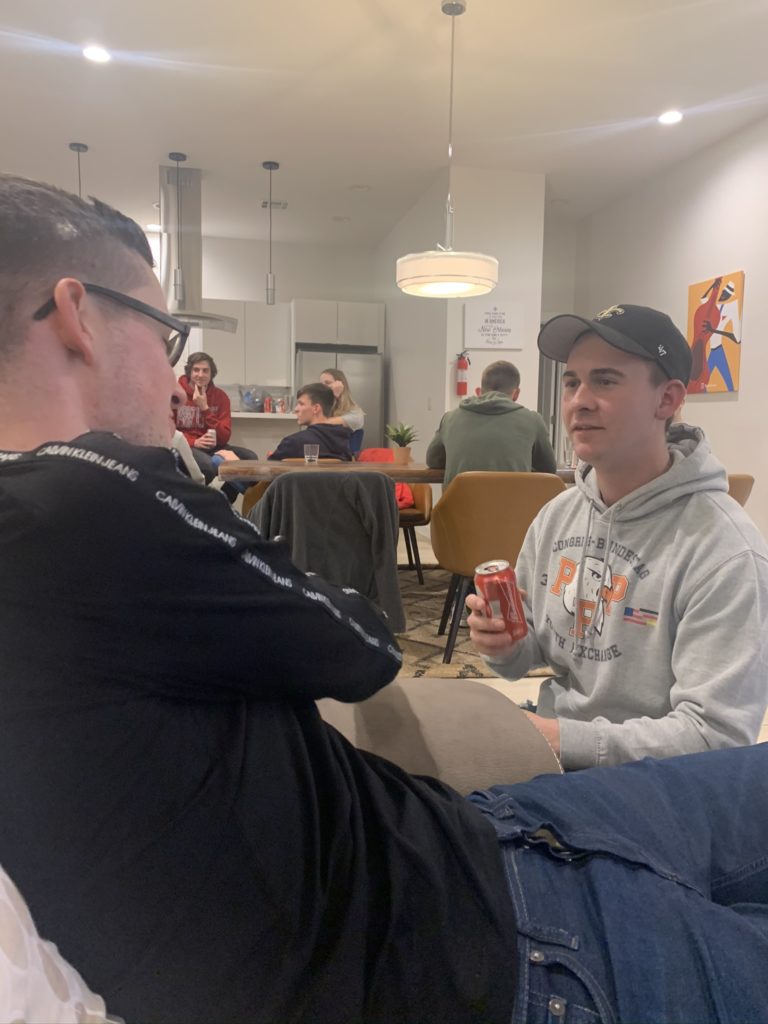 Jeder der mich kennt weiß, dass ich nie Cash dabei habe. Somit habe ich den dummen Touri gespielt und die jeweiligen Street Car Fahrer haben mich nen paar mal kostenlos mitgenommen hehe. // Everyone who knows me knows I never carry cash. So I played the stupid tourist and the Street Car drivers took me for free a few times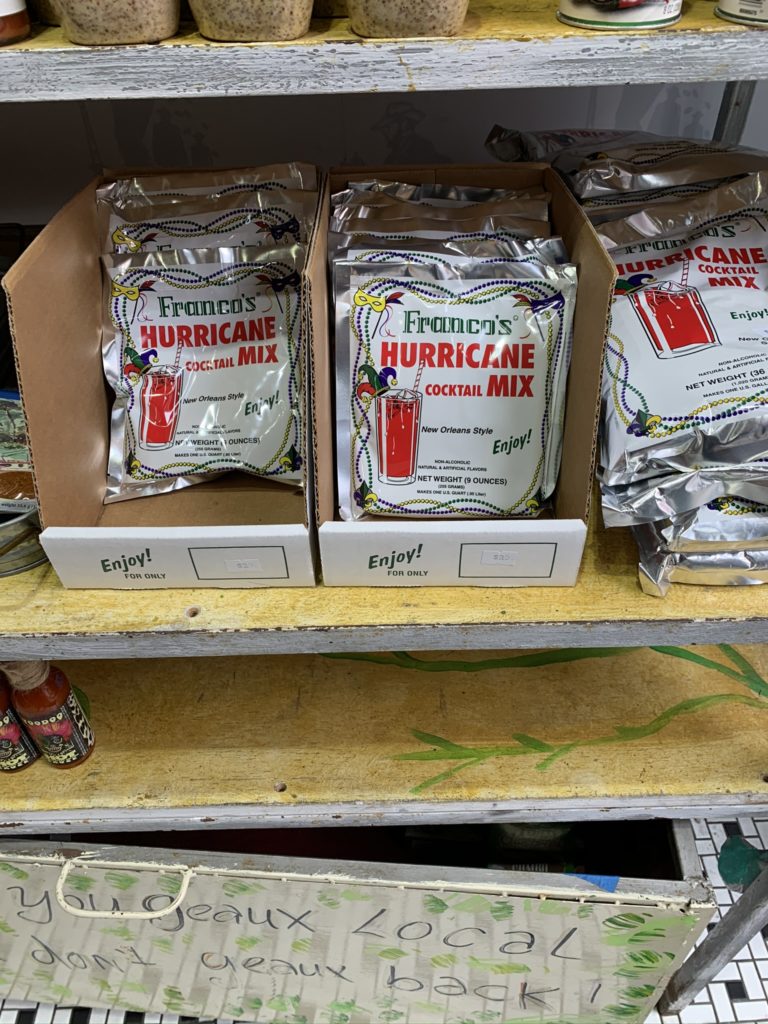 In the Big Easy hängt übrigens schon morgens un 9 Uhr der Marijuana Geruch in der Luft, passend zum Feeling der Stadt ist natürlich auch das legal hier. Die Menschen scheinen diese entspannte Atmosphere irgendwie anzunehmen und sind in so vielen Angelegenheiten lockerer als anderswo. // In the Big Easy, the marijuana smell is already hanging in the air at 9 o'clock in the morning, of course this is also legal here, matching the feeling of the city. The people seem to accept this relaxed atmosphere somehow and are more relaxed in so many matters than elsewhere.
Im Saints' Fanshop habe ich dann den Albtraum aller Einzelhändler begangen. Pullover anprobiert um die passende Größe herauszufinden, dann ins WLAN des Ladens eingeloggt um den Pullover für die Hälfte des Preises im Internet zu bestellen. Ich hätte mich schlecht gefühlt wenn es ein kleiner Tante-Emma-Laden gewesen wäre und ich kein armer reisender Student wäre!!! So nicht! // In the Saints' Fanshop I then committed the nightmare of all retailers. Trying on sweaters to find out the right size, then logged into the shop's WLAN to order the sweater for half the price on the Internet. I would have felt bad if it had been a small corner shop and I was not a poor traveling student! But that was not the case!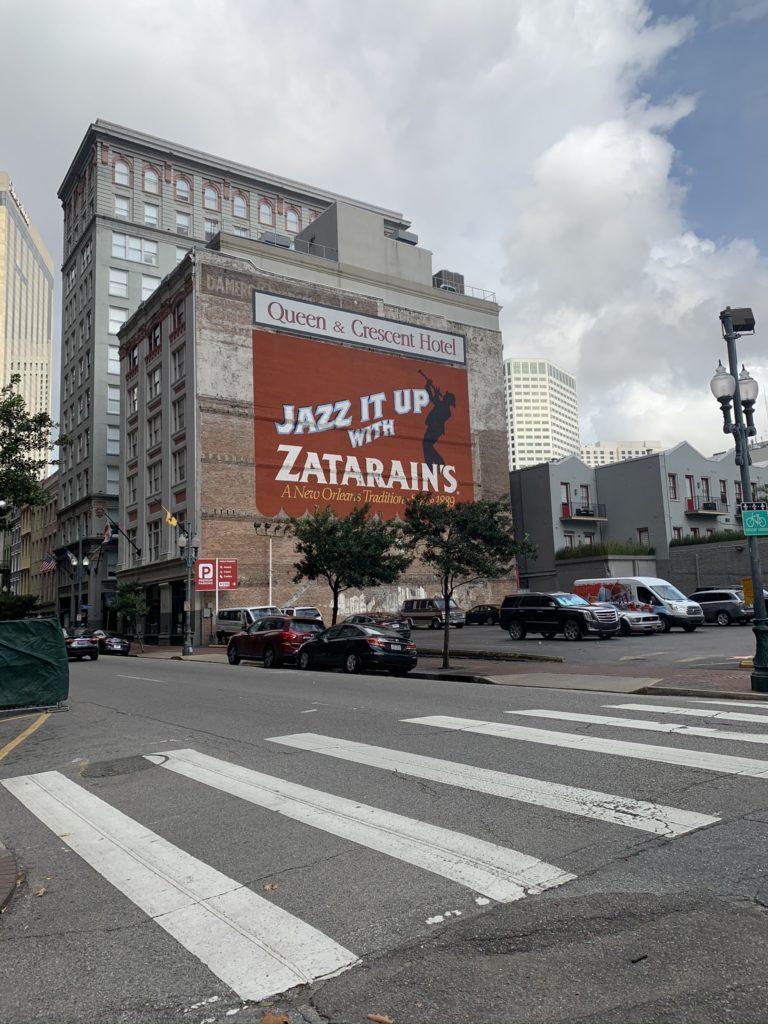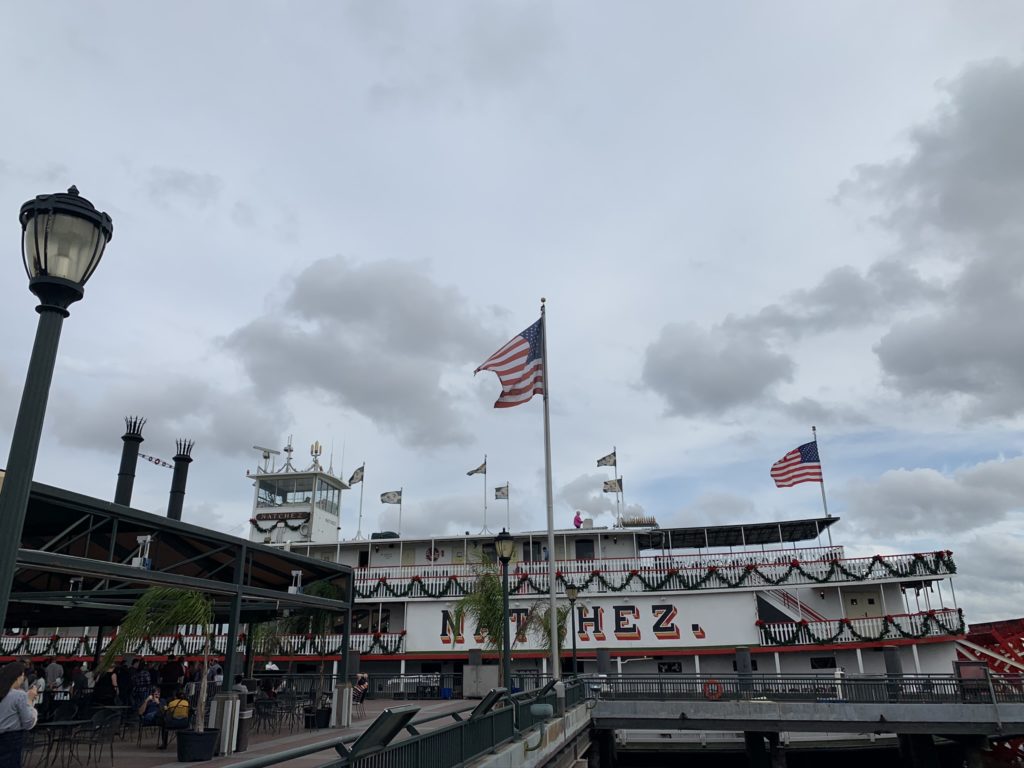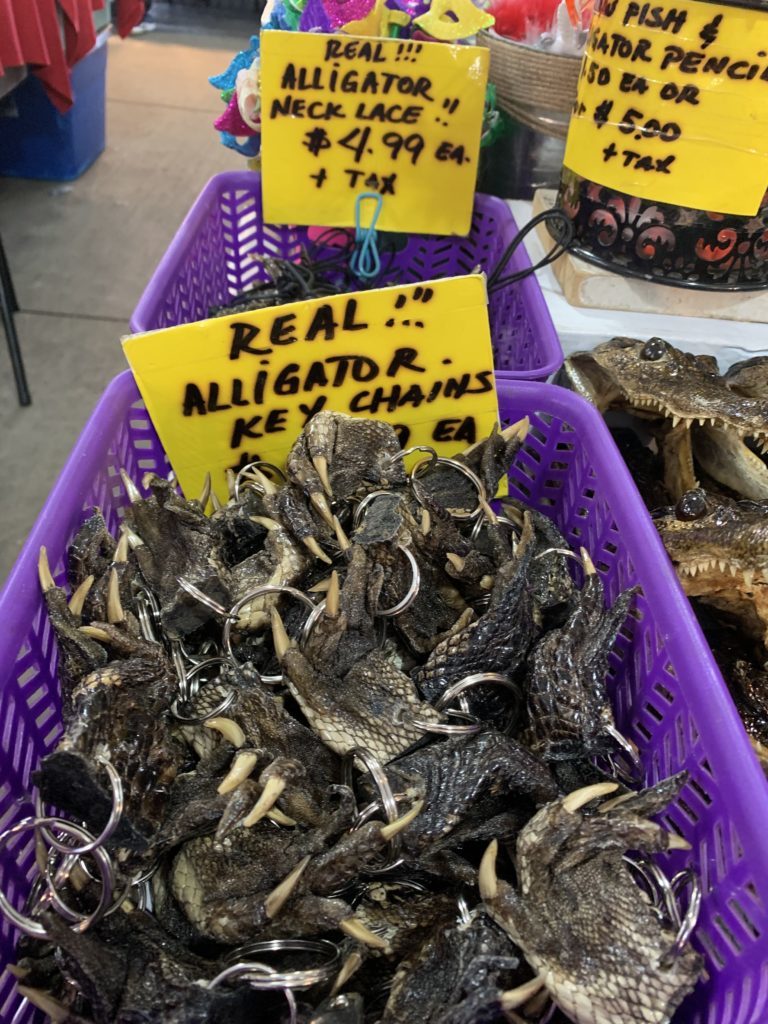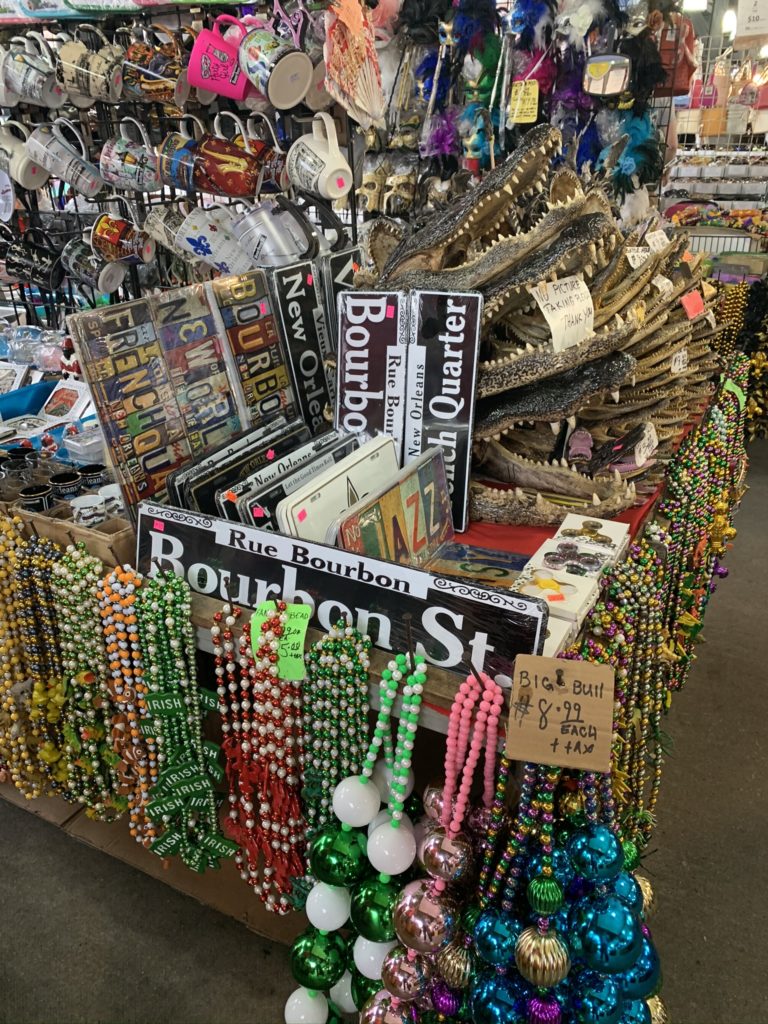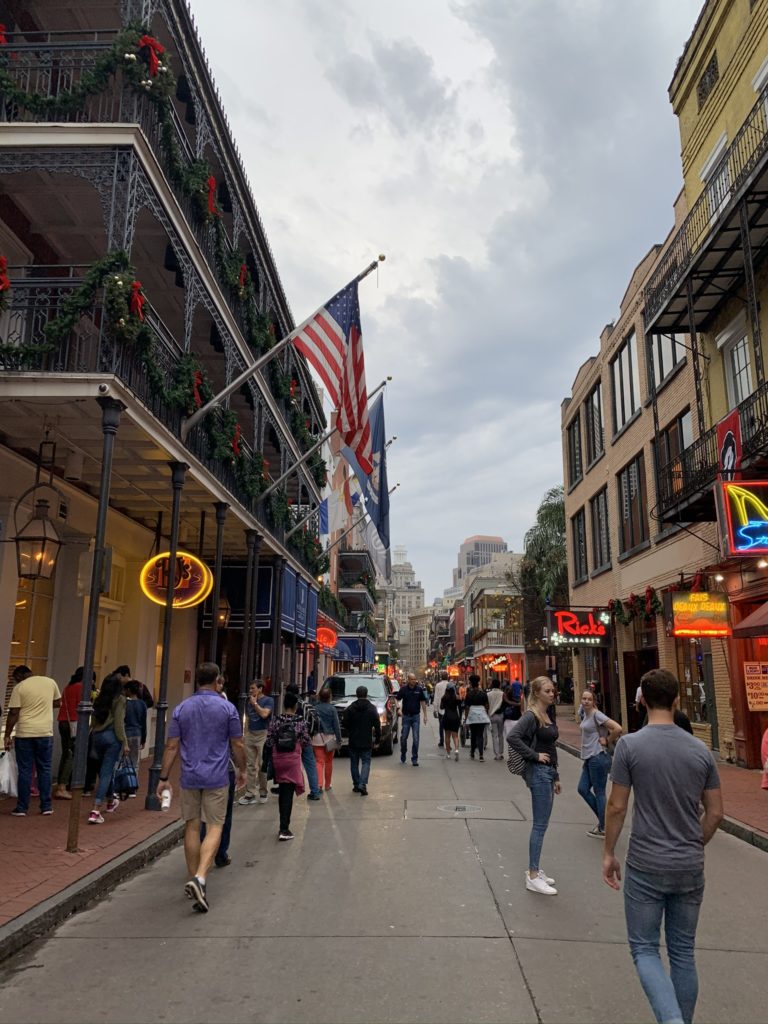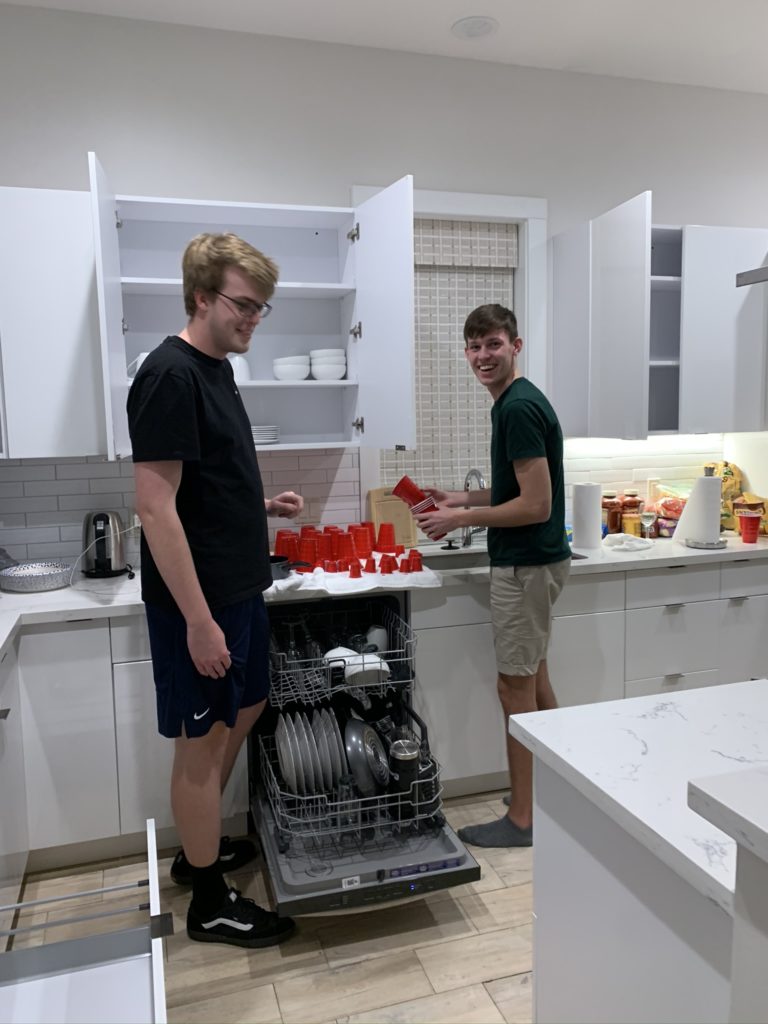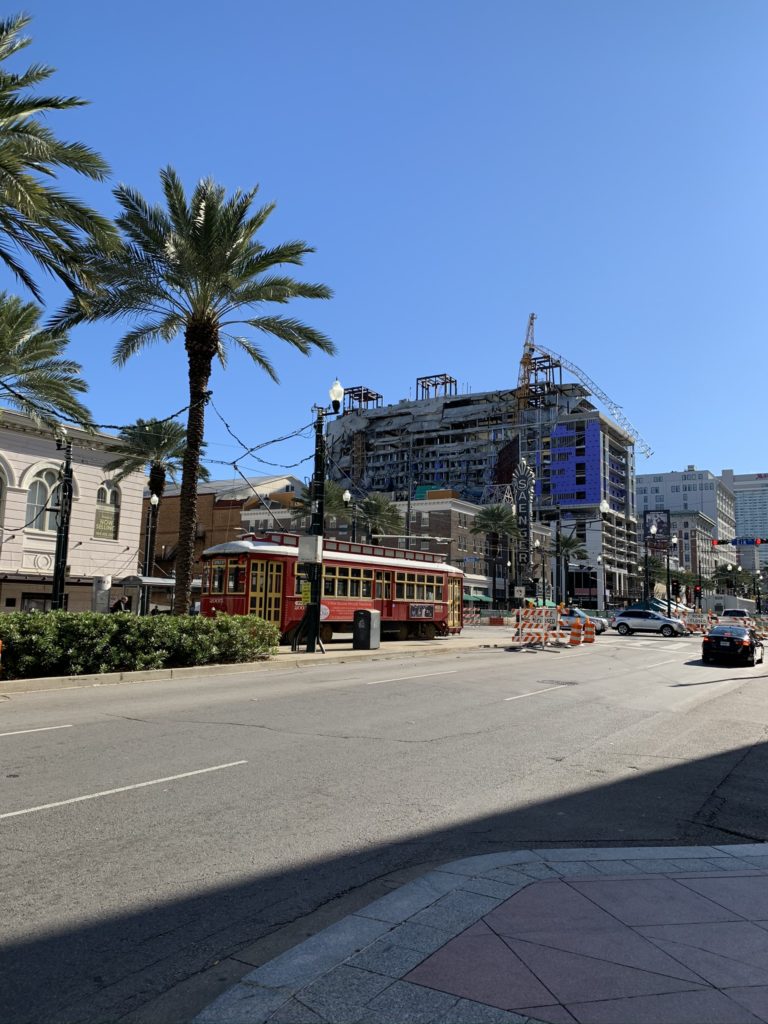 Da NOLA so ziemlich überall unterhalb des Meeresspiegel liegt werden regelmäßig die vollgelaufenen Kanale unter der Stadt entleert und das dortige Wasser irgendwo in die Stadt entlassen. Das ist auch der Grund wieso jedes Grab in NOLA oberirdisch angelegt ist.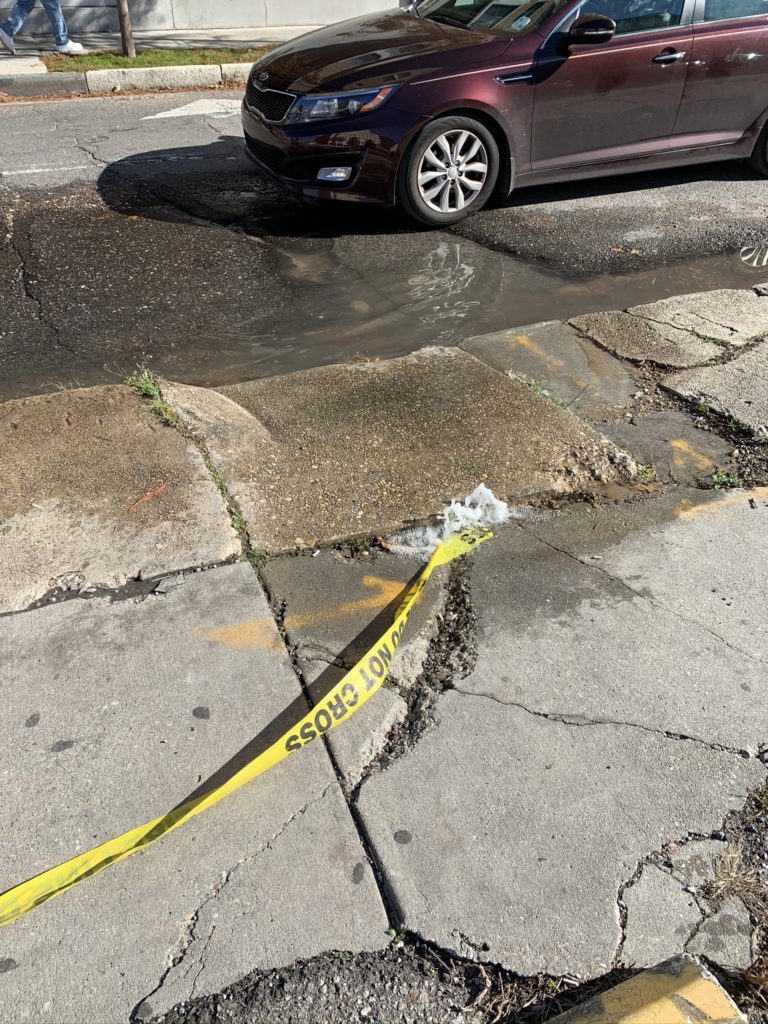 NOLA ist eine Stadt mit düsteren Geschichten. Geister und Vampire sollen die Stadt behausen und mystische afrikanische Traditionen wie die Voodookultur werden hier sehr geschätzt. Die Serie True Blood wurde in NOLA gedreht und jeder wahre Vampire Diaries Fan weiß, dass die Serie auch teilweise in New Orleans spielt. Ich suche immernoch meine Elena! Wenn du ihr ähnlich siehst bitte melden! Neben Friedhofstouren werden auch Geistertouren durch die Stadt angeboten. Eine davon haben wir gebucht, wobei der Tourguide selbst gruseliger war als seine Geschichten. Naja Kulturprogramm hatten wir damit auch abgehackt. // NOLA is a city with dark stories. Ghosts and vampires are said to dwell in the city and mystical African traditions such as voodoo culture are highly valued here. The series True Blood was filmed in NOLA and every true Vampire Diaries fan knows that the series is also partly set in New Orleans. I am still looking for my Elena! If you look like her please let me know! Besides cemetery tours, there are also ghost tours throughout the city. We booked one of them, but the tour guide himself was scarier than his stories. Well, we had also chopped off the cultural program.
Für den berühmtesten Freidhof muss man übrigens Geld bezahlen um ihn betreten zu dürfen. Typisch Amerika! Öffentliche Plätze, ebenso wie Ellis Island in NYC, werden komerziell privatisiert um den Menschen das Geld aus der Tasche zu ziehen. Was ist wenn ich Familie da liegen hätte? Kriege ich dann ne Ausweiskarte mit "Jo hat Zutritt?" // By the way, you have to pay money to enter the most famous outdoor playground. Typical America! Public places, as well as Ellis Island in NYC, are commercially privatized to take money out of people's pockets. What if I had family lying there? Do I get an ID card that says, "NK has access?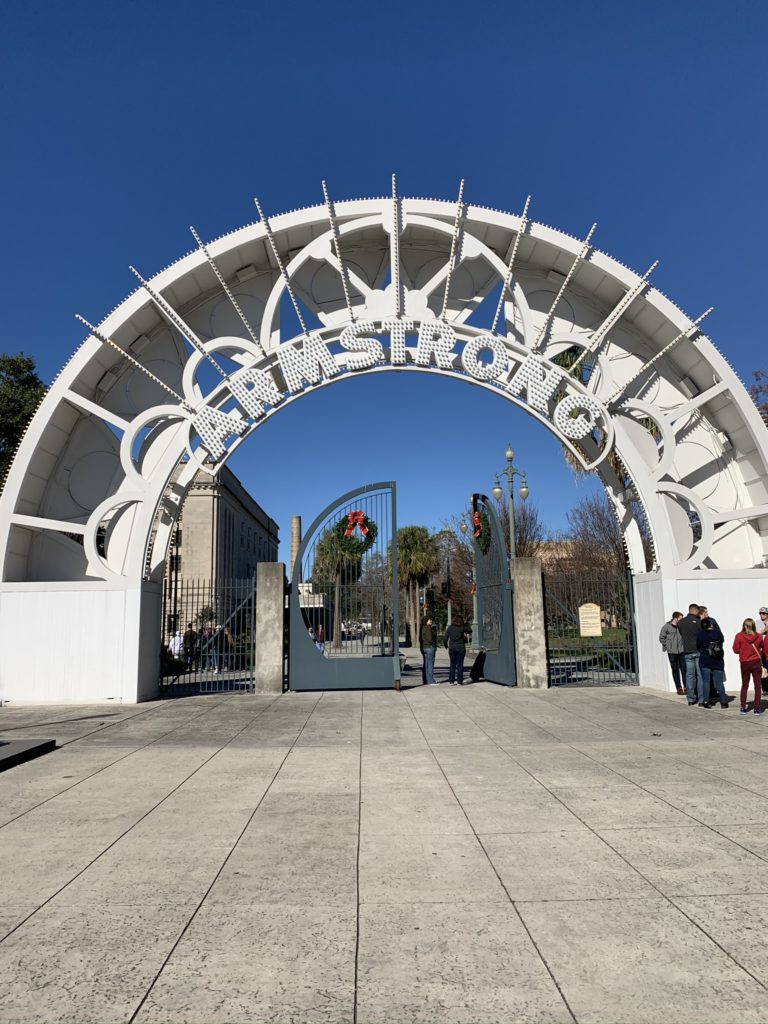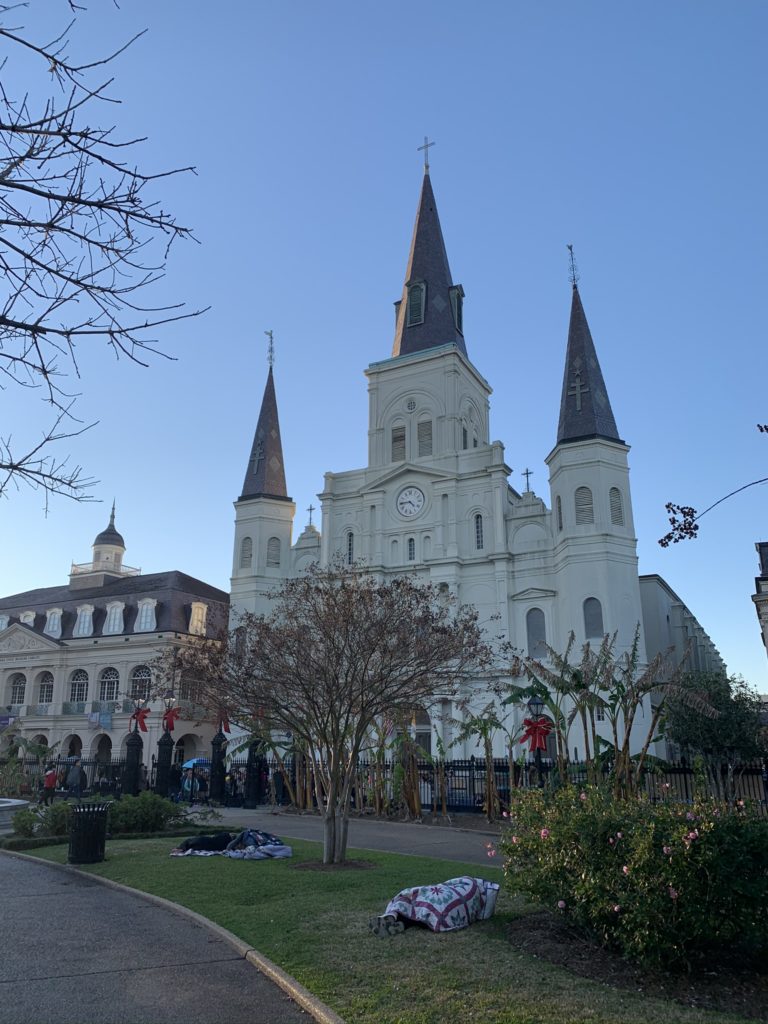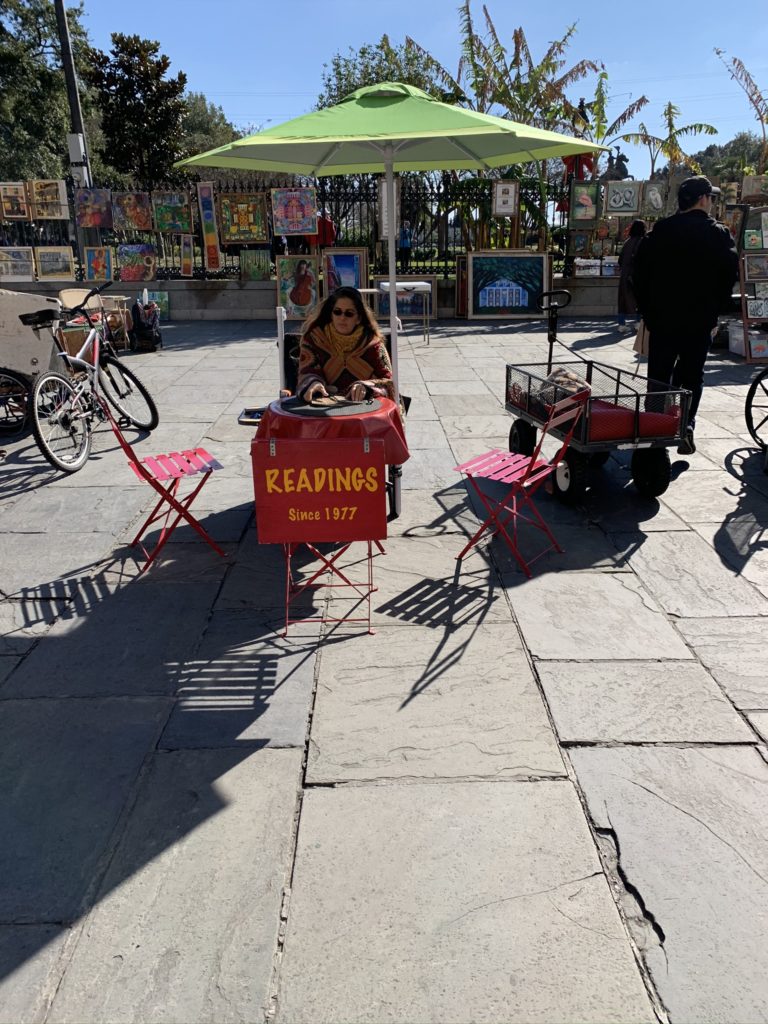 Ich muss sagen, dass ich in den USA oder generall mittlerweile echt gerne in die Kirche gehe. Mit 14 fand ich den Kirchenbesuch auch immer langweilig aber dahingehend hat sich meine Einstellung stark geändert.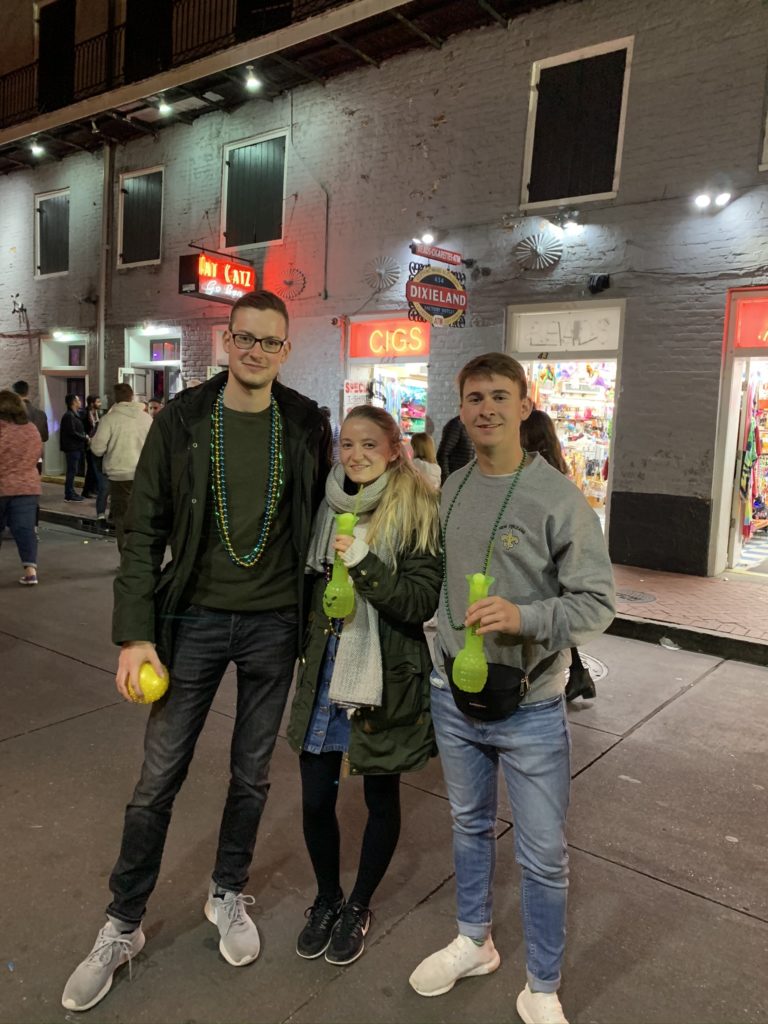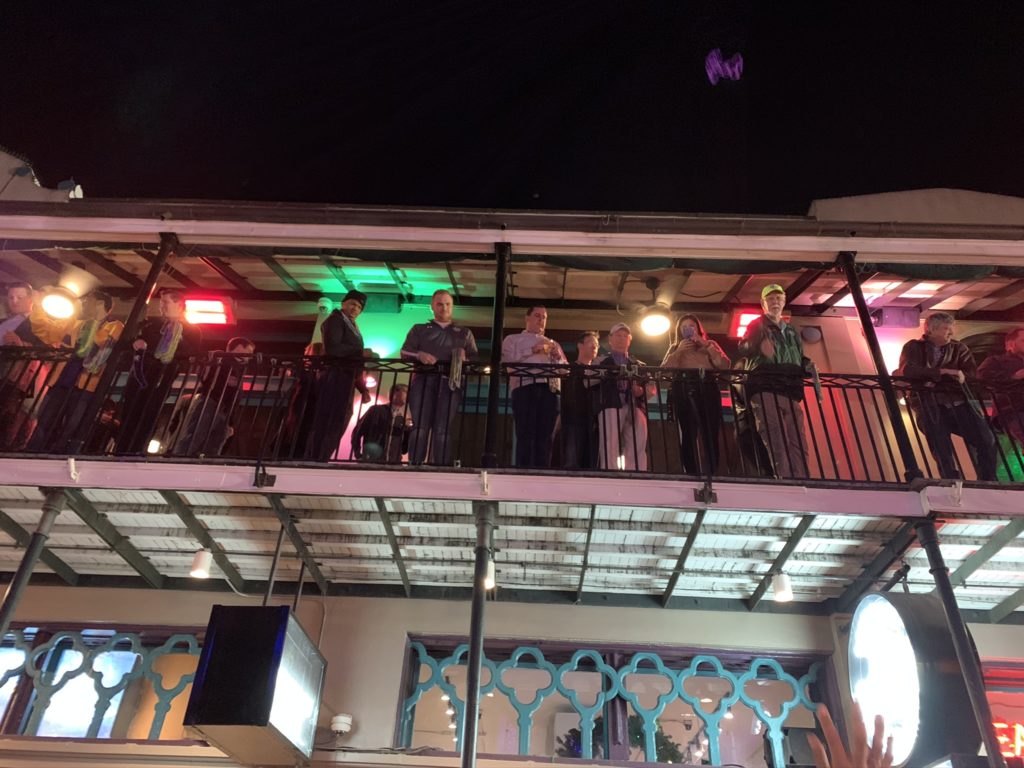 Die einzigartigen Klassenunterschiede werden in New Orleans wie folgt verdeutlicht: In und um die Bourbon Street schmeißen Menschen bunte Perlenketten von den Balkonen zu Menschen auf die Straße, die sie attraktiv finden. Teilweise sieht man also, wie prollige angetrunkene Typen von einem Balkon aus deutlich machen, dass junge Frauen auf der Straße mehr nackte Haut zeigen soll. Hatte teilweise animalische Mallezustände. // The unique class differences are illustrated in New Orleans as follows: In and around Bourbon Street, people throw colorful pearl necklaces from balconies to people on the street who they find attractive. Sometimes you can see how chubby drunk guys from a balcony make it clear that young women on the street should show more naked skin. Sometimes had animalistic malleability.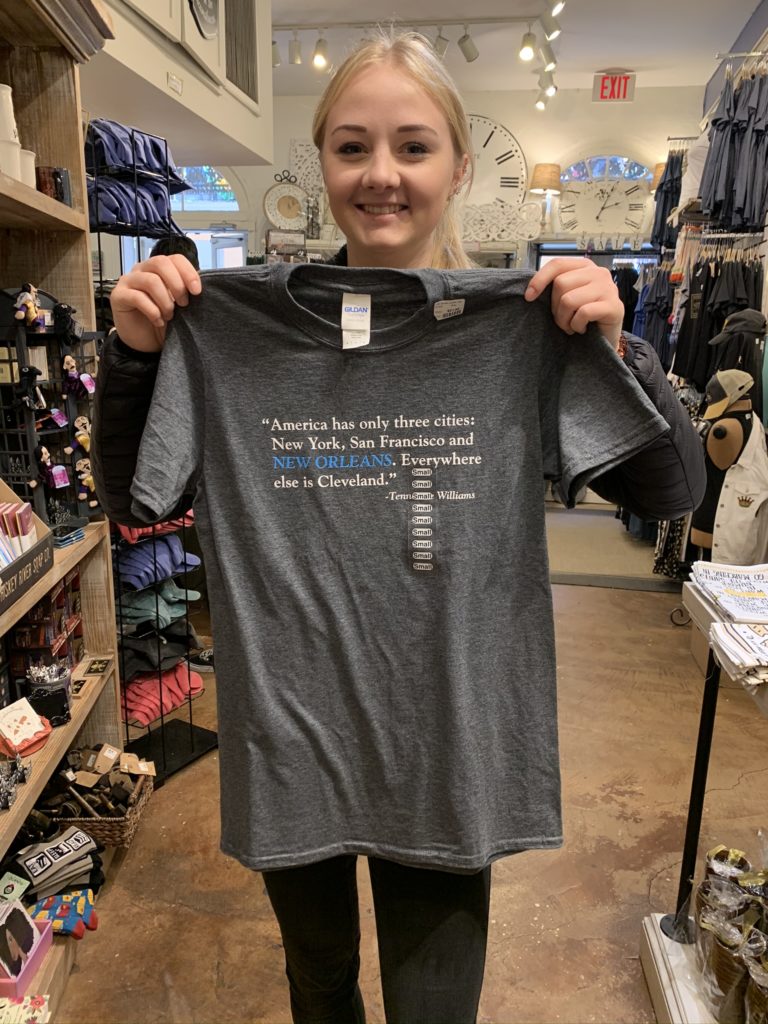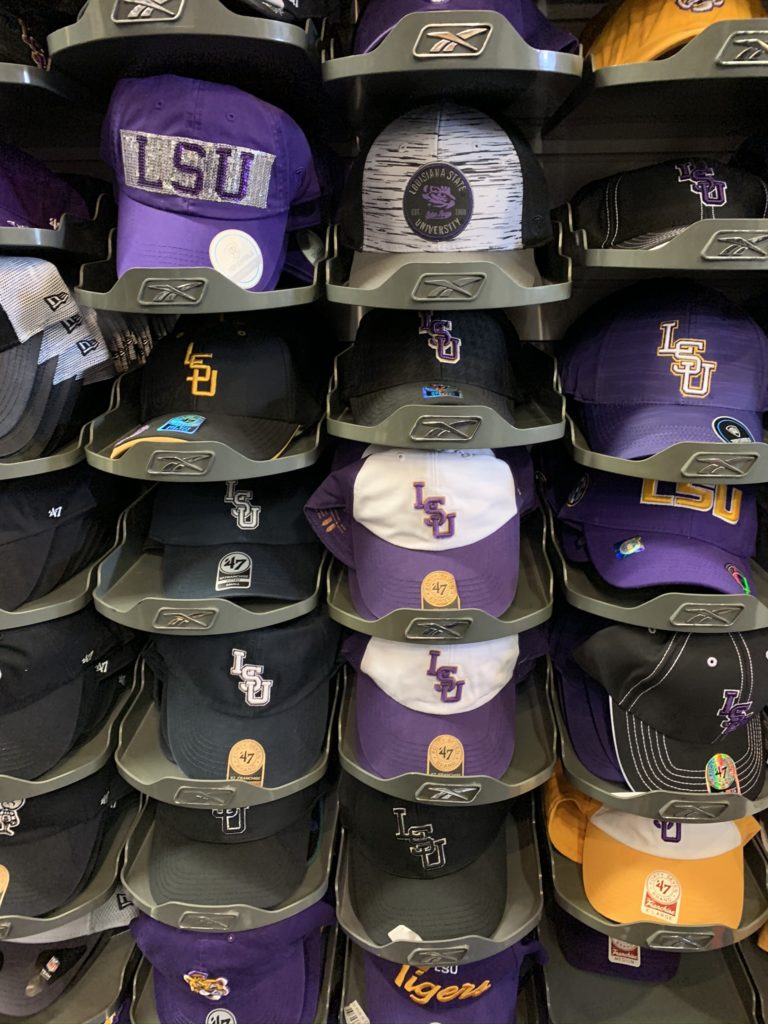 Wenn man in Louisana wohnt ist man New Orleans Saints Fan (NFL) und Louisana State University Fan (College Football). Saints + LSU = Love. Während die Saints am 1/5 ihr Playoff Spiel verloren haben spielte die LSU am 1/13 um den College Titel des Landes gegen die Clemson University from South Carolina. Just now I can tell you that LSU won the National Championship! Dazu war am 1/1 der Sugar Bowl, ein College Football Spiel zwischen der University of Georgia und der University of Baylor(Texas). Anlässlich dieses Spiels wurde eine New Years' Eve Parde veranstaltet. Das Ganze war vergleichbar mit einem deutschen Faschingsumzug: Marching Bands, Cheerleader, Faschingswagen. Dabei haben alle Teilnehmer Perlenketten, Footbälle und Süßigkeiten in die Menge geworfen. All diese Football Spiele waren im New Orleans Superdome, was wiederrum tausende von Sporttouristen anzog und die immernoch wirtschaftlich vom Hurricane gebeutelte Region postitiv beeinflusste. Apropos Football. Ich hatte garnicht auf dem Schirm, dass mein Lieblingsteam am 5 Januar ein Playoff Game in NOLA spielt. Ein Playoff Heimspiel der New Orleans Saints werde ich wahrscheinlich nie wieder in meinem Leben sehen, weshalb ich kurzerhand entschieden habe nicht mit Malte nach Texas und Oklahoma zu fahren sondern in New Orlenas zu bleiben. Nachdem ich unter alkohlischem Einfluss eine Karte für mich, ein Flugticket back home sowie eine Greyhound Bus Reise gebucht hatte gab es kein Zurück mehr. WHO DAT NATION! // If you live in Louisana you are a New Orleans Saints fan (NFL) and Louisana State University fan (college football). Saints + LSU = Love. While the Saints lost their playoff game on 1/5, LSU played for the college title of the country against Clemson University from South Carolina on 1/13. Just now I can tell you that LSU won the National Championship! Also on the 1/1 was the Sugar Bowl, a college football game between the University of Georgia and the University of Baylor(Texas). On the occasion of this game a New Years' Eve Parde was organized. The whole thing was comparable to a German carnival parade: marching bands, cheerleaders, carnival floats. All participants threw pearl necklaces, footballs and sweets into the crowd. All these football games were in the New Orleans Superdome, which in turn attracted thousands of sports tourists and had a positive impact on the still economically hurricane-torn region. Speaking of football. I hadn't even noticed that my favorite team was playing a playoff game in NOLA on January 5. I will probably never see a New Orleans Saints playoff home game again in my life, so I decided to stay in New Orleans instead of going to Texas and Oklahoma with Malte. After I booked a ticket for myself, a flight ticket back home and a Greyhound Bus trip under the influence of alcohol, there was no turning back. WHO DAT NATION!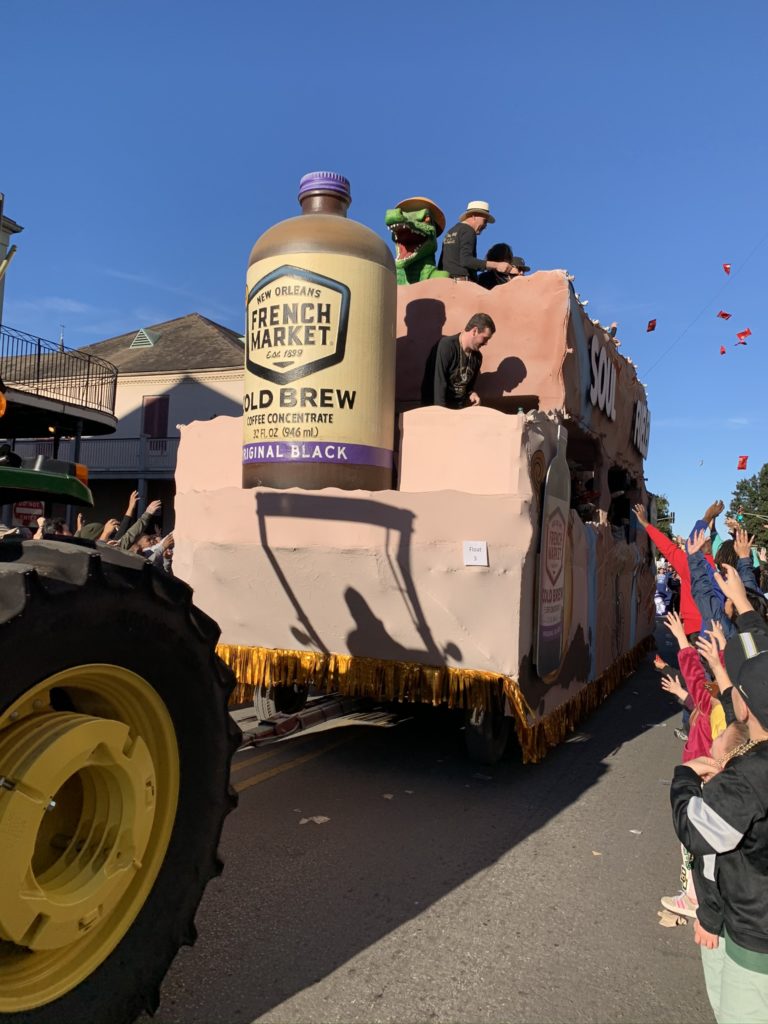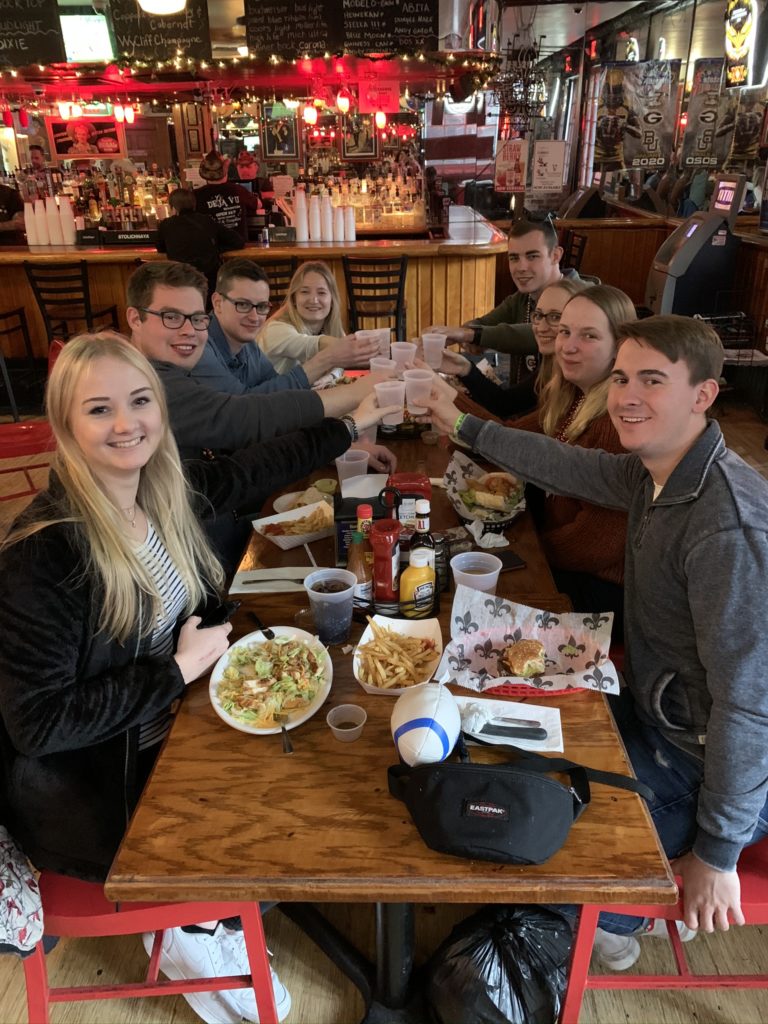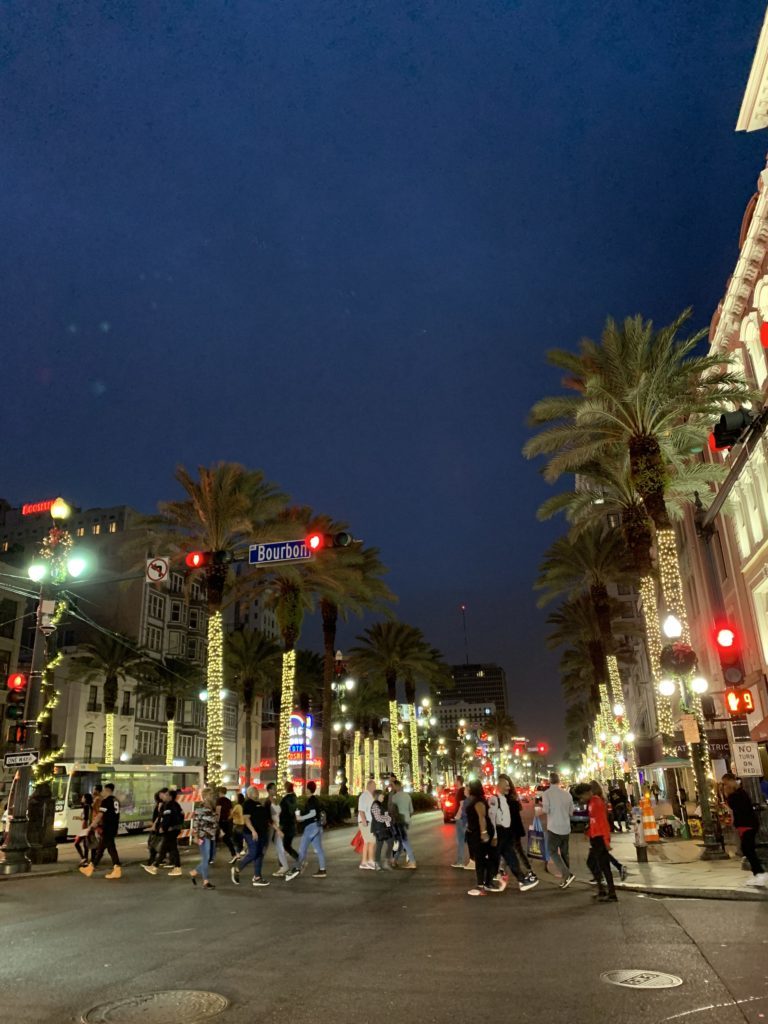 In unserer Traumvorstellung hatten Freddi, Seppel und ich vor den Tag zum Auskatern bei 25 Grad und Sonnenschein am Mississipi zu verbringen. In Realität saßen wir an einem windigen und bewölkten Tag inmitten eines abgeranzten Sportplatzes auf einer tristen und rostigen Blechtribüne. Auf der alten Blechtrübne schrie ich plötzlich auf und schaute die beiden mit Entzsetzen in meinem Gesicht an. Was ist los fragten sie irritiert. Ich schrie "ich habe meinen Reisepass nicht mit!" Na super, wie soll ich ohne Reisepass fliegen? Mein Auto steht in Olney und Malte ist schon in Texas. Die Option meinen Reisepass von Olney hinunterzufedexen hätte mich mindestens 100$ gekostet und das Risiko, dass mein wichtiges Reisedokumenet eventuell verloren gehen könnte. Ich rief erstmal Lauren und Rob an und sagte "I have got a problem." Nach einem kurzen Moment des Schweigens, in dem die beiden wahrscheinlich dachten, dass ich entweder im Knast, oder entführt, oder schwanger oder im Krankenhaus wäre, fragte Rob "What's wrong?" Ich erklärte die Situation und die beiden sagten, dass alles halb so schlimm sei. Entweder schicken sie meinen Pass via FedEX Express runter oder ich probiere mit meinem Führschein zu fliegen. Amerikaner fliegen nämlich innerhalb der USA nur mit ihrem Führerschein als Dokument. Google hab mir natürlich nie eine passende Antwort ob Ausländer also Nicht-US-Citizens mit einem US Führerschein fliegen dürfen und am 1/1 erreichte ich logischerweise auch niemanden bei der Airline oder am Flughafen. Lauren rief bei der TSA an, die mir dann final zusicherten, dass ich auch nur mit dem DL fliegen darf. Ein Problem weniger. Nächstes Ziel: Für die nächsten Nächte eine Unterkunft finden. Eine sehr makabre Hostel Rezession war "that hostel was so shitty I am happy that Katrina took care of the hostel." Ich fand zum Glück ein mega zentrales und sauberes Hostel. Achja btw für alle die denken ich mache hier bezahlten Luxusurlaub: Ich schlafe immer in 8-10 Bett Zimmern, esse eine Mahlzeit am Tag (Intermitted Fasting) und bestelle immer kostenlos Wasser um die Kosten niedrig zu halten. // In our dream imagination Freddi, Seppel and I had to spend the day before the day for defeating the hangover at 75 degrees and sunshine at the Mississipi. In reality we were sitting on a windy and cloudy day in the middle of a shabby sports field on a dreary and rusty tin grandstand. I suddenly cried out on the old tin tribune and looked at them with disgust in my face. What's going on they asked and I screamed:"I don't have my passport!" Great, how can I fly without a passport? My car is in Olney and Malte is already in Texas. The option of having my passport mailed down from Olney would have cost me at least $100 and the risk of losing my most important travel documents. I called Lauren and Rob immediately and said, "I have got a problem." After a brief moment of silence, during which they probably thought I was either in jail, or kidnapped, or pregnant, or in the hospital, Rob asked: "What's wrong?" I explained the situation and the two of them said it was no big deal. Either they send my passport down via FedEx Express or I try to fly with my driver's license. Americans fly within the U.S. on their driver's license. Of course, Google never gave me a suitable answer if foreigners are allowed to fly with a US driver's license and on 1/1 I didn't reach anybody at the airline or at the airport. Lauren called the TSA, who finally assured me that I am only allowed to fly with the DL. One problem less. Next goal: To find accommodation for the next nights. A very macabre hostel recession was "that hostel was so shitty I am happy that Katrina took care of the hostel." I was lucky to find a very central and clean hostel. Oh yeah btw for all who think I'm on a luxury holiday: I always sleep in 8-10 bedded rooms, eat one meal a day (Intermitted Fasting) and always order free water to keep the costs down.
Super interessantes Museum, welches erklärt wie die USA mit einer kleinen Armee erst zum Arsenal of the democracy wurde und nach dem Krieg aus Weltmacht hervorging.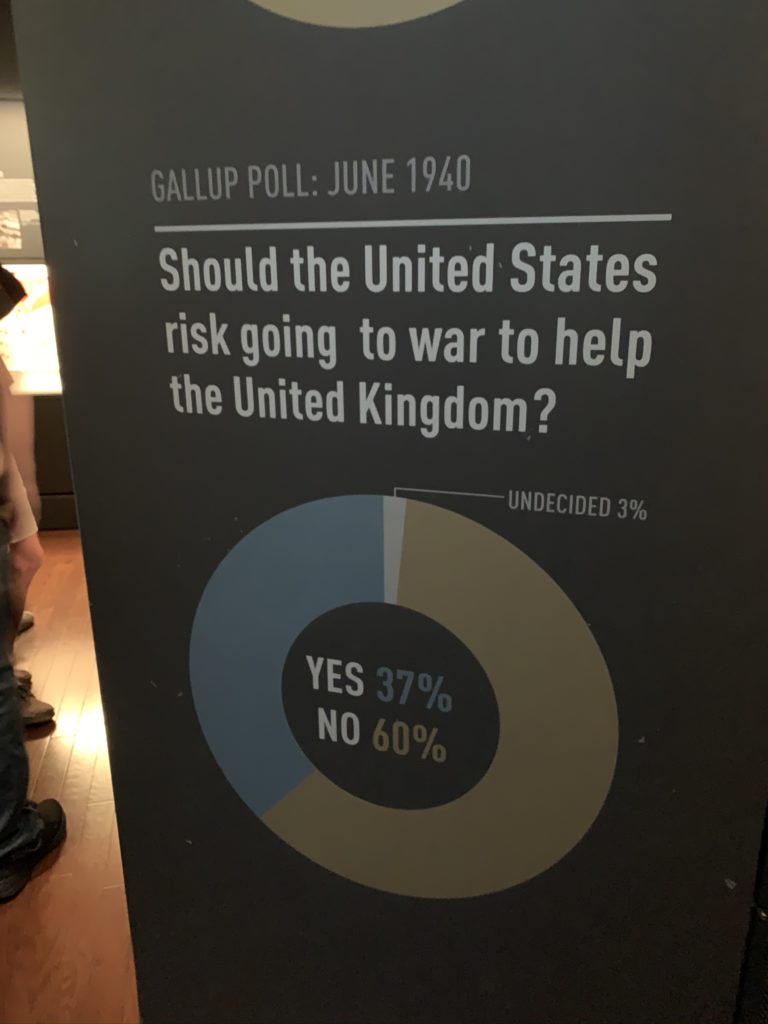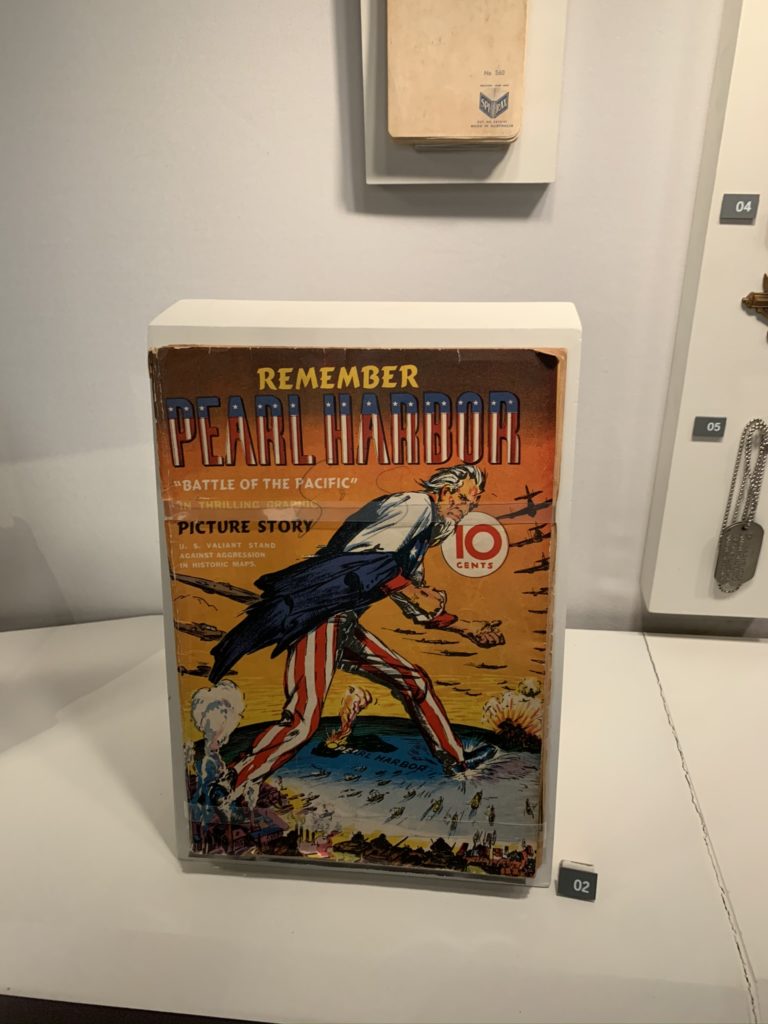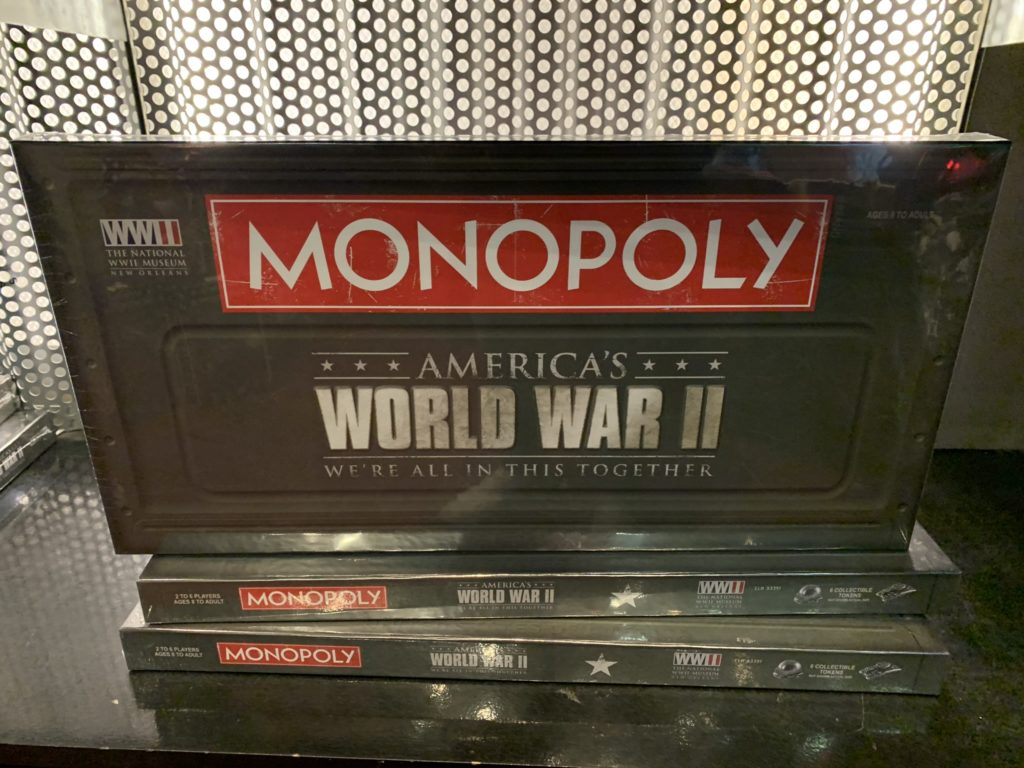 Ogden Museum: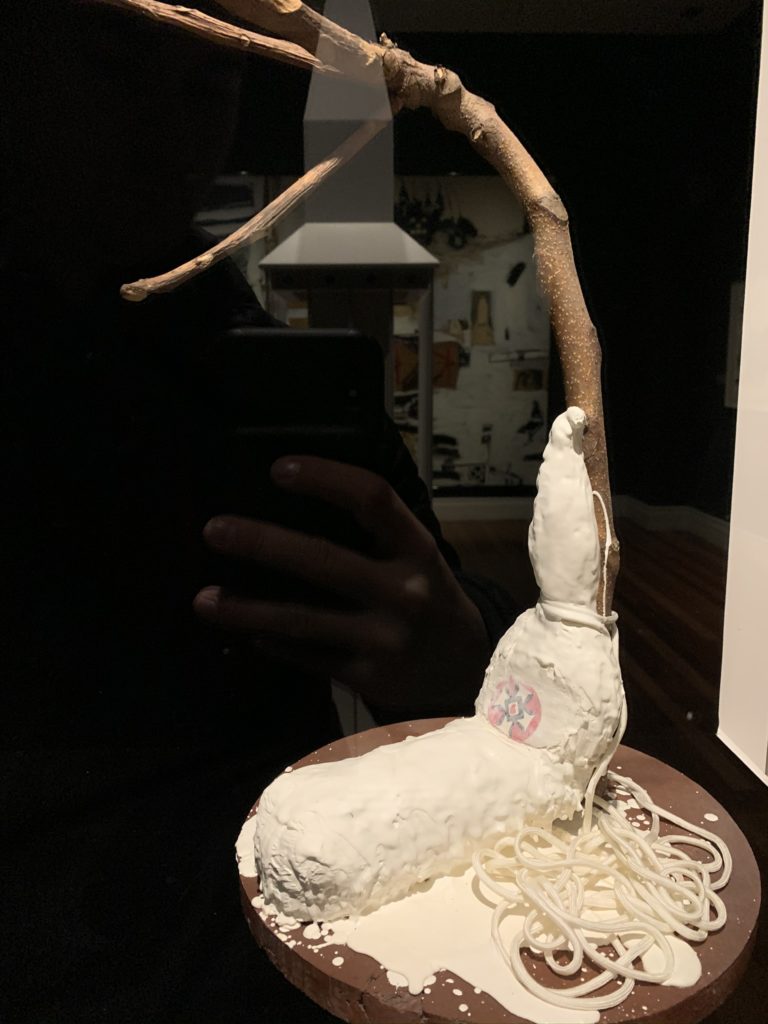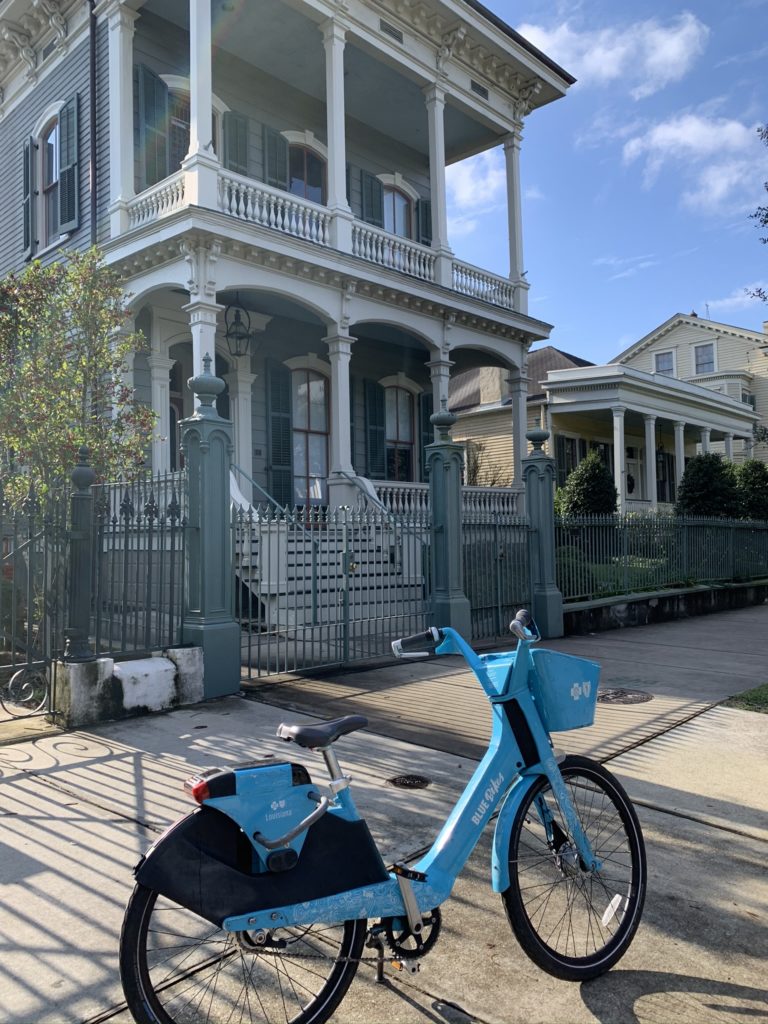 Uptown and Frenet are really hip and trendy districts where it is fun to just bike around.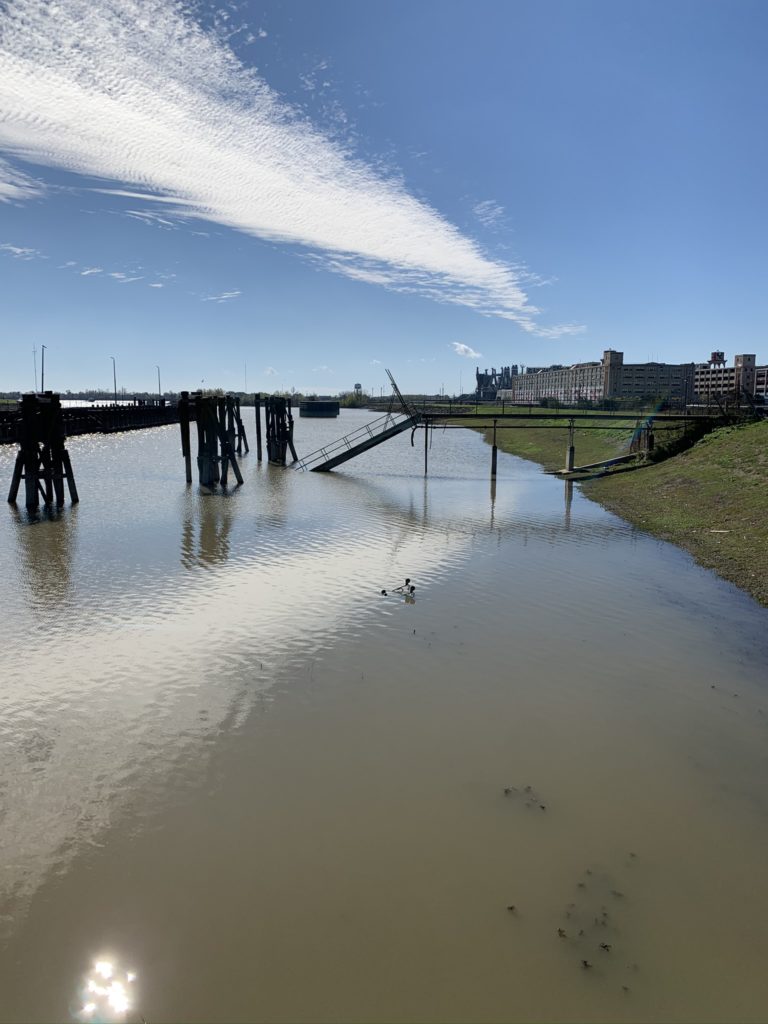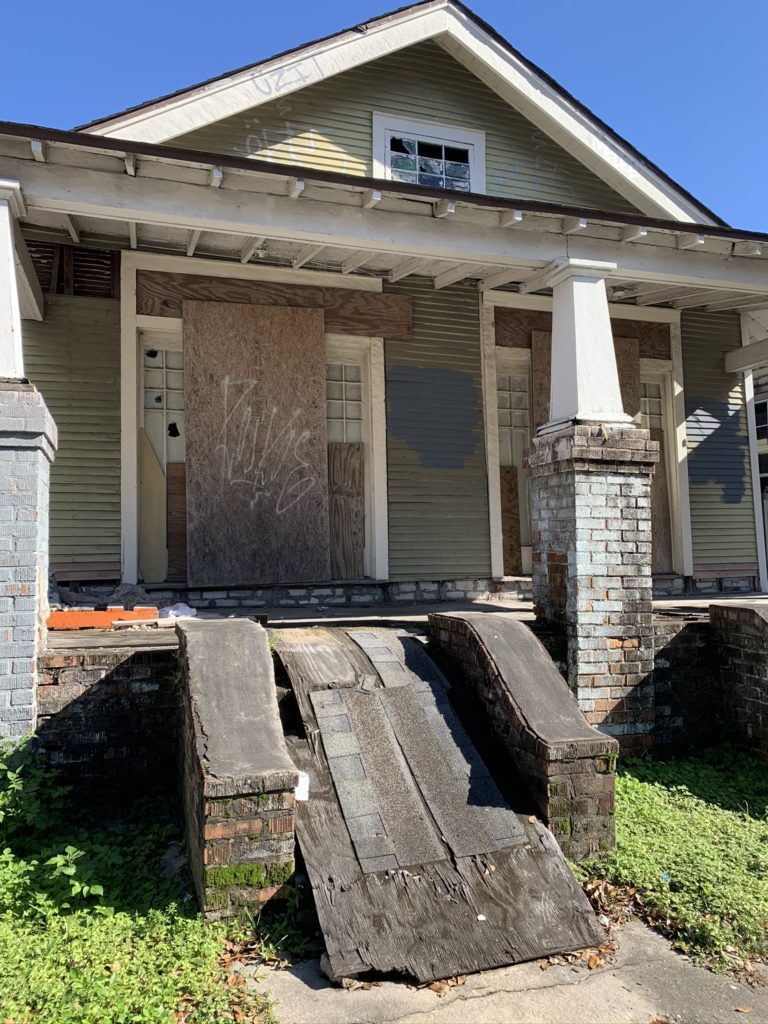 D a man ohne Auto in den USA total aufgeschmissen ist, funktionstüchtige öffentliche Verkehrsmittel ein Fremdwort sind und ich mit meinem ökologischen Fußabdruck in den letzten Monaten sowieso nicht zufrieden bin entschied ich mich dazu ein Fahrrad zu renten. Ich glaube tatsächlich ich bin in meinem Leben noch nie zu viel gebikt wie in NOLA, und dass obwohl es selten Fahrradwege gibt und mein Hinterteil schon nach zwei Minuten auf dieser Klapperkiste weh tat. In den zwielichtigen und dubiosen Außenbezirken New Orleans wurde ich übrigens immer schief angeguckt als ich da munter mit meinem Bike rumgeiert bin. Ich habe mich nichtsdestrotrotz sehr sicher gefühlt auf meinem Gefährt und fühlte mich zumindest Fußgängern tempomäßig überlegen, weshalb ich auch kein Problem hatte durch die "Problembezirke" zu düsen. Aber irgendwann war auch meine Toleranzgrenze erreicht. Selbst am hellichsten Tag und als junger mehr oder weniger starker Mann war mir das nicht geHeuer (Grüße an Tom). Die Infrastruktur hatte nichts mehr mit der eines Industrielandes zu tun. Also Uber gerufen und schnell wieder wech hier. // Because I was totally unflexible without a car and public transportation is an unknown term here, I was always on the road with my bike. At some point,I rode my bike further and further into the suburbs and felt more and more insecure. Even on the brightest day and as a young more or less strong man I didn't feel safe. The infrastructure was not comparbale with the infrastructure of an industrialized country anymore. So I called a uber and got he heck out of there.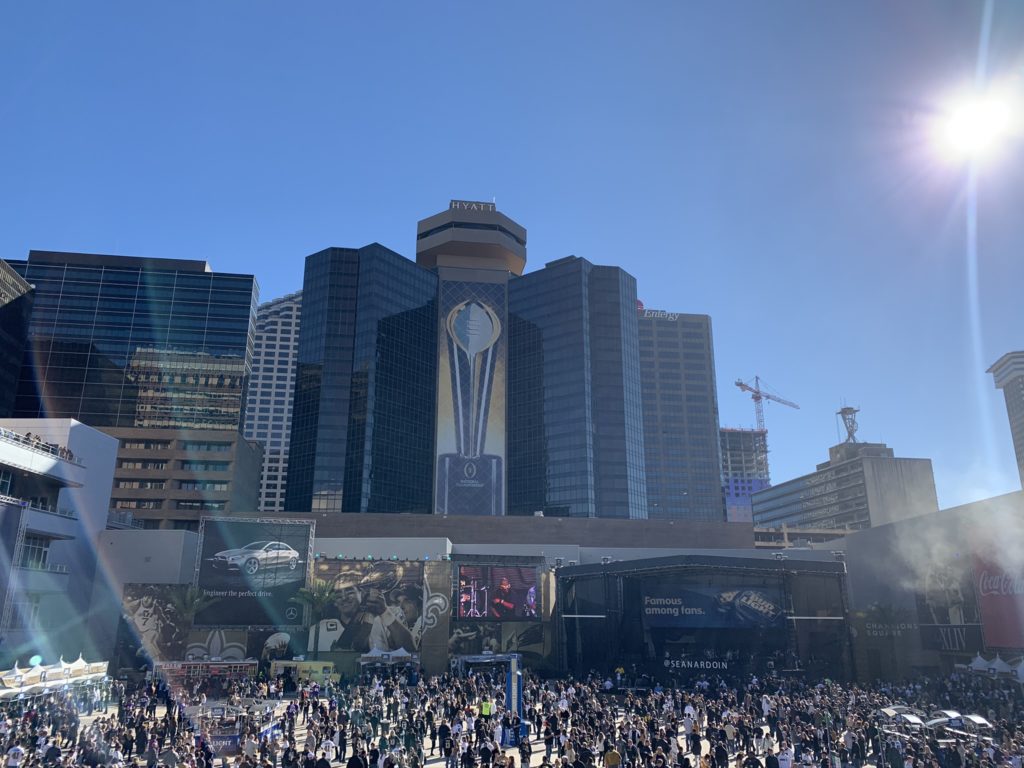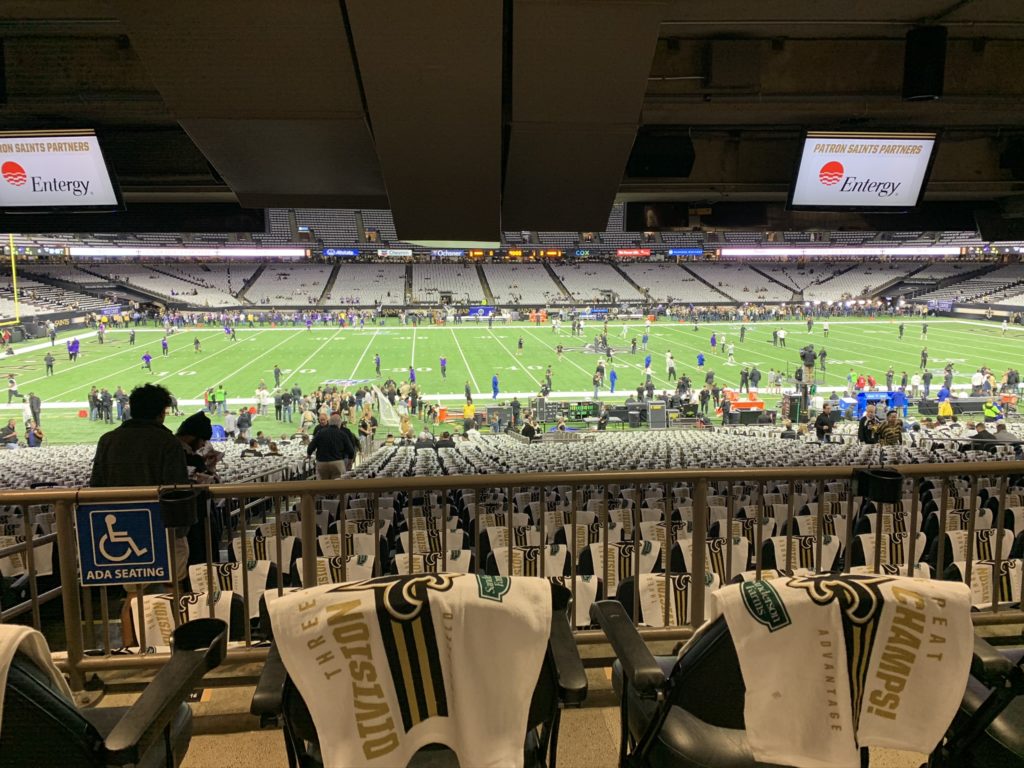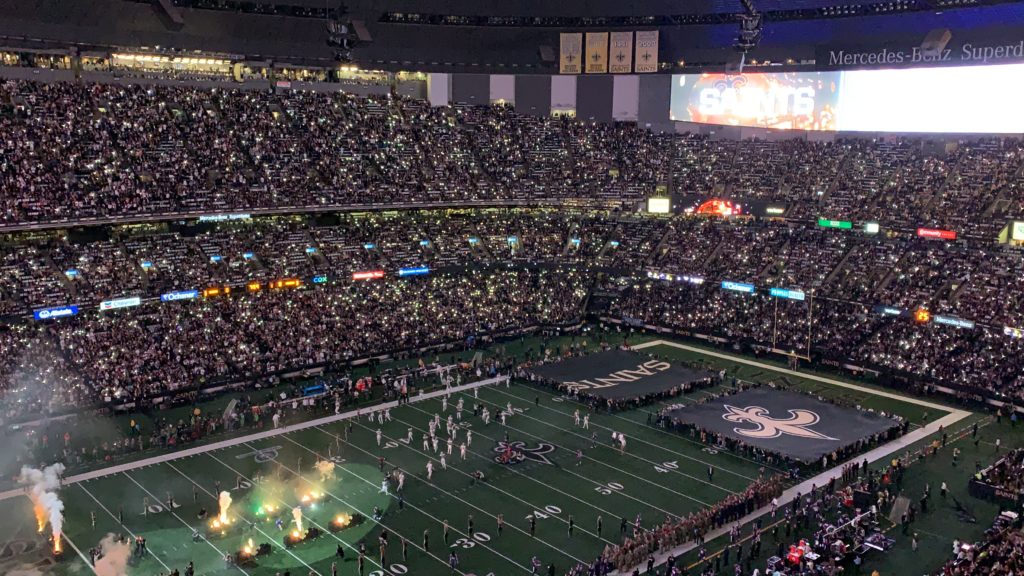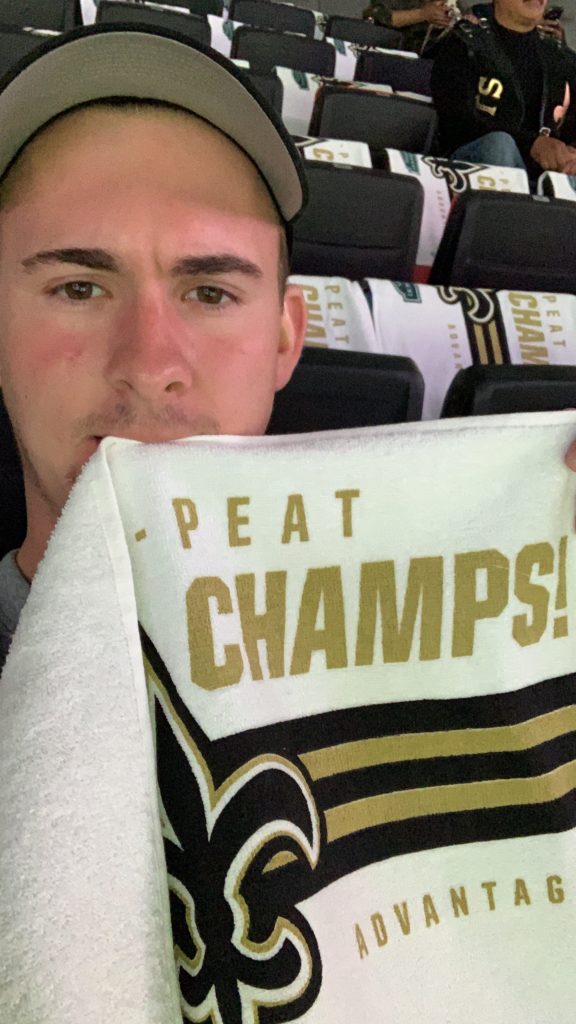 Bei jedem Vikings Touchdown oder Good Play wurde es mucksmäuschen still in diesem rießigen Stadium.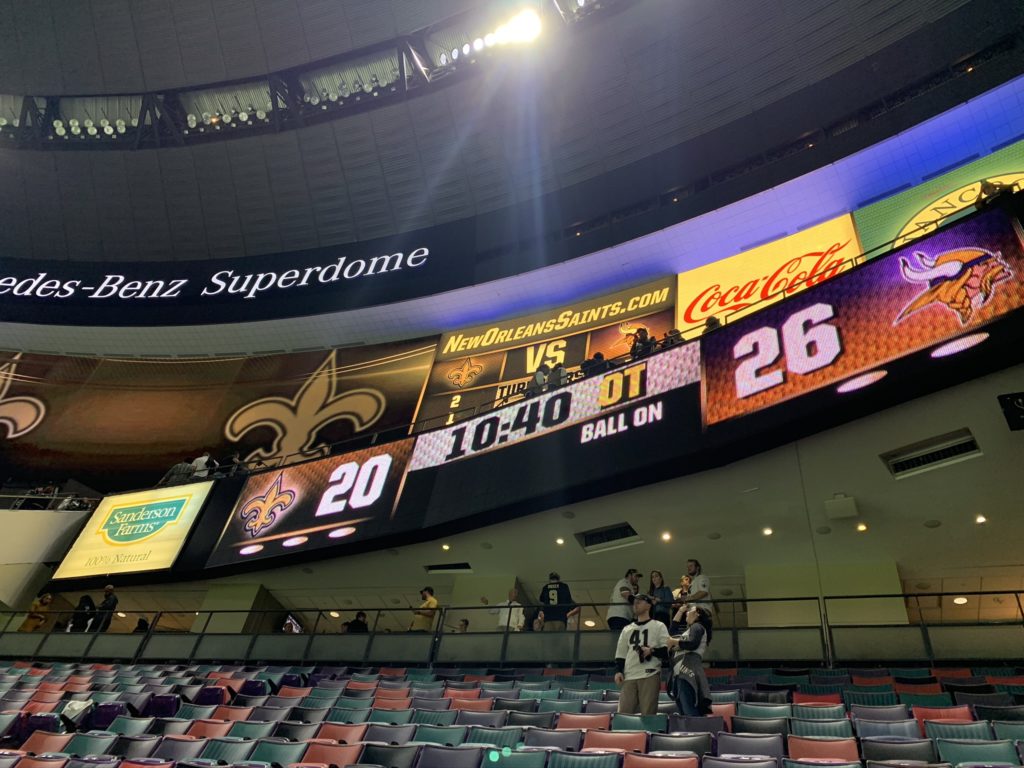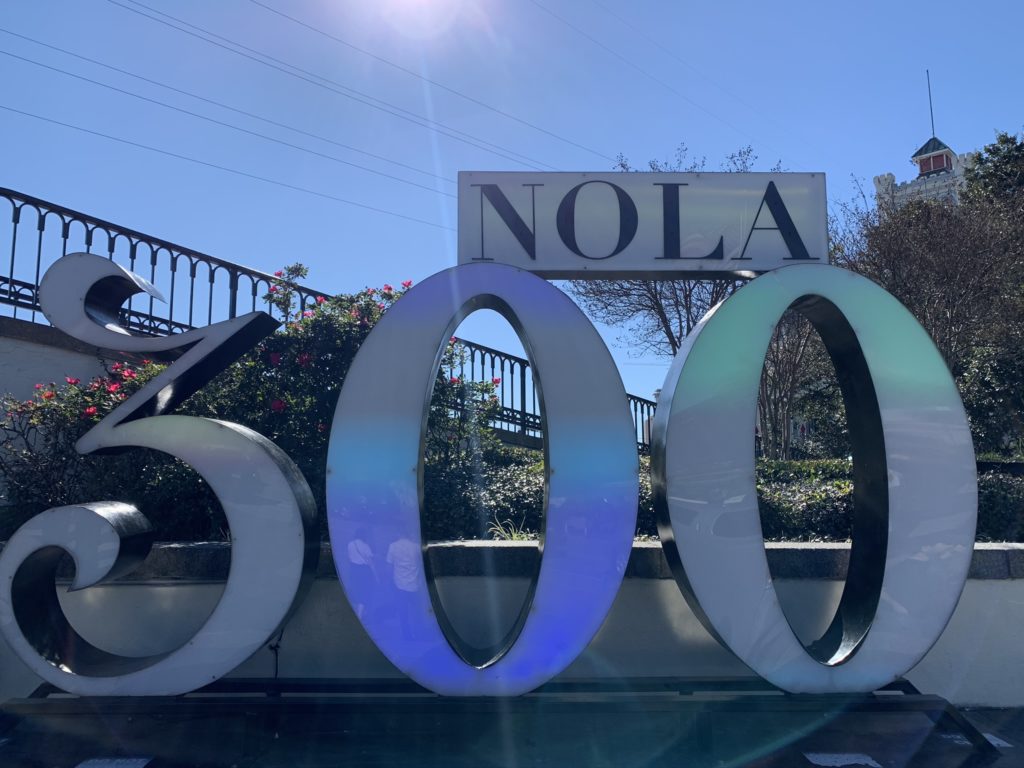 Der öffentliche Nahverkehr ist seit dem Hoteleinsturz (siehe oben) eine mittelschwere Katastrophe. Busse werden umgeleitet, fahren anders oder nur noch sporadisch und niemand hat den Durchblick. Nachdem ich zwei Busse wegen falscher Haltestelle bzw. Uhrzeit zum Flughafen verpasst habe, bin ich dem dritten einfach solange hinterhergerannt bis der Busfahrer angehalten und mich reingelassen hat. // Public transport has been a medium catastrophe since the hotel collapse (see above). Buses are being diverted, they drive differently or only sporadically and nobody has a clear view. After I missed two busses because of the wrong stop or time to the airport, I just ran after the third one on the street until the bus driver stopped and let me in.
Am Flughafen dann die nächste Misere: Der Flughafen ist ganze zwei Monate alt und hat KEIN einziges Restaurant vor dem Sicherheitscheck. ICh fragte noch so nen Flughafenarbeiterdude ob dieser eine Kiosk alles sei? Er lachte nur und sagte "Hahaha yeah pretty bad, right?" Daraufhin wurde ich hangry und wolte mir im Kiosk ein paar Minuten später noch ein Saints Shirts kaufen aber auch dieser Kiosk hatte dann zu. UberEats wollte nicht zum Flughafen liefern also musste ich mir noch nen Uber callen was mich zu Mecces bringt. Der Uber Fahrer hat mir außerdem gesagt, dass der Flughafen nachts von 2 – 4 zu macht. Ich wollte eigentlich die Nacht da verbringen weil mein Flieger um 5 Uhr morgens geht. Jeez! Kein richtiges Abendessen und nochmal ne extra Nacht irgendwo fianznieren manno ey. Zum Glück hat nur der Sicherheitscheck zu und der Airport bleibt 24/7 auf, wäre aber sonst auch unnormal zu all meinen bisherigen Airport Erfahrungen gewesen. // Then at the airport the next misery: The airport is a whole two months old and has NO restaurant before the security check. The driver also told me that the airport closes at night from 2 – 4. I wanted to spend the night there because my plane leaves at 5 am. Jeez! No dinner and an extra night somewhere else, dang it. Luckily only the security check is closed and the airport stays open 24/7, but otherwise it would have been unusual to all my previous airport experiences. Because I always thought that airports never close.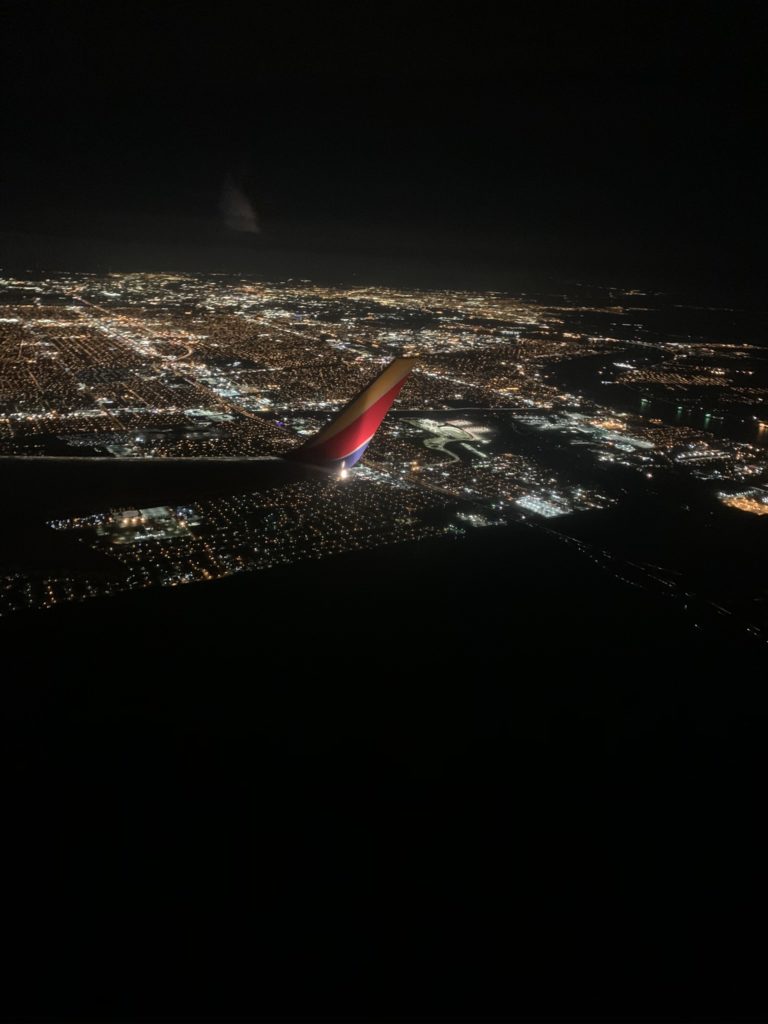 Der Busfahrer meinte noch: "Effingham? You are the first person that I know that gets off at that stop."
FINALLY HOME but not for long…
Alles in Allem war es eine super geile Zeit mit einer coolen Truppe in einer mega interessanten Stadt mit Niels aus Deutschland als kleines I-Tüfelchen. Somit habe ich bis auf Texas jeden der Südstaaten abgehackt und muss sagen, dass ich den Süden der USA echt unglaublich neat finde. Warme Temperaturen und gutes Wetter, abwechlungsreiche Geschichte, Southern hospitality, freundliche Menschen aber auch eine tiefe Frommheit und einen bis heute andauernden Rassismus, was ich ich ziemlich erschreckend finde.
What else happened: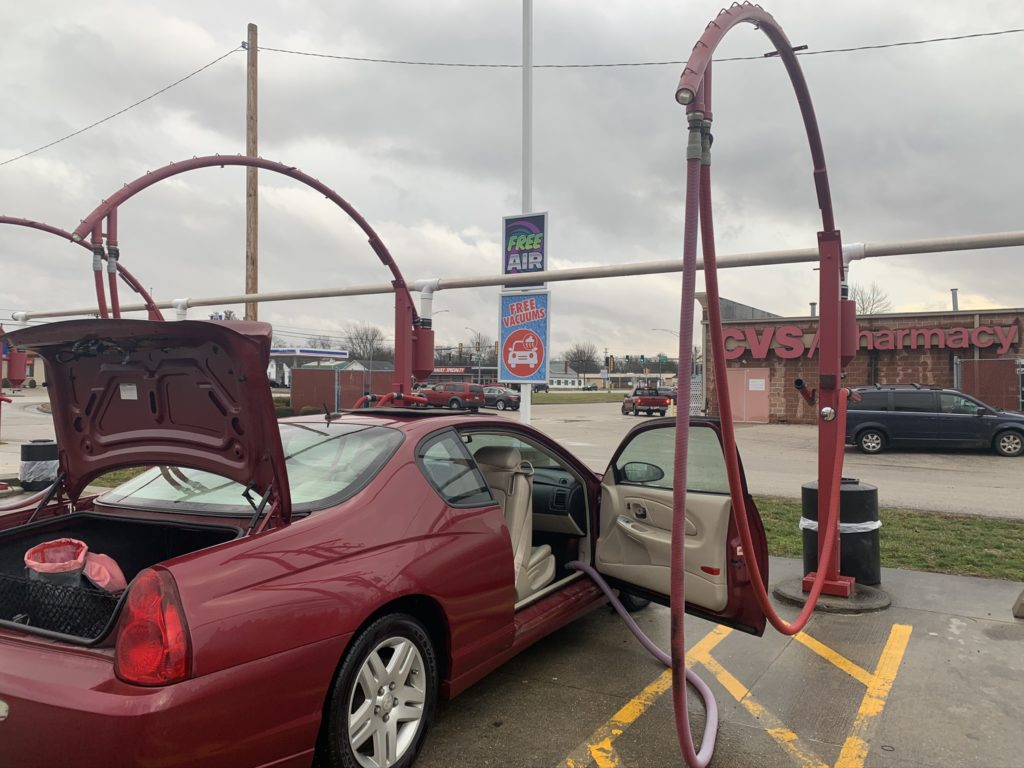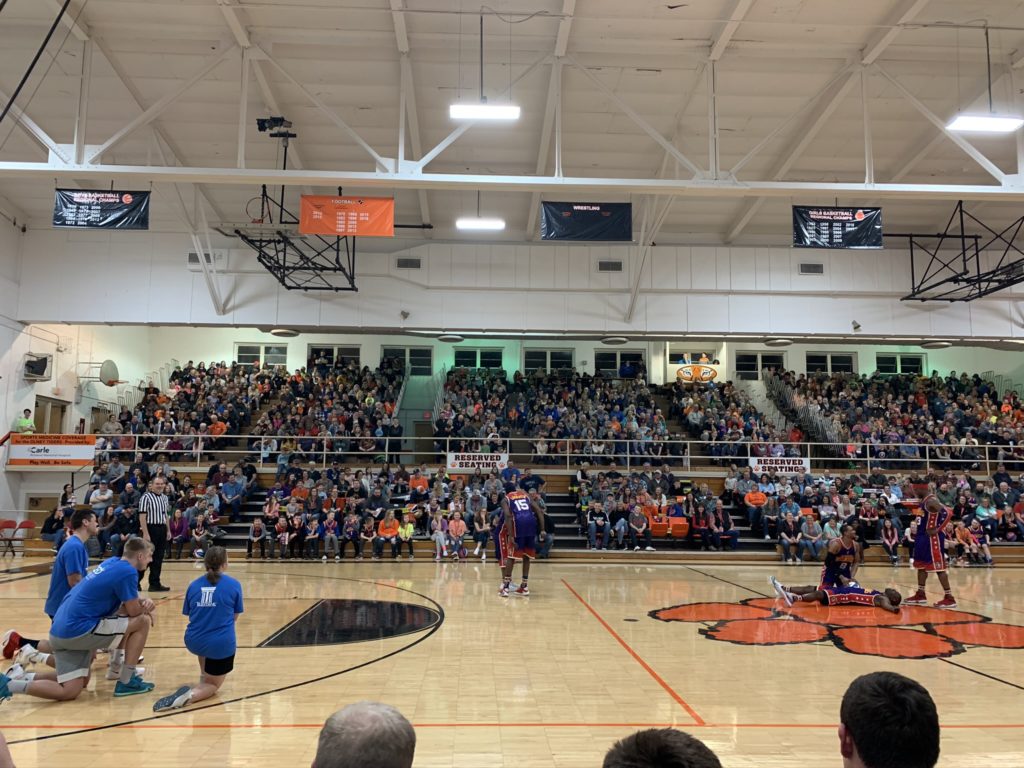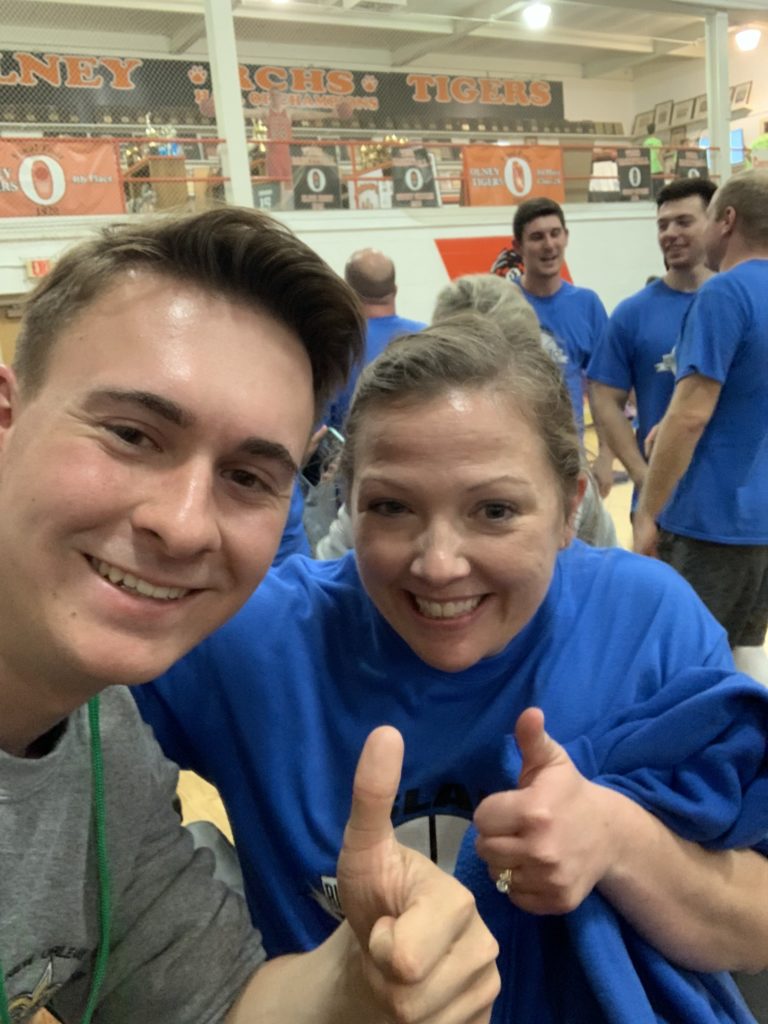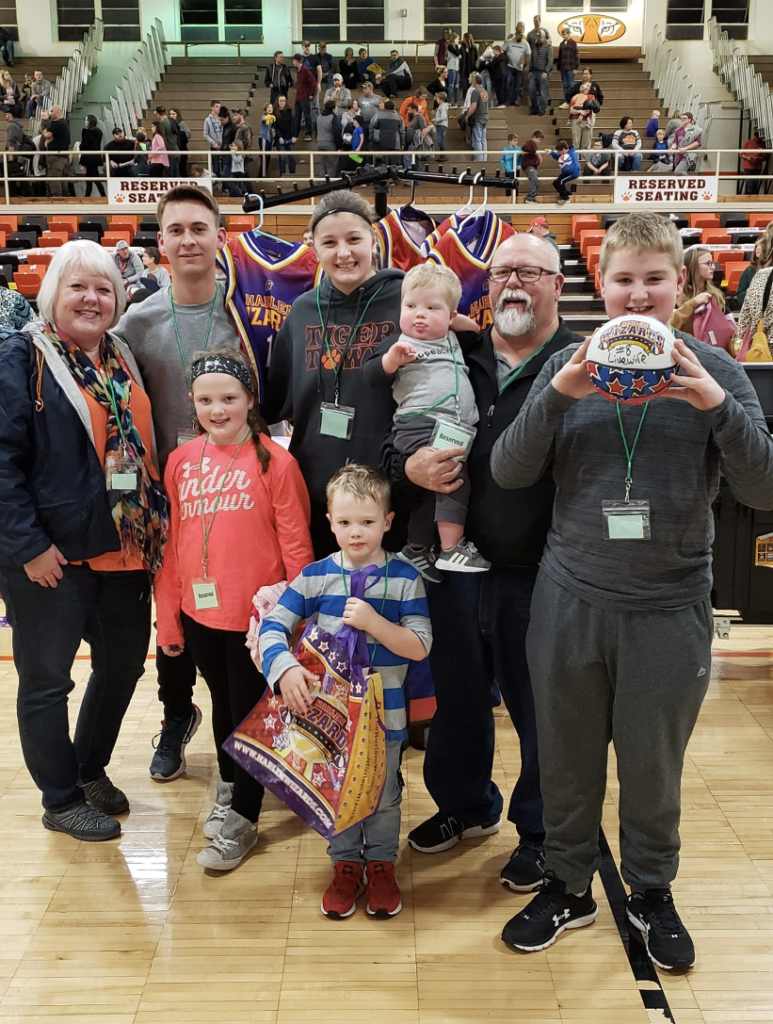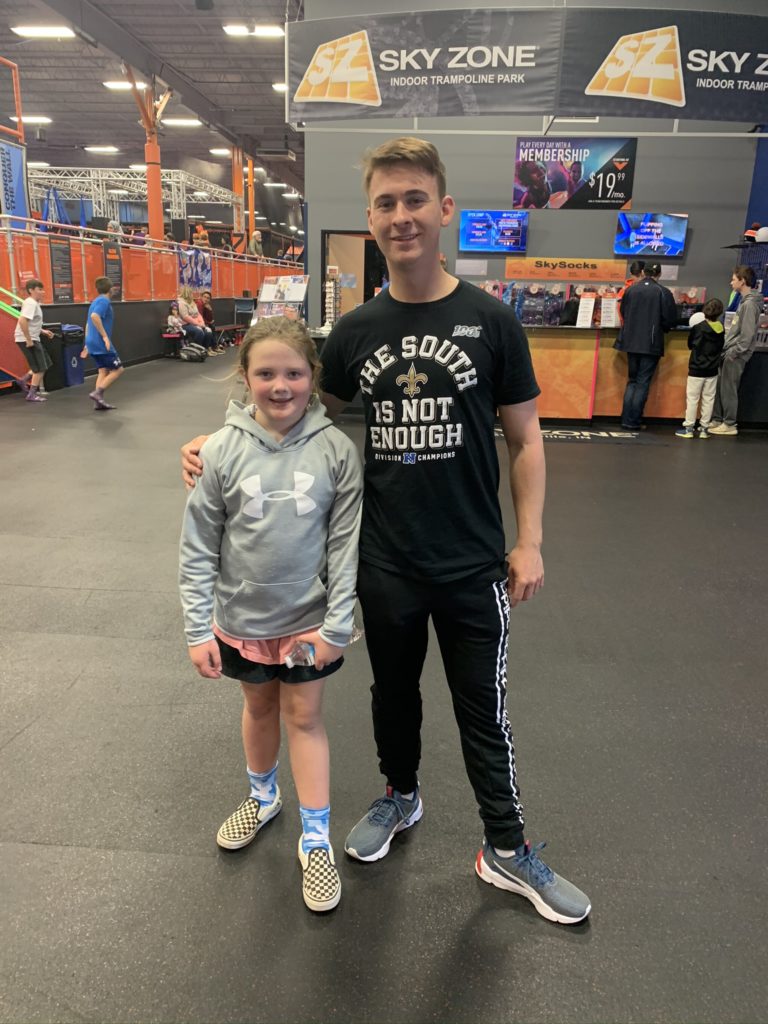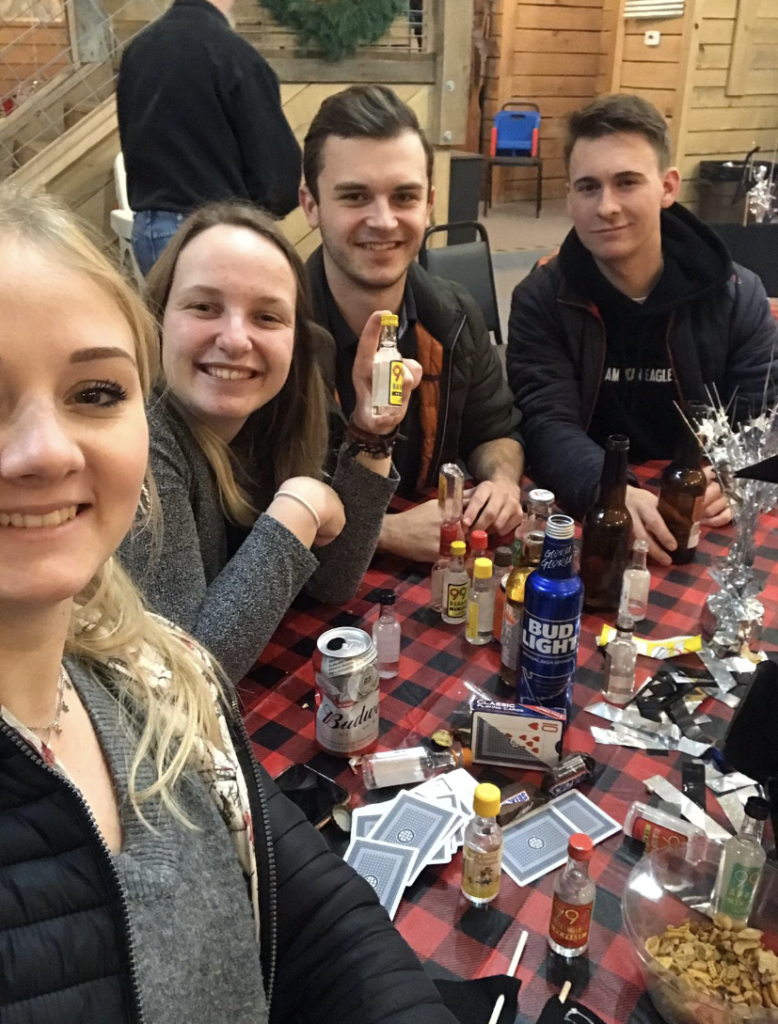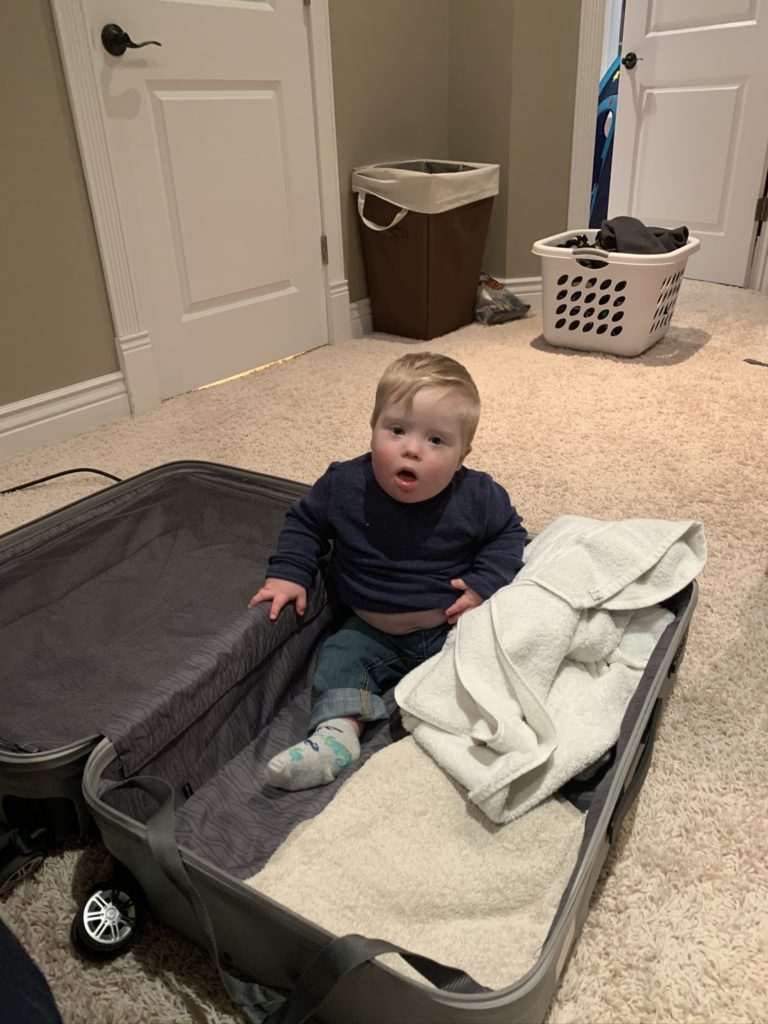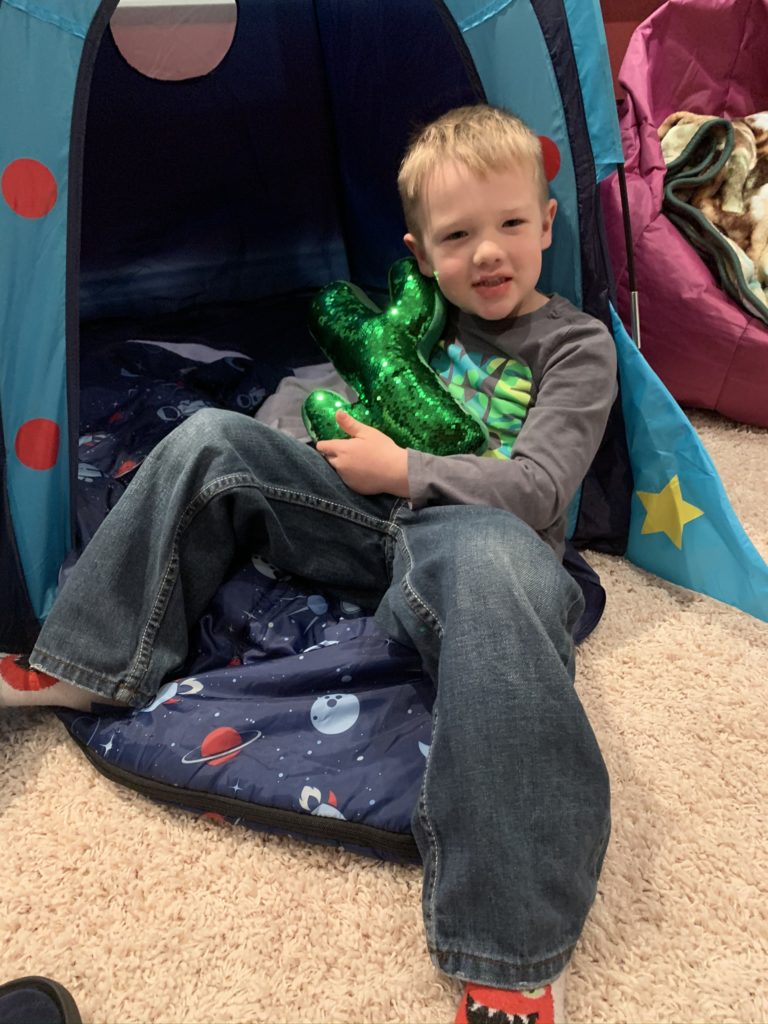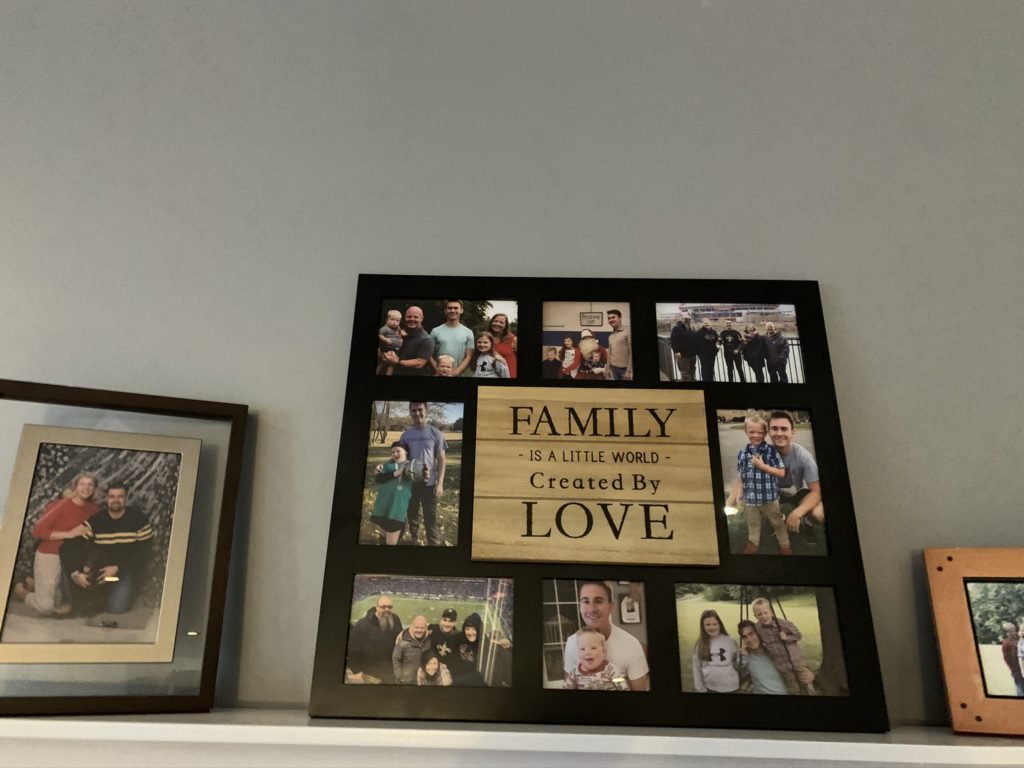 Für mich heißt es nun Lebewohl Olney, denn ich mache mich in wenigen Stunden auf den Weg nach Washington D.C. um bis Mitte März dort zu leben und zu arbeiten. Definitiv ein lachendes und ein weinendes Auge. Freue mich einfach mega auf die Chance im Congress der USA zu arbeiten und die Menschen die ich kennen lernen werden! Aber es fällt mir wirklich schwer meine Freunde und vor allem meine Familie hier zu verlassen. Wie soll das erst im Juli werden? // For me, it is now time to say goodbye Olney, because in a few hours I will be on my way to Washington D.C. to live and work there until mid-March. Definitely a laughing and a crying eye at the same time. I'm really looking forward to the opportunity to work in the Congress of the USA and the people I'm going to meet! But it is really hard for me to leave my friends and especially my family here in Olney. I am not good at goodbyes. I don't want to think about how it will be in July.
Greetings from a tired and exhausted Nikolas, who is going to bed now.
P.S.: Kress Empire in NOLA