Reading time: 4 minutes.
Period of blog time: 08/10/22 – 08/17/22
879 Tage oder in anderen Worten 2 Jahre, 4 Monate und 27 Tage. Eine ganz schön lange Zeit ist vergangen, seitdem die Jahrhundertpandemie mein USA-Abenteuer vorzeitig beendet hat und ich Bekannte, Freunde und Familie aus den USA nicht persönlich gesehen habe. Klar, über FaceTime, SnapChat (Jep, big thing over here) und Facebook (Jep, also big thing over here) wurde regelmäßig Kontakt gehalten, sich zu Geburtstagen oder Weihnachten über Zoom-Call gesehen oder via Facebook der jüngste Stand der Dinge mitgeteilt. Aber all das ersetzte natürlich nicht die face-to-face Interaktion.
Anyway, nach besagter Leidenszeit war nun der 10. August 2022 der Tag, an dem ich endlich wieder amerikanischen Boden betrat. Von Berlin flog ich über Reykjavik nach Chicago, wo mich mein Buddy Adrian vom Flughafen abholte und unter seine Fittiche nahm. Danach sollte es zügig (mit dem Amtrak) weiter in die alte Heimat, namentlich Olney in Illinois, gehen, wo meine Gastfamilie schon sehnlich auf mich wartete.
//
Eight hundred seventy-nine days, or in other words, two years, four months, and 27 days. Quite a long time has passed since the pandemic prematurely ended my adventure in the United States. It has been a while since I last saw American friends and family in person. Sure, there was regular contact via Social Media, including seeing each other on birthdays or Christmas via Zoom. But, of course, all this did not replace face-to-face interaction.
August 10, 2022, was the day I finally touched American soil again. I flew from Berlin via Reykjavik to Chicago, where my buddy Adrian picked me up at the airport and took me under his wing. Afterward, I continued my journey by Amtrak to my old home, namely Olney in Illinois, where my host family eagerly awaited me.
//
But first things first! Was mache ich eigentlich schon wieder hier?
Nun ja, da ein Auslandssemester im Rahmen meines Studiengangs Global Business Management an der Universität Augsburg verpflichtend ist – entschied ich mich wieder den Sprung über den großen Teich zu wagen und ein Semester an der University of Pittsburgh in Pennsylvania zu studieren. Ursprünglich wollte ich eigentlich mal gen Fernost reisen und irgendwo in China für ein Semester studieren, aber diverse Störfaktoren (Pandemie, restriktive Einreisebestimmungen und politische Gründe) ließen mich dann doch die USA als Zielort wählen.
//
What is Nikolas doing in the United States again?
Well, since a semester abroad is mandatory as part of my Global Business Management degree program at the University of Augsburg – I decided to venture across the pond again and spend a semester at the University of Pittsburgh in Pennsylvania. Initially, I wanted to travel to the Far East and study somewhere in China for a semester, but various disruptive factors (pandemic, restrictive entry regulations, and political reasons) made me choose the USA again as my favored destination.
Ein paar Impressionen aus Chicago:
Ein paar Impressionen aus Olney, IL:
3/5 meiner Gastfamilie (Rob, Grant und Alex) haben mich dann vom Bahnhof abgeholt. Zuhause hat Lauren auf uns gewartet, während Nora die ersten Tage noch in Springfield, IL war (zusammen mit Jorry, Jakoby und Uncle Jamie) um ihre gezüchteten Schweine auf einer Show vorzustellen. Nora hat sogar den ersten Platz in ihrer Altersgruppe gemacht und war der Stolz der Familie.
Es ist so verrückt wie sich vieles geändert hat – vieles aber auch immer noch genauso ist wie früher. Einerseits sind die Kiddos gewachsen und gereift, neue Geschäfte haben in der Stadt eröffnet und die Standardkneipe hat nun geschlossen. Andererseits ist das Familienleben immer noch so lebhaft und unterhaltsam wie eh und je, wesentliche Charaktereigenschaften sind geblieben und es ist immer noch so harmonisch wie vor 2,5 Jahren. Ich fühle mich – genauso wie damals – puddelwohl und genieße die Einblicke in den ganz normalen Wahnsinn des amerikanischen Alltags.
//
3/5 of my host family (Rob, Grant, and Alex) picked me up at the train station. At home, Lauren waited for us while Nora was still in Springfield, IL, for the first few days (along with Jorry, Jakoby, and Uncle Jamie) to show her pigs at a state fair. Nora even won first place in her age group and was the family's pride.
It's crazy how a lot has changed – but a lot is still the same. On the one hand, the kiddos have grown and matured, new businesses have opened in town, and others have closed. But, on the other hand, family life is still as lively and entertaining as ever, essential character traits have remained, and it's still as harmonious as it was 2.5 years ago. I feel – like back then – very much at home and enjoy the insights into the ordinary madness of American everyday life.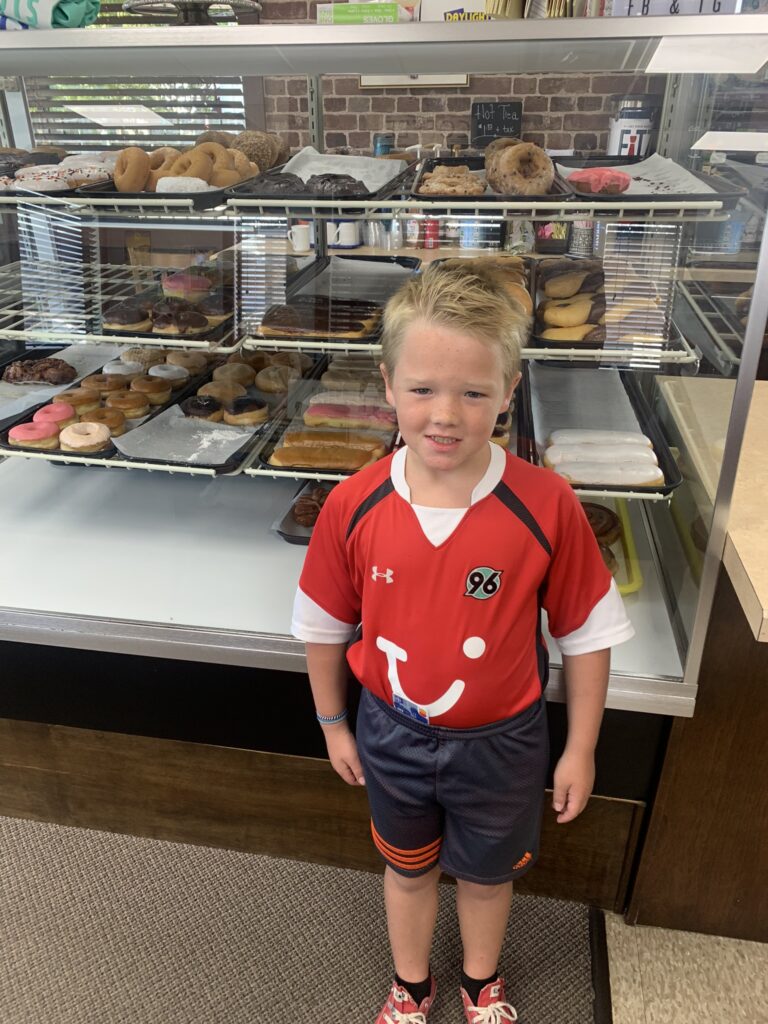 Die Woche bestand aus business-as-usual Aktivitäten wie Rotary Club Treffen, Kiddos-sitting, Vorbereitungen für das anstehende Schuljahr und Abhängen am Pool. Lauren und Rob haben für mich extra meine drei Lieblingsgerichte gezaubert:
Chicken Noodles.
Authentic Tacos.
Cheeseburger mit Mac&Cheese.
Außerdem habe ich mir einen amerikanischen Führerschein besorgt, bin mit Grant und Papaw zu einem Autorennen gefahren und habe meinen German Buddy Moritz in Olney getroffen. Wir waren vor 2,5 Jahren gemeinsam (noch mit Kathi, Elli und HotDog alias Moe) in Olney und konnten einige altbekannte Spots wieder besuchen. Tatsächlich habe ich Moe leider zeitlich knapp verpasst, sodass in kürzester Zeit drei von fünf ehemaligen Exchange Students back in Olney waren.
//
The week consisted of business-as-usual activities like Rotary Club meetings, kiddos-sitting, back-to-school shopping, and hanging out by the pool. In addition, Lauren and Rob whipped up my three favorite meals, especially for me.
I also got an American driver's license, went to a sprint car race with Grant and Papaw, and met my German Buddy Momo in Olney. We were in Olney altogether 2.5 years ago (still with Kathi, Elli, and HotDog aka Moe) and could revisit some old familiar spots. In fact, I, unfortunately, missed Moe in time, so three of five former exchange students were back in Olney almost at the same time.
Nach einer Woche brachte mich Rob nach Indianapolis, IN von wo ich den Greyhound Bus nach Pittsburgh, PA nahm um ein neues Abenteuer zu beginnen. Aber alles dazu in meinem nächsten Blog.
//
After a good week, Rob brought me to Indianapolis, IN, from where I took the Greyhound bus to Pittsburgh, PA, to start a new adventure. But all about that in my next blog.
Stay tuned,
Nikolas